Pittsburgh Steelers Struggling on Offense and Defense
October 4, 2011
Bob Levey/Getty Images
There is no other way to describe it, right now the Pittsburgh Steelers are not very good and will struggle to make the playoffs if they continue down the path they are on.
It goes beyond the poor line play. That was expected, granted it is much worse than usual. James Harrison summed it up best:
"Every man needs to do his job, take care of his responsibilities," Harrison said following Sunday's loss to the Houston Texans. "It's not the scheme, it's not other BS; it's each man doing his job, and, right now, every man is not doing his job, period."
The old men aren't doing their job.
Aaron Smith is constantly getting shoved around on the defensive line, something we have never seen in his career. Even Casey Hampton isn't playing up to par and has shown his frustrations.
James Harrison, now out with a broken orbital bone, has not looked to recover from his back surgeries and is not the same player. Meanwhile, James Farrior is a step slow and is yielding more often than not to Larry Foote.
That is more than a third of the starting defense not playing up to par.
Now add in the underachieving LaMarr Woodley and Lawrence Timmons and every linebacker is not meeting the standard.
Ziggy Hood has not stayed on his track of growth that he displayed last year and Cameron Heyward is still developing.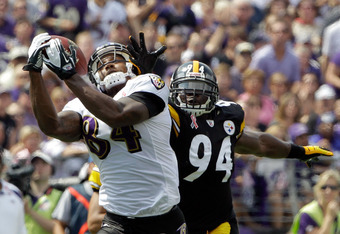 Rob Carr/Getty Images
Surprisingly enough, the defensive backfield has been a strength, probably because they have not been tested.
Only Ike Taylor has played well each week at cornerback, though Keenan Lewis is clearly an upgrade over Bryant McFadden and William Gay.
Troy Polamalu is the only defender who has consistently made plays so far this season—game-changing plays. The problem is that he cannot do it alone.
Last Sunday, Polamalu made a hit on Arian Foster in the backfield but was unable to bring him down. Normally, a linebacker would be in position to make the stop. Instead, no one was there and Foster picked up positive yardage.
Pittsburgh's defensive line is losing their individual battles and quite simply getting pushed around. The linebackers are easily being blocked and teams are having their way on the ground against the Steelers.
The Steelers rush defense is yielding nearly 120 yards rushing per game, which almost doubles last year's average.
Meanwhile, the offense can't run the ball at all.
The offensive line is generating no push and Rashard Mendenhall is not hitting the limited openings that he has, but is instead dancing while looking to make the big play. However, there are no big plays available.
With injuries to Willie Colon and Jonathan Scott, the line is in disarray. I did not mention Doug Legursky because Ramon Foster stepping in is an upgrade.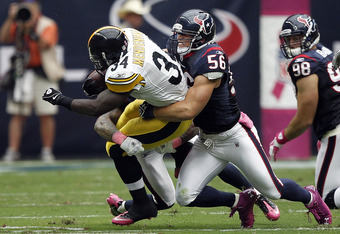 Bob Levey/Getty Images
Pittsburgh made this bed and they will now have to sleep in it and it will give them nothing but nightmares.
Ben Roethlisberger got hit low again last weekend and now has an injured foot.
He has virtually no time to throw, which is not out of the ordinary, but the offensive scheme calls for long-developing pass plays and does not force him to use his safety outlets.
I've said it before and I'll say it again, the scheme is designed to expose the offensive weaknesses, not hide them.
The Steelers are loaded with talent at wide receiver.
Both Mike Wallace and Antonio Brown can take a short route and turn it into a big gain while Hines Ward and Emmanuel Sanders can work the middle.
Don't forget Jericho Cotchery: That had potential to be a great signing, if they used him.
Beyond Bruce Arians and the offensive scheme, Roethlisberger is not playing up to par either. He looks gun shy and it is hard to blame him.
Roethlisberger loves to scramble and make plays yet there are no designed roll outs. Instead, he attempts to make his own plays, but the offensive line is not accommodating.
Rather than use his limited options running short routes, Roethlisberger overlooks his running backs in the flat and is taking hit after hit after hit. The result has been a string of fumbles that is severely hurting this team.
Who can blame Roethlisberger for not going to his backs, though, as one screen pass actually had no blockers in front of Mendenhall. Good job designing that one Bruce!
Turning the ball over is not the recipe for winning and they need to get Roethlisberger back on track.
In fact, the keys that could be listed for every Steelers game are: stop the run, protect the football and do not allow the big play.
Pittsburgh is failing miserably at the first two and is surprisingly enough allowing the big plays on the ground, not through the air.
So what is the answer, because they certainly need one real fast? Harrison believes that everyone just needs to improve their individual play.
"Each man needs to nut up, look at himself and get in there and take care of his responsibilities. Each play is 11 individuals; if one person doesn't get the job done, it looks bad for the whole squad," Harrison said.
Well, it may be a bit more involved than that, but it would be a start.
One thing is for sure though, more than one individual is not getting their job done and it looks very bad for the entire squad.
Follow me on Twitter @ChrisG_FC