NFL Rumors: Miami Dolphins Worst Team in League After Striking out on New QBs
October 4, 2011
Donald Miralle/Getty Images
With Chad Henne's season up in the air, an already pathetic quarterback situation in Miami just a got a lot worse.
One way for the Dolphins to fix their quarterback problem is by losing out and drafting Andrew Luck. Sticking with Matt Moore under center will almost make that an inevitability.
That approach isn't an option for Tony Sparano, who is unlikely to see the end of the season if the Dolphins don't turn around their losing ways in a hurry.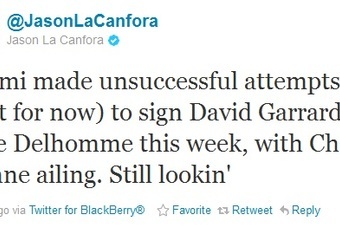 The Fins have reached out to lackluster quarterbacks and have been shot down, according to Jason LaCanfora. The Dolphins reportedly reached out to David Garrard and Jake Delhomme, only to be rejected by the unemployed gunslingers.
The fact that they got rejected by players like Garrard and Delhomme points to how dire the situation in Miami actually is.
Luckily, they have a bye week this week, but it's unclear as to who will be able to take over the starting role.
Before the season began, there were talks of bringing in Kyle Orton and Carson Palmer. Now, bringing in a quarterback of that caliber is merely a pipe dream. Though Henne wasn't awful this season, he failed to win a game and now has a separated shoulder.
The Dolphins are in a hopeless situation with a coach whose employment status is evaluated on a weekly basis. Even quarterbacks itching to get back in the game would be crazy to head to Miami. Eventually, injuries will make another team call their name and the situation can't get any worse than the one the Dolphins are in.
Ultimately, this makes the Dolphins the worst team in the league. Of the Dolphins, Chiefs, Colts, Vikings and Rams, the Dolphins are now the most hopeless.
Before the season began, it appeared as though the Dolphins could be the worst team in the league. Now it's a certainty.