The Only Way to Save the Orioles Is with a Theo Epstein/Prince Fielder Pairing
October 4, 2011
Elsa/Getty Images
Before Theo Epstein took over in Boston, the Red Sox hadn't won a World Series in 85 years. He proceeded to orchestrate the building of a dominating big-league club and a productive farm system that brought home two championships in four seasons. Under the boy-genius, Boston never failed to win fewer than 87 games and missed the playoffs only three times.
On the other end of the spectrum are the Baltimore Orioles, who haven't lost fewer than 87 games since 2004, the same season that Epstein's Red Sox won their first title since 1918.
It's been six years since the Orioles last posted a win total over 69, and a whopping 15 seasons since they both posted a winning record and made the playoffs. Their last World Series victory came back in 1983, when "boy-wonder" was not yet ten years old.
So what makes this humbled (very, very humbled) Orioles fan believe that the current Red Sox GM has what it takes to not only stand up to Baltimore owner Peter Angelos, but to do what so many (Frank Wren, Jim Beattie, Mike Flanagan, Pat Gillick, Syd Thrift and Andy MacPhail, etc.) general managers have failed to do by turning the Orioles into consistent winners?
For starters, there's the belief that Epstein is the best in the game at what he does. So if anyone has a snowball's chance in hell at succeeding under the oppressive thumb of Angelos, it's Epstein. 
Second, only a few teams have the financial resources that the Orioles do. Boston, New York and Chicago are the others. Believe it or not, the Orioles are strategically positioned to be wildly successful, thanks to the steady pipeline of cash brought in by the Orioles broadcasting arm, MASN. Assuming Angelos gave Epstein the resources that were made available to him in Boston, I have no doubt he would greatly improve the Orioles situation. And quickly.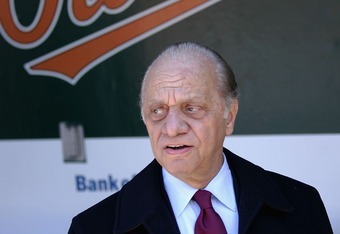 Doug Pensinger/Getty Images
Third, Epstein is gifted with enough intelligence to know that if he didn't earn a blank checkbook from Angelos, there are still other ways to turn things around in Baltimore. During his time in Boston, he built one of the more successful farm systems in baseball, even though most of the top talent didn't stick in the big leagues, at least not with Boston. He was excellent in the international free agency market, and was as savvy drafter as any GM in the game.
He also had an uncanny knack for hitting on the majority of his free-agent signings, including David Ortiz, Kevin Millar, Curt Schilling, Josh Beckett, Adrian Gonzalez and Carl Crawford.
But even if the Orioles were somehow able to sweet talk Epstein into leaving Boston, something he's reportedly considering, it would take more than just a 37-year-old Yale alum to fix the mess in Charm City.
Enter a knight in shining armor...or rather, a Prince.
As of right now, October 4, 2011, with Andy MacPhail making all the personnel decisions, Buck Showalter on the bench and Peter Angelos' signature required on all the checks, the likelihood of the Orioles being able to snag a whale like Prince Fielder from free agency is slim.
Actually...probably a little worse than slim.
After all, the team threw $150 million at Mark Teixeira three years ago and still finished fourth or fifth in the running to acquire him. And he's a Baltimore native! That sour taste wouldn't necessarily be inspiring for a team looking to acquire one of the preeminent sluggers in the game, a player who has absolutely no connections to the team or the city, whatsoever.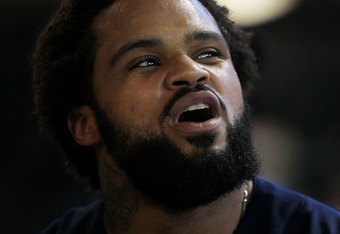 Jonathan Daniel/Getty Images
And believe me, Fielder isn't going to come to Baltimore on the belief that they're one or two players away from contending. Have you seen its lineup? It's littered with young players, many of whom have yet to fulfill their potential, and aging veterans hanging onto a roster spot for dear life. 
The Orioles' farm system, thinned by promotions of some of their best current big-leaguers (Zach Britton, Matt Wieters, and Jake Arrieta), has deteriorated into one of the worst in baseball, and so many of their recent draft choices have failed to inspire any long-term hope. I'm looking at you, Matt Hobgood!
If there's any chance in hell at getting Fielder to even take a recruiting trip to Baltimore, it's going to have to come at the expense of Andy MacPhail, the acting GM whose contract expires at the end of this year. Simply put, it's going to take someone of the caliber of Theo Epstein.
More than MacPhail, Epstein would be better suited at making a case for the Orioles. As an annual competitor in the American League "Beast," Epstein would provide an honest, outsider's opinion. There would be no sugar-coating the situation in Baltimore, especially with the state of the rotation, which suffered numerous setbacks, including the self-destruction of Brian Matusz, the failure to launch of Chris Tillman and injuries to Jake Arrieta and Tommy Hunter.
More importantly, Epstein has the track record that players like Fielder are looking for. The Milwaukee slugger is no dummy. He knows baseball and he's more than capable of telling an organization that is being run properly from one that is being run into the ground. And he's been around long enough to see what Epstein did in Boston.
In the end, the long-term hopes for the city of Baltimore and it's fans are much brighter with these two figures.
If Epstein agrees to come to Baltimore, however, it will only be with a guarantee that he'll be allowed to pursue high-profile free agents such as Fielder. And if they have any chance at landing Fielder, it will only be due to the efforts of a convincing character with a proven history of success like Epstein, who's capable of selling the team as a future winner.
There's likely no getting one without the other, which in the end will likely leave the Orioles right back where they started...in the basement of the AL East, flailing wildly to consecutive losing season number 16.