Red River Rivalry 2011: Fried Beer, Bevo, Boomers, Bob Stoops and Mack Brown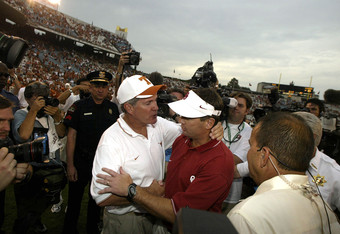 Ronald Martinez/Getty Images
Will the Oklahoma University Sooners and the University of Texas Longhorns coaches—Bob Stoops and Mack Brown—be sipping fried beer and eating sides of beef together before the Red River Rivalry renews this weekend?
Their players will try to eat their acquired sworn enemies' lunches on the gridiron. Texas was "eaten up" last year after OU swaggered away with a 28-20 win.
As the dominant force in the Big 12 since its inception in 1997, the Sooners have won this rivalry match seven times since 2000. OU was ranked No. 8 and Texas No. 21 coming into last year's game. UT hopes to prove they're back in the saddle after suffering a horrendous 2010.
While Texas missed the bowl season for the first time under the Mack Brown era in Austin (1998-present), Oklahoma (4-0, 1-0 Big 12) won the Big 12 Championship Game over Nebraska as UT did in 2009.
Surprising to some degree, both OU and Texas are in the national championship chase this year. Texas is ranked at a shocking No. 11 despite losing Garrett Gilbert, their most experienced quarterback, to injury.
The Sooners were the No. 1 team in the nation through the first five weeks of the season and are now ranked No. 3 behind LSU and Alabama despite not losing a game.
This game, once known as the Red River Shootout, has shooting star power on Oklahoma's side of the ball. The quick-strike duo of quarterback Landry Jones and wide receiver Ryan Broyles rank No. 5 in the FBS for passing yards per game.
UT's sophomore quarterback Case McCoy and freshman David Ash split playing time against Iowa State last week with each completing seven of 12 passes. Ash tossed two touchdowns.
Christian Petersen/Getty Images
Jones has passed for more than twice the yards of Texas' quarterbacking duo and more than three times as many touchdowns this season.
The Longhorns (4-0, 1-0 Big 12) have more seasoned running backs than the Sooners, but only by a slight margin. UT is ranked No. 25 in the nation for rushing yards per game (206).
The Sooners rely on Dominique Whaley, a surging junior who has rushed for 379 yards on 70 carries. Texas' leading rusher is a big freshman who can eat up yards in a hurry—Malcolm Brown from Cibolo Steele High School in the Lone Star State.
A new staple of the State Fair of Texas in Dallas, always coinciding with the rivalry game, is fried beer. Fried just about anything you can imagine, including Twinkies, is part of the attraction to the rivalry weekend.
No gimmicks are needed to fill the Fair Park or the stands at the game. Played in neutral Dallas at the Cotton Bowl, ticket sales are split 50-50 between the two schools.
The Red River serves as a physical split between the states of Texas and Oklahoma and was once the demarcation for the US-Mexico border until the Texas Annexation—the Treaty of Guadalupe Hidalgo.
There won't be a treaty during this most heated of rivalries until the game clock strikes zero, if then. The winning university gets the Golden Hat—a 10 gallon gold-plated Stetson.
This game is as good as gold and is the No. 1 rivalry in college football next to Michigan vs. Ohio State if you ask people in the Oklahoma-Texas territories. Indian Territories and reservations such as the Cherokee Nation dot Oklahoma's beautiful lake lands.
Erich Schlegel/Getty Images
The weather cools off this time of year, relatively speaking, for this part of the country, and the hitting on the field should be nippy in particular.
Texas' mascot, Bevo, will be nipping at grass on one sideline while Boomer and Sooner—two crème white ponies, OU's mascots—pull the Sooner Schooner on the other one.
It's quite a site combined with the 50-50 seating arrangement in the stadium, the nearby State Fair with over three million annual attendees (billed as the biggest in the United States) and a sure to be compelling game.
Played since 1900, this will be the 106th meeting. There is no other rivalry like it.
The coaches had better be sipping something other than fried beer because their attention must be focused. Now, let's focus on my prognostications.
Prediction:
The Sooners pass for an average of 378 yards per game, and Texas is ranked No. 44 in the FBS with 177.4 passing yards per game.
Behind the youngsters, McCoy and Ash, Texas' passers will not rise from the ashes against the determined Sooners defenders. OU faced more experienced quarterbacks against Missouri and Florida State. UT hasn't played against anyone as skilled as Landry Jones.
I'm interested to see how the skilled freshman phenomenon, Brown, responds to big-time college football. I believe he'll have a wonderful game.
Brian Bahr/Getty Images
Senior Foswhitt Whittaker should play a key role for Texas. The swift senior tailback from Houston has racked 998 yards on 225 carries with 10 touchdowns in his UT career.
Oklahoma's tailbacks should hold their own and help chew up the clock late. OU's passing game will be the difference. If they forge a big lead like last year and force Texas to pass the ball, then it could get tough for UT.
Against a tougher schedule so far than Texas, OU is giving up 15 points per game while scoring 43. UT scores 34 and gives up 15. I believe UT is a bit overrated. Oklahoma will romp by a score of 38-24.
Contact Lake Cruise: Lakecruise@att.net
This article is
What is the duplicate article?
Why is this article offensive?
Where is this article plagiarized from?
Why is this article poorly edited?

Oklahoma Sooners Football: Like this team?