Broncos' Offense Looks Great Against Packers Despite Turnovers and Big Loss
October 4, 2011
Matt Ludtke/Getty Images
It's already been said; the Denver Broncos got their butts kicked on Sunday by the defending Super Bowl Champion Green Bay Packers.
What's great about the loss for Denver?
Hardly anything.
But the offense did manage to look fantastic early-on, despite some ugly turnovers.
Kyle Orton completed 22 passes to nine different receivers on 32 attempts for a total of 273 yards, three touchdowns, and three interceptions.
Meanwhile, Willis McGahee took the start again and rushed for 103 yards on 15 attempts. He also caught two passes for 10 yards.
It's clear that McGahee is in control of the rushing game for Denver at this point.
Knowshon Moreno can pretty much be forgotten about at this point, unless McGahee suffers an injury—which is always possible when playing for Denver.
Forced to try to keep up with Green Bay's electrifying offensive power, the Broncos passed and passed often on Sunday.
Orton did his best to keep Denver in the game early. The Broncos actually managed to make a game out of it—for a couple of quarters at least.
In the second quarter the Denver offense cut the Packers' lead from 21-3 to 21-17.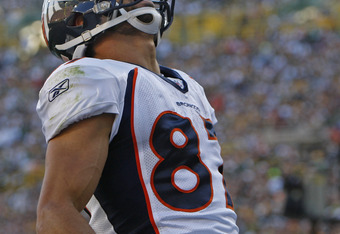 Matt Ludtke/Getty Images
After the quick spurt from Denver, Green Bay quickly put the game in the bag as they cruised towards victory with 49 points—more than double the score of any of Denver's other three opponents this year.
Orton did throw three interceptions, but it can be argued that he did so during an attempt to keep up with a Green Bay offense that started fast and never looked back.
He was required to try to make something out of nothing and force points onto the board, considering the Packers couldn't keep themselves out of the end zone.
The Broncos' starting quarterback just doesn't have the supporting cast to make a realistic attempt at keeping pace with Aaron Rodgers—at least not yet.
Brandon Lloyd finally made an impact after returning from injury—catching eight passes for 136 yards—and Eric Decker has cemented his position as the No. 2 wide receiver.
All of Orton's three touchdowns were fairly impressive, and Denver appeared to be matching Green Bay in offensive efforts. Unfortunately for the Broncos' faithful, the steam ran out and the offense all but broke down in the second half.
It was clear that Head Coach McCarthy and his Pack were intent on grabbing an early lead and capitalizing on it as they ended their first drive of the game on an attempt to convert a fourth-and-one.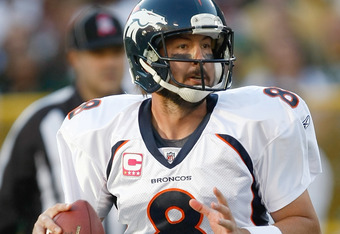 Scott Boehm/Getty Images
As it turns out, they probably could have taken their time and still came away with a victory.
Although, if the Packers hadn't set the pace that they did, Orton and his almost complete offense may have had a shot at keeping up.
Sunday was a case of talented players in a new system, not entirely comfortable with their positions, playing a highly-tuned and proven gun-slinging machine in Green Bay.
Many say that rookie Von Miller was the only bright spot in Denver's loss, but I'll argue that what Denver proved in the first half is a great sign for things to come—as long as the players stay on the field.
Don't forget that if Daniel Fells doesn't drop the ball at the goal line—after one of the greatest from-behind form-tackles I've seen in a long while—this game takes a slightly different look in the third quarter.
Would it have been enough to get Denver back in the game? Probably not. But it's okay to dream Denver fans.
Rejoice in what you can, Broncomaniacs. This offense will only get more powerful as they continue to gel together and learn from each other's play.
They may still have to wait another season to compete for the division, given that they've started this year with only one win through four games.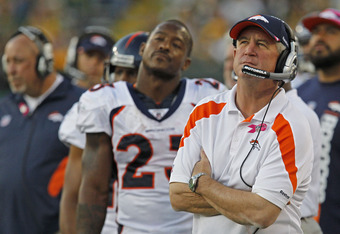 Matt Ludtke/Getty Images
By the time this offense really starts to click—and does so on a consistent basis—they'll be putting up the stats they did in 2010 and then some while also adding a defense that can keep the other team off the board (unless that team is the Packers.)
I've always been a glass-half-full type of guy, but you don't have to be an optimist to appreciate that the Denver Broncos are getting better on the offensive side of the ball each and every week.
Just like any other team in a rebuilding phase, it's all about fine-tuning and correcting the mistakes. Denver has proven to be a mistake and injury prone team in 2011.
If the coaches and staff can work against this, and continue to work towards improvement, this team could be highly competitive in 2012.
It's a long way from now, but we've already waited 12 years, what's one more?