John Brantley Injury: Why Gators Won't Win a Bowl Game This Season
October 3, 2011
Al Messerschmidt/Getty Images
It was like the opening scene in the pilot episode of the TV Show, "Friday Night Lights". The starting quarterback who was expected to lead the Dillion Panthers, except in this instance The Florida Gators, suffering a season-ending injury in the middle of the game.  
Except in the television show, the sophomore quarterback Matt Saracen came in for the injured starter and was able to lead the Panthers to a victory and then state title.  
But in real life the Florida Gators freshman quarterback Jeff Driskel came in for the injured starter and was not able to lead the Gators to victory. If he is the starter for the remainder of the season he will not lead them to a Bowl Game victory or maybe even a Bowl Game at all.  
Both in real life and in the television world these two quarterbacks were on the second team, never really expecting to get real playing time. They were good enough to get to their positions, but when put into the position you could tell they were in over their heads.  
Now, looking at the Florida Gators schedule it is hard to see any "easy" victories for this team.  
It is one thing for Driskel to take over for a Florida team that is deep with talent in other skill positions; it's that the Gators have the majority of their games being played in the SEC now that will hurt this team.  
When Driskel came into the game on Saturday against Alabama, he was only able to complete just two passes on six attempts while scrambling six times for eighteen yards. That amounted to zero points for a Gators team losing at the time of Brantley's injury.  
Now, this Gators team has to prepare for an even tougher defense this week on the road at LSU.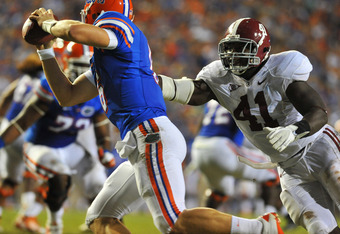 Al Messerschmidt/Getty Images
Not the two "dream" opening games for a young quarterback.  
Moving forward past those two games, if Driskel isn't killed after the LSU game and if Driskel is still the starter for Brantley, where on their schedule does Florida get a win and get back on track as being one of the best teams in the SEC East Division? 
Is it against an Auburn or Georgia team that are looking better each week? What about against South Carolina and Florida State—two teams that at one point this year have been in the Top 10 of the USA Today and Associated Press Polls.  
It looks as if games against Vanderbilt and Furman are the only games left on the Gators roster that are winnable games. That puts this Gators team at 6-6 and maybe a Bowl Game.  
Even if they win one of those questionable games, that's seven wins and a definite Bowl Game. Can they compete against another conference's second or third best team? 
The answer is no.