Are Fans a Part of the Team? Definitive Rules on When Fans Can Use "We"
October 3, 2011
Al Messerschmidt/Getty Images
My good friend Andy Hutchins sent me a tweet yesterday from Chris Jones of Grantland telling fans when they should and should not use the first-person (or perhaps first-persons) "we" when addressing their favorite team.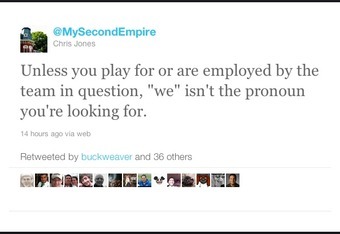 Jones is right…and he's wrong. Here's a breakdown of when and why fans should use the term "we." 
But first, a story. (There's always a story.) I was sitting in a bar a few years having this debate with a table full of academic types who worked at the Rutgers Newark campus (the football team is part of the main campus in New Brunswick). In talking about Rutgers football, I used the term "we" several times. One of the academics corrected my usage with a mocking tone, stating unequivocally that I was "not allowed" to use the term "we" because I was not a member of the team.
"But I don't just work at the University like you," I explained. "I actually work with the football team every single day." 
That was not enough for the academic.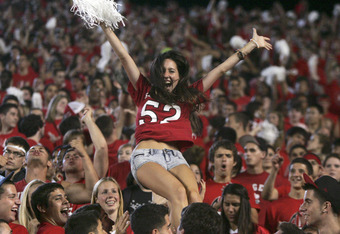 Rich Schultz/Getty Images
"I designed the logo as well as the football field and the basketball court they play on."
Not enough, said another academic at the table, who most likely corrected my use of a preposition to end that sentence as well. If I wasn't playing on those surfaces or wearing the uniform with that logo, I should not say "we." That academic was adamant. That academic would not relent. That academic got the rest of the table to turn against me.
That academic was my wife. "We" had a long ride home that day.
The thing is, she was wrong. And, to a lesser extent, Jones is wrong, too. Here are some definitive rules for when sports fans can use the term "we."
Rule 1: Players
This is obvious. If you are a player on a team, you should (read: must) say "we." 
Rule 2: Coaches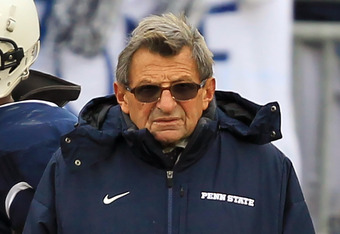 Hunter Martin/Getty Images
Granted, coaches aren't on the field making plays that decide the outcome of the game. Sometimes "we fought hard out there," does sound a bit funny coming from a coach, but the fact of the matter is coaches work harder than almost anyone—sometimes that includes players—to prepare for each game. It's their team. They should say "we."
Rule 3: Front Office Personnel, Support Staff
Everyone from the person who picks the players and pays the bills to the person who lines the field should say "we." It's part of team pride. You spend your time at work preparing each day for the next game. If the game cannot go on without you, or the gameday experience is not as good without your hard work and dedication, you are certainly part of the group of "we," no matter what my wife and her bookish friends tell you.
Rule 4: Former Players.
Ezra Shaw/Getty Images
In today's ever-changing media landscape, this is a dicey one. Does Jerry Rice say "we" when talking about the 49ers? He played for two teams after the Niners, remember, and he also works for ESPN as an analyst. Having said that, there's not a person on the planet more synonymous with the 49ers than Rice, so if he didn't say "we," it might sound weird.
Look, TV networks aren't suddenly going to stop hiring former athletes, and we (ahem) as a viewership have come to terms with the fact that analysts all have bias based on where they've played. Do we respect Troy Aikman for being able to call a Cowboys game without bias, or do we respect the fact that he does a great job of covering up that bias? Does it matter if the person played for a team to have bias? Chris Berman has always had a thing for the 49ers and Bills (and wagons that circle), so it stands to reason that his opinion of those franchises is just as biased as, for example, Tom Jackson's opinion of Denver or Mike Ditka's opinion of Chicago.
That being said, a former player is always part of the history of a team. If that player is not a member of the media, we should expect to hear "we."
Rule 5: College
If you went to a college, you should say "we" when talking about your school's team. Your alma mater is a part of who you are. The players on your college team aren't just playing for those at the school now, but represent everyone who came before them, both on and off the field. If you went to a school, you are a part of that school. Forever. It's we.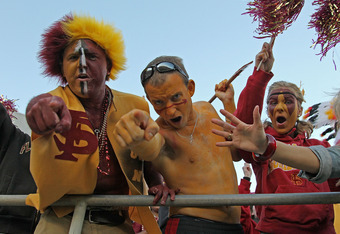 Mike Ehrmann/Getty Images
Rule 6: All Fans?
Let's go back to Andy Hutchins' reason for sending me the original tweet. This is what he said:
"I just hate people who let other people tell them how to enjoy life."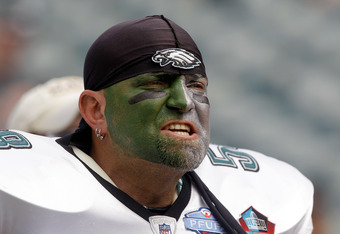 Rob Carr/Getty Images
In other words, Andy thinks—and many fans agree—that fans shouldn't feel pressured by members of the media to act a certain way about something they love. The nature of being a fan is inherently irrational, so making yourself part of something by using "we" just feeds into that idea. With that logic, anyone should be allowed to say "we" if they feel they are connected to a team that closely.
Let's explore this idea from a more linear standpoint: Owners hire players to represent their franchise. Owners pay for the players' salaries through two basic revenue streams: television dollars and ticket sales. You can add in parking, concessions and merchandise into the basic idea of ticket sales. On a basic level, the owners make money off selling things to fans. Fans, therefore, feel a sense of ownership of the team (note: in Green Bay, fans actually have ownership of the team) by using their money to buy the things that make the owners enough money to be able to pay the players the fans will support by purchasing more tickets and merchandise that, in turn, helps the owners make more money to pay the players….it's the circle of life.
Maybe by plunking down hundreds of dollars to sit in the stands and wear team colors, fans have earned the right to say "we."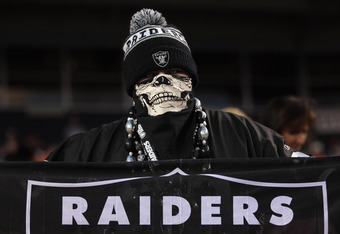 Doug Pensinger/Getty Images
Or, as Hutchins put it, maybe it's not up to us. Maybe it's up to each individual fan how they handle their relationship with their team. Maybe I've actually come around on this. We don't judge people for the relationship they have with their God (note: We certainly do judge people for that, but reasonable people know we're not supposed to), so why should we judge people for their relationship with their team?
Maybe it's time we let "we" be free…for everyone.