San Diego Chargers' New Parts in Motion: Mathews the Engine
October 4, 2011
Stephen Dunn/Getty Images
There is no doubt that Philip Rivers is the conductor aboard the Chargers Express, which will be in Mile High this next weekend as it prepares for a weekend in the shop, and than a journey to New York. Rivers had this Chargers team flying up and down the field all game against the Dolphins this past Sunday, as they are still looking to get on track.
Though Rivers is still at the helm, the Chargers seem to be revving up their new part on the offensive side of the ball. Their first round talent, Ryan Mathews, is showing why A.J. Smith moved up in the draft to grab him. The Fresno State standout is really starting to come into his own as the Chargers coast into Denver—a team that was just pounded by the defending Super Bowl champs—with a record of 3-1.
According to Chargers.com, "Mathews has gained, in yards of total offense, 118, 126, 149 and 149 this season. With 542 total yards, he's fourth in the NFL behind Wes Welker, Matt Forte and Darren McFadden in yards from scrimmage."
That is some pretty good company, wouldn't you say?
Mathews is giving the Chargers a much needed threat on the ground. No, he hasn't put up monster numbers in the running game, but Mathews is doing enough to keep defenses honest; his speed and improvement is not allowing them to focus solely on Philip Rivers. 
Mathews, though, isn't the only new part starting to step out.
In the Miami game this past Sunday, two rookies really stepped up on defense to stone the Dolphins and send them flopping back to the east coast. Marcus Gilchrist, in his first NFL start, had a magnificent game matched up on one of the best receivers in the league in Brandon Marshall.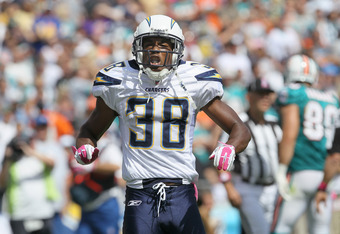 Stephen Dunn/Getty Images
Gilchrist had six solo tackles (third best on the team), two pass deflections (including a beauty in the end zone against Marshall), and his first career interception.
Donald Butler, in his fourth career start, had just as impressive of a game. While he only totaled four tackles, he had big hits on Chad Henne, one of which took Henne out of the game. Butler has two tackles for loss and multiple QB hurries, one of which forced the interception by his fellow rookie Gilchrist.
Butler also took Mike Pouncey out of the game for a period of time by throwing him into Matt Moore, who subbed in after Henne got hurt by Butler on a pass rush.
Butler also leads the Chargers with 28 tackles so far this season.
Everyone knew that the Chargers had new parts heading into the 2011 season. Most expected Takeo Spikes and Bob Sanders to be the main contributors in this new-look defense. But surprisingly it is the rookies really stepping up to make this team better. 
A welcome surprise indeed.
Check out my blog of this week's past game here. Live updates of every drive.
San Diego Chargers Facts after Week 4: 
The Bolts are No. 1 in time of possession so far this season. This can be attributed to Philip Rivers' solid play in the fourth quarter when he has the highest QB rating in the NFL. Rivers is controlling games and really learning how to close games. Against Miami, Rivers orchestrated a 7 minute, 60-yard, field goal drive to put the Chargers up two scores and put the game out of reach.
Larry "Not a bust?" English recorded two sacks against the dominate Jake Long and the Dolphins. He is now tied for the team lead (2.0) with Antwan Barnes.
Mike Tolbert leads the Chargers with 25 receptions. Chargers running backs have combines for 48 catches on the season.