WWE Hell in a Cell: 2011 Full PPV Review
October 4, 2011
What's up, ladies and gentlemen? My name is Eric Kanes and we are just 24 hours removed from the 2011 Hell in a Cell pay-per-view.
I still have mixed feelings about the event. Was Hell in a Cell great by any means? Absolutely not. However, it was much better than last year and it was a step up from last month's Night of Champions pay-per-view. Plus, the ending was well done and the match quality slightly improved.
Without any further ado, let's get right down to the full review.
Sheamus d. Christian (**1/2)
Before this match started, R-Truth and The Miz showed up in the crowd with tickets. John Laurinaitis had to come out and have them escorted out. While he was out there, the commentators pointed out twice that he is the Executive Vice President of Talent Relations. I don't think that was enough. They really should try to do a better job of making it clear who he is.
I have to say that Sheamus vs. Christian was a bit of a let-down considering who was in the match. These guys worked a very slow pace and the match never really picked up. This was something you'd expect to see on an episode of SmackDown but it definitely was not PPV quality. It ended after about 15 minutes with Sheamus hitting the brogue kick for the win.
Sin Cara Blue d. Sin Cara Black (*)
There's wrestling a match and then there's just executing wrestling moves. Unfortunately, this match was the latter. All they did was hit the huricanrana a bunch of times on each other and that's pretty much it. I don't think I've ever heard a "Boring" chant during a match between two high flyers before but this match definitely deserved it. Two notes as well: 1) They need to get rid of that stupid lighting. It ruins just about every Sin Cara match. 2) Hunico needs to do a better job at calling spots. You could hear him yelling throughout the match.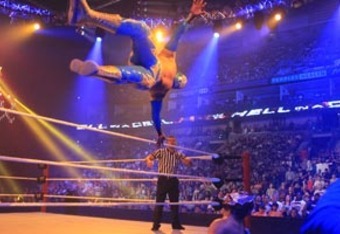 Kofi Kingston & Evan Bourne d. Jack Swagger & Dolph Ziggler (***)
This was a fun, fast-paced match that finally woke up the crowd. At one point, it actually looked like Ziggler and Swagger had the win. The finish with Bourne reversing a top rope gutwrench powerbomb into a roll-up while Kofi held Dolph back was pretty cool. These guys seem to have great chemistry together so if they had gotten another 10 minutes, I'm sure this match could have hit the **** range. I also think I'm speaking for everyone when I say that I'm glad to see the tag team titles defended at every pay-per-view against fresh tag teams. That's all it really takes to make the titles relevant. Hopefully, the trend continues.
Mark Henry d. Randy Orton (**3/4)
This was another major let-down. Last month at Night of Champions, these guys told a great story and I gave their match ***1/2. With the Hell in a Cell stipulation, these guys being the two hottest acts on SmackDown, and this likely being their final match, you'd think that WWE would let them go all out. Nope. They wrestled a regular match as if the cell wasn't even there. The finish where Orton went for the punt and Mark Henry jumped up and hit the world's strongest slam was great though.
Post-match, Randy Orton attacked Mark Henry with a chair which led to Henry literally running away. I won't complain about this too much because Henry did get two clean wins and looked a lot stronger.
Cody Rhodes d. John Morrison (**1/2)
Before the match, Rhodes came out in street clothes and put the "cursed" Intercontinental title into a paper bag and then introduced a new title, which has the same plates as the classic one but on a white strap. He said that greats such as Shawn Michaels, "Macho Man" Randy Savage, and "Stone Cold" Steve Austin held it and that he will be a better champion then all of them defending the title at any time, any place. John Laurinaitis came out and introduced himself as the Executive Vice President of Talent Relations. For clarity, his nameplate said "Executive Vice President of Talent Relations" as well. Laurinaitis then brought out Rhodes' opponent, John Morrison.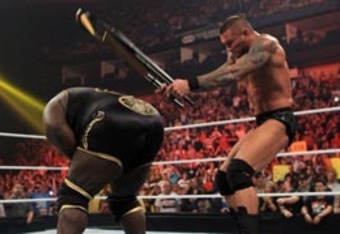 The match was decent but it wasn't given enough time to be great, although it easily could have been. Rhodes' facial expressions throughout the match and the way he "protested" by hanging on to the ring-post were fantastic. He ended up winning with a roll-up after Morrison missed a springboard kick.
I have no idea if what he said was true or not, considering that WWE likes to make title challengers look strong and then start booking them to lose all the time as soon as they win the title. In a recent Q&A, somebody asked me if I think Cody Rhodes can bring some prestige back to the Intercontinental title. This was my response:
"Cody Rhodes can definitely bring some prestige back to the Intercontinental Championship and, in fact, I'll take it a step further - anybody can bring prestige back to the title and make it relevant again. All it is is a matter of booking. If you have Cody Rhodes defend it at every pay-per-view against every challenger and you have upper-level mid-carders like Sheamus and Daniel Bryan challenging for the title, then the prestige goes up. It really is as simple as that."
Hopefully Rhodes introducing the new title and proclaiming that he will defend the title at any time will be the start of a great reign.
Backstage, we got a segment where Triple H told John Laurinaitis not to book matches anymore. They then saw The Miz and R-Truth beating down Kofi Kingston and Evan Bourne as Ezekiel Jackson and Alex Riley randomly came in to check on them. Triple H told Laurinaitis that next time something like this happens, it's his ass. He also mentioned that Laurinaitis is the Executive Vice President of Talent Relations, just to clear things up.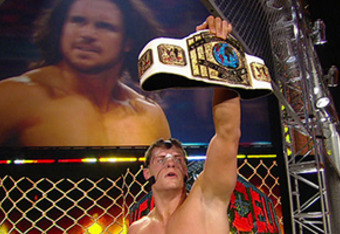 Beth Phoenix d. Kelly Kelly to become the NEW Diva's Champion (*3/4)
Beth ended up finally defeating Kelly after Natalya nailed her with a microphone. Obviously, they couldn't let Beth get the clean win. It wouldn't look natural. Kelly is too much of a beast. Either way, I'm glad the underdog was finally able to prevail and dethrone the dominant champion.
Alberto Del Rio d. John Cena & CM Punk to become the NEW WWE Champion (****)
This was easily the match of the night. All three guys got an equal amount of offense in and there was a lot of back-and-forth action. The finish saw Ricardo Rodriguez unlock the cell and save Del Rio from the STF. As Cena went after Rodriguez, Del Rio nailed him with a lead pipe and locked him out of the cell. He ended up nailing Punk in the head with the pipe to get the win. It made him look smart but it would have worked a lot better had he not lost the title last month. There's no point in putting the title back on him now. We all know that he's nothing more than a transitional champion until Cena gets the title back.
However, that's not what made the ending great. What made the ending great was the cell slightly rising and The Miz and R-Truth running in with pipes. The cell quickly lowered and Miz and Truth beat the hell out of Cena, Del Rio, Punk, the referees, and cameramen in the cell. The entire roster ran out and started shaking the cell like a bunch of animals. Finally, police came out and opened the cell with pliers. Miz and Truth surrendered and were both handcuffed and arrested. Triple H attacked them both but he was restrained. Basically, it was compelete chaos.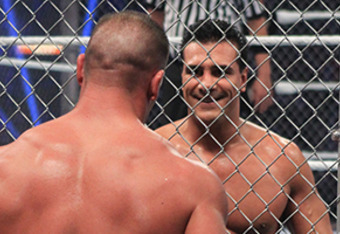 I have to say that the ending was very well done. Another thing that made it great was JR yelling and adding a bunch of emotion to it. So much better than if we had to listen to "Look at this!" "Vintage R-Truth!" "Somebody betta call the po-lease!"
Hopefully, JR on commentary is a permanent thing for PPVs from now on, even after Jerry Lawler recovers from his anal bleeding.
Final Thoughts
Overall, I have to give this pay-per-view a 6.5/10. Again, it was far from being great but it was a step up from both last year and last month's Night of Champions. First of all, JR on commentary never hurts any show. Secondly, for the first time in three years, we finally got a Hell in a Cell match that wasn't just a regular match with a cell around the ring.
Finally, I am so glad to see WWE getting behind The Miz and R-Truth and making them the focal point of the main angle. I am a huge fan of both guys and WWE getting behind them is a great decision. Two weeks ago, they were a comedic tag team. Last night, they looked like legit badasses as they beat down three of the company's top wrestlers. Kudos to WWE for doing the right thing.
I hope you guys enjoyed this review. Until next time, I'm out!
---------------------
Add me on Facebook for daily wrestling discussion.
Subscribe to my YouTube channel for wrestling videos every Tuesday.
Follow me on Twitter because you've got no good reason not to.
And of course, check out my site: QuickWrestlingNews.com.