Cristiano Ronaldo: Top 10 Real Madrid Moments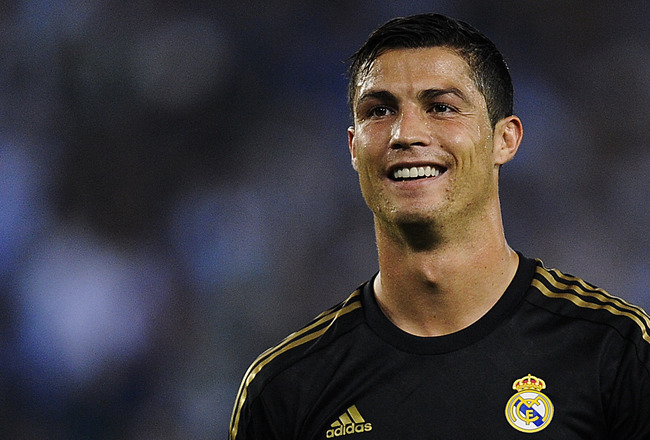 David Ramos/Getty Images
Since his arrival for a record-high transfer fee in 2009, Cristiano Ronaldo dos Santos Aveiro, more commonly just Cristiano Ronaldo, has been setting the standards.
After leaving English Premier League side Manchester United for Real Madrid, he immediately challenged Blaugrana striker Lionel Messi for the title of best player in Spain and the world. How many debates or articles have you seen of Messi versus Ronaldo?
Now in his third season as a Merengue, the striker has made 99 appearances with 95 goals in all competitions.
Now, looking back at is time so far in Madrid, here are his top moments as a Madrid superstar (in chronological order).
Player Presentation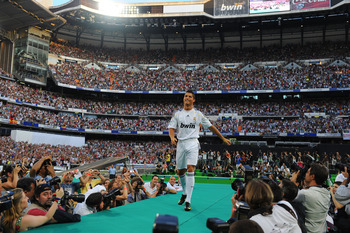 Denis Doyle/Getty Images
The announcement came on June 26, 2009. Cristiano Ronaldo would join Los Galaticos on July 1 with a contract of around €11 million per year. Does it get much better than that? Maybe.
Only six days after joining the club, Ronaldo was presented to the fans and media. Real Madrid legend Alfredo di Stefano, honorary president of the club, presented him the No. 9 jersey in front of 80,000 fans.
Attending the Santiago Bernabeu, these fans comprised the largest crowd ever to welcome a player. The attendance even surpassed that of Diego Maradona's 75,000 upon arrival to Napoli.
Debut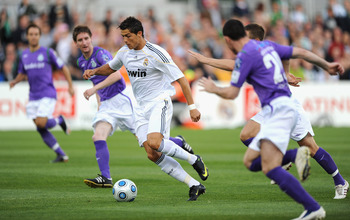 Laurence Griffiths/Getty Images
His first match in the royal white of Madrid. Starting against Irish Premier Division champions Shamrock Rovers in a preseason friendly, he wasn't subbed off until the beginning of the first half.
Though not scoring the only goal of the eventual 0-1 win to Madrid, he had an impressive half and even had a few chances to score. They, of course, didn't materialize, which could be attributed to the fact that it was his first game with a brand-new team.
First Goal
Denis Doyle/Getty Images
His first goal in Spain's La Liga came against Deportivo La Coruna.
Not only was it the first time his name was added to the score line in a La Liga game, but it was also his first game in La Liga.
After a poor tackle on Raul in the box in the 35th minute, a penalty was rewarded to Los Blancos. Ronaldo was quick to convert, and Real Madrid were once again ahead of Depor. The game ended in a 3-2 win for Madrid.
Record-Breaking vs. Villarreal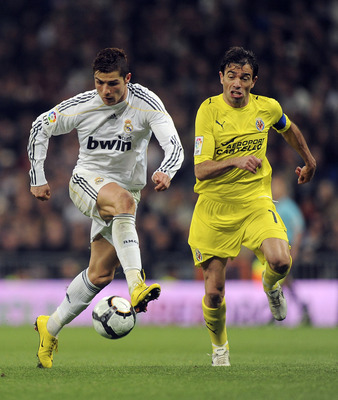 Denis Doyle/Getty Images
After only his fourth game in white, Ronaldo was making history.
After scoring in the second minute, CR7 became the only player in Real Madrid's long history to score in his first four matches of La Liga. While legends like Hugo Sanchez and Jorge Valdono scored in the first four matches (all competitions), none have done the same as Cristiano.
Goals against Deportivo La Coruna, Espanyol, and Xerex also helped lead him to this honour.
Champions League Debut and First Goal
Of course, it is not his first time in the Champions League and definitely not his first time scoring in the competition. But it was his first match and goal for Real Madrid in this particular competition.
The first game in the group stage of the 2009/10 Champions League saw Real Madrid face off against Swiss Superleague outfit FC Zurich. Given the start by then-manager Manuel Pellegrini, Ronaldo opened the scoring in the 27th minute with a perfectly positioned free kick.
In the 89th minute, when the score was a nervy 3-2, Ronaldo once again found the back of the net with another perfect free kick. The game ended in a 5-2 win for the Spaniards, a fantastic debut for the striker.
First Hat Trick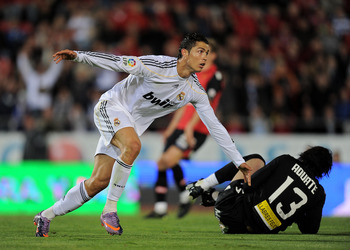 Jasper Juinen/Getty Images
May 5 was the date, and Mallorca was the victim. Ronaldo's first hat trick as a Real Madrid player was nothing but spectacular.
Ronaldo started his shower of goals in the 26th minute. Half-time ended with only a 0-1 lead against the Palma-based club.
Come the second half, it was a different story as CR7 found the net in the 58th and 73rd minutes.
Having a fantastic game, Ronaldo would only go on to more hat tricks in the future.
4 Goals vs. Racing Santander
Four goals in a single match. As a striker, does it get any better than that?
The game took place on the October 23, 2010, and it marked the highest number of goals scored in single match by the Portugal captain himself.
The first goal came only five minutes after Gonzalo Higuain's 10th-minute strike, the score line already 2-0. Not long after, he added a second goal to his tally at the 27-minute mark.
Mere minutes after the second half began, Ronaldo found the net once again. It only took him eight minutes after that to hit the four-goal mark.
First Goal vs. Barcelona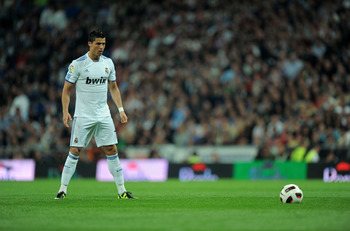 Preparing to take the penalty
Denis Doyle/Getty Images
Although he had played against the Catalans four times prior, Ronaldo's first goal against Barcelona came on April 16.
The first game in the series of four Clasicos last season, the La Liga matchup saw Argentine Lionel Messi open scoring for Barcelona with a penalty from the spot.
While all looked to be over, in the last 10 minutes of the game, a penalty was awarded to Madrid after a poor tackle on Brazilian left-back Marcelo. Ronaldo stepped up to take the penalty. Lo and behold, he scored his first goal against the archrivals of his club.
He would go on to score more against the Blaugranes in future games.
Copa Del Rey-Winning Goal
Voted as the best goal of Ronaldo's season according the Real Madrid website, this strike came at the perfect time to seal a victory against archrivals Barcelona in the monumental Cl4sico series (in which Los Blancos faced off against Blaugranes four times in the period of around three weeks).
Not only did this victory bring pride to every Madridista's heart, but it brought home the Copa del Rey, a cup Real Madrid had not won for 17 years prior.
The final taking place at the neutral location of Mestalla, home of Valencia CF, the entirety of regular time was fruitless. Now 90 long minutes with no goals, the match went into nervy overtime. Then came the match winner 13 minutes into extra time, a direct header from none other than CR7 himself that found the back of net, and Madrid drove home with the trophy.
This goal brought Ronaldo his first trophy as a Merengue and Real Madrid's first since 2008.
Record-Breaking Pichichi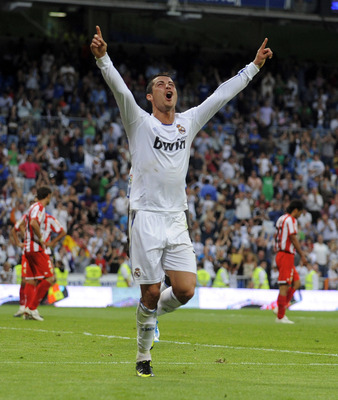 Celebrating his 41st of the 2010/11 La Liga campaign
Denis Doyle/Getty Images
It took 41 goals for Ronaldo to be handed the Pichichi trophy, making him the highest scorer of La Liga 2010/11.
With only one season playing for Real Madrid under his belt, the Portuguese striker made La Liga history. Coming out on top against two-time Ballon d'Or winner Lionel Messi and others such as Manchester City's recent addition Kun Aguero and American-born Italian Giuseppe Rossi, Ronaldo scored the highest amount of goals ever in one season.
He surpassed the record previously held by legends Hugo Sanchez and Telma Zarra with 38 goals in one season.
Keep Reading

Real Madrid: Like this team?