Why Cris Carter Is an Idiot: Calvin Johnson Is NFL's Best Player
October 3, 2011
Tom Pennington/Getty Images
Calvin Johnson is the best player in the NFL.
In his first four games this season, the 26-year old has accumulated 24 catches for 321 yards and eight touchdowns. At this pace, he'll haul in 96 catches for 1,284 yards and an incredible 32 touchdowns. He's used his near-superhuman 6'5" tall, 236-pound frame to catch two touchdowns in each of the Lions' first four games. Without Johnson's dominance this season, there's no way the Detroit Lions would be undefeated today.
Apparently, Cris Carter is unimpressed.
This summer the former Vikings wide receiver—almost certainly bound for the NFL Hall of Fame someday—famously left Calvin Johnson off an impromptu list of the top five receivers in the NFL:
Calvin Johnson, he's very, very good at Madden and Tecmo Bowl or whatever they're playing now. But on film, when I watch film, and I break down the film, he's not to the point of these guys yet...We're trying to determine greatness and impact on the NFL game. Calvin Johnson, you don't have to double-team him to take him out of the game.
Carter had a point. Johnson, in his first four seasons, had not been a consistently excellent route runner. He was not flawless in body control around field boundaries. He didn't routinely get past the sticks on third down. As Mike Florio at Pro Football Talk pointed out, he'd never had to.
With such dominant physical tools, he'd never had to relentlessly polish his technique and craft to get open. As a result, teams could shut him down with double coverage, or at least make passing to the other targets a more attractive option. Through the first few seasons of his career, Carter's critique had some merit.
But, unlike some naturally talented wideouts who never reached their true potential, Johnson has been steadfastly improving his game, and the results are apparent.
In 2010, Johnson caught 77 passes for 1,120 yards and 12 touchdowns, while missing two games due to injury. With a carousel of three quarterbacks feeding him the ball, Johnson still had a career year for the 6-10 Lions; his 2010 per-game production would qualify as a "career year" for any wideout.
Carter seemed to realize he made a mistake, as the next day he called into ESPN's Mike and Mike show to say he'd been wrong about Megatron not being one of the five best receivers in the game. Johnson, to his credit, held his tongue—though he also took issue with Carter's claim he can be single-covered. The late Tom Kowalski of MLive.com debunked that notion; few tried to single-cover Johnson, but only the Jets' Darelle Revis single-covered Johnson without getting burned.
Last week, Carter moved the goalposts. Carter decided that even though Johnson should be considered one of the five best receivers in the game today, there are only four truly "elite" receivers.
"I believe there's really four elite wide receivers," Carter said on the Mike and Mike show. "That would be Greg Jennings, Roddy White, Larry Fitzgerald and Andre Johnson. Those guys separated themselves over the course of the last several years from the other receivers."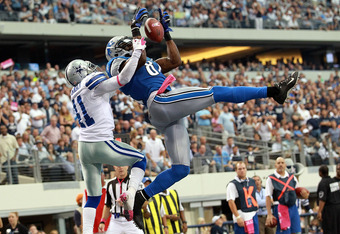 Ronald Martinez/Getty Images
To this point, Johnson's receptions and yardage totals are right in line with those four players—but he has a three-touchdown lead on the rest of the NFL. Johnson's consistently drawing, and beating, double coverage. He's been the difference between winning and losing multiple times already this season.
Not only do his physical tools make him a nearly impossible matchup, but the still-only-26-year-old wideout has blossomed as a complete receiver. He's become as dangerous on a third-down slant as he is on a 40-yard end zone jumpball. He's en route to one of the best statistical seasons any NFL wideout has ever had...possibly the best.
Johnson stands head and shoulders above all other NFL receivers. He's more dominant at his position than any other player is at theirs. No player's been more integral to his team's success than Calvin Johnson. He is the best player in the NFL, and if Carter can't see that, he's an idiot.