MLB Playoffs: Loss to Rangers Will Not Stop the Rays' Incredible Run
October 2, 2011
Ronald Martinez/Getty Images
Last night, the Tampa Ray Rays lost 8-6 to the Texas Rangers in Game 2 of the American League Division Series.
The Rays lost in large part to a five-run third inning that put them into a hole that they couldn't get out of.
Now that the series is tied at one game apiece, it is easy to think that the Rays incredible September run could now be ending.
The Rays saw their top pitcher from this season in James Shields get lit up for seven runs in five innings, and at times, looked intimidated.
Tampa's starter for Game 3 will be David Price, who was inconsistent during the month of September, including the regular season finale. Price also registered a 4-9 record at Tropicana Field this season and had an ERA that was nearly half a run higher at home than on the road.
In Game 4, Jeremy Hellickson will start for the Rays. Despite having a strong rookie season, this will be Hellickson's first career playoff start in what will could be a clinching game for either side.
Texas' offense also looked like it did during the month of September, where it registered a .320 batting average. The Rangers were able to get big hits when they needed to get them and despite a shaky outing from Koji Uehara, the bullpen looked solid.
Despite this loss, the Rays will go into Game 3 with the upper hand.
The Rays went 47-24 at the Trop this year, fourth-best in the American League. In the month of September, the Rays went 12-3 at home, which was the best home record of any major league team for that month.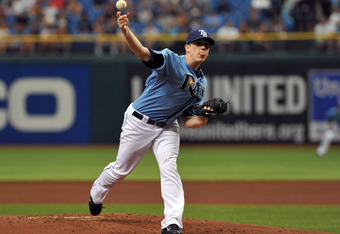 Al Messerschmidt/Getty Images
Considering that the Rays come home with one win already under their belt, they appear to have an advantage in this sense.
Also, there is the recent history over what the Rays had just accomplished at home within the last week. The Rays have won their last five games at Tropicana Field, including their dramatic walk-off home run by Evan Longoria to get the Rays into the playoffs.
Despite having the third-lowest attendance in baseball this year, Rays fans did come out in large numbers during the last series of the year (even though there was a significant number of Yankee fans at that series).
There has already been talk of a sellout for this game and considering how well the Rays can play when the Dome is full, there is a higher chance of victory in this game.
Of course, the Rays are also still playing this series with next to no pressure after overcoming the Red Sox to get into the playoffs. These players are just going out there and enjoying themselves with a carefree attitude.
Meanwhile, the Rangers have the pressure of trying to get back into the World Series for consecutive seasons, though this time they don't have Cliff Lee for a game like this.
Last year when these two sides met, it was Lee who was the biggest difference maker from these two sides. Lee was able to win at Tropicana Field twice to get the Rangers into the ALCS.
But it is unlikely that Colby Lewis and Matt Harrison will be able to put together masterful performances like what Lee had last October this time around.
If the Rays can just put together another strong effort and Price pitches like he did last year, Tampa Bay will in all likelihood come out of Game 3 with a victory.
For more baseball news and opinions, follow me on Twitter! @Andrew_Jordan