Letter to Frank Beamer from Virginia Tech Hokie Football Fans
October 2, 2011
Geoff Burke/Getty Images
Dear Legendary Coach Beamer,
I can't argue with 52-16 over the past five years. We are one of the most consistent teams in the NCAA. You have led us to seven consecutive double-digit win seasons and four ACC championships. Nothing can compare to your loyalty, dedication and commitment to making this program as good as it can be.
But...
Us Hokie fans have a bone to pick with you. Not with your top 10 NCAA defense. Not with Beamerball.
It's about our offense.
How can a team who has won 10 or more games every year win only one BCS game? How can we win 10 games and not win the ACC?
With the exception of the Tyrod Taylor years, our offense has been plain awful.
We need a serious change. It's not a popular decision, but it needs to happen.
Our Hokie football team needs a completely new offense.
We love Bud Foster.  We love blocked punts, kicks, interceptions and sacks.  But guess what we miss.
Scoring on Offense
We have a tight-end trying to play QB.  No wonder why opposing teams stack the box expecting the run.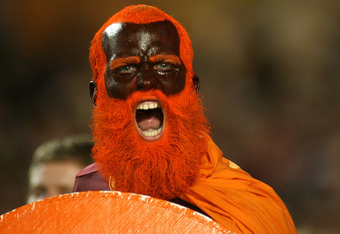 Marc Serota/Getty Images
Because it's all we can do!
If all we can do is run the ball, we need to mix it up. Here's what I have in mind:
Hire an Option Offensive Coordinator
There are plenty of them out there. Utah State, Oregon or any of the Service Academies.  We all saw what Auburn did last year. Heck, you can even call up Georgia Tech if you're feeling extra crazy, but please, call someone.  
These schools (with the exception of Auburn) make up the top six rushing teams in the country as of October 1. Their combined record is 14-8. Clearly they're doing something right.
Look at yourself in the mirror and ask yourself, "Does Bryan Stinespring really give me the best chance to win?"
Frankly, the answer is no.
Thanks,
Fans who want our first National Championship