USC Football: Trojans Need to Tackle Their Problems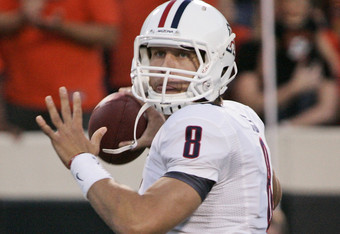 Brett Deering/Getty Images
Before I start my rant, let me first congratulate Matt Barkley for breaking Carson Palmer's record for most passing yards in a game with 468 yards. Also, Robert Woods came up five yards short of breaking the receiving record with 255 yards in catches. And true freshman Marquise Lee had his first 100-yard receiving game with 144 yards.
But as well as the offense functioned against Arizona, the defense was the complete opposite. The Trojans gave up 43 points last week and another 41 points this week in two embarrassing back-to-back performances against the Arizona schools.
Last week the ASU Sun Devils carved the USC defense for 175 yards rushing and 227 yards through the air. While the front seven could not plug up the holes, the Trojan secondary had its share of missed tackles along with loose pass coverage.
This week the problems with the rush defense continued as Keola Antolin and Ka'Deem Carey ran through and around USC defenders. The Wildcats run game, ranked 119th in the nation, averaged only 62 yards in their first four games. They had 83 yards against USC in the first half alone and finished with 129 – double their average.
The USC defense could not stop the Wildcat offense once Nick Foles got over his opening jitters. Foles had a pass batted down by Wes Horton to end Arizona's first drive. Then he threw two interceptions straight to T.J. McDonald to end the next two drives.
Those were the first two interceptions on the year for both Foles and McDonald. But after that, the Wildcats owned the USC defense. Unfortunately for Arizona (1-4, 0-3 Pac-12) Matt Barkley, Robert Woods and the USC offense owned the Wildcat defense. That was the difference in USC's 48-41 victory.
Harry How/Getty Images
When the season began, I felt this was one of the quickest and strongest front fours in the nation as well as one of the better secondaries. But the last two defensive performances have been frustrating to say the least.
And if I have been frustrated watching, I can imagine how frustrated, if not outright embarrassed, Monte Kiffin must feel watching Nick Foles and the Wildcat runners shred his modified Tampa Two defense.
Kiffin wanted to play his base defense, but Foles just picked it apart. The offense just moved the ball methodically up and down the field against the Trojan defenders.
After those first three drives that ended in a punt and two interceptions, Foles and the offense scored touchdowns on five consecutive drives and six out of seven altogether.
The only time the Wildcats were stopped in the second half came after an eight-yard Nick Perry sack and a great open-field tackle by Anthony Brown on a third-and-thirteen.
The Trojans could have used a lot more sacks and solid open-field tackles these past two weeks. Nick Foles had been sacked 12 times before today. But neither the front four nor Kiffin's blitzes were quick enough to get to Foles except that one time.
This is definitely not a big time FBS defense. So, is it the personnel or the coaching?
Like I have been saying, Lane Kiffin is a terrific offensive coordinator, and he should do really well in the right position. But a head coach needs to be a lot more proactive on defense than the younger Kiffin is now.
The fact that he never calls a timeout when his defense is getting shredded and needs a blow shows his offensive attitude. He saves those timeouts for offensive drives in the final minutes.
Also, going for a fourth-and-one at midfield with 1:51 left instead of punting illustrates again Kiffin's nearly complete offensive orientation.
But this is not the Trojan defense we had come to expect during the Pete Carroll era. Except for the 2005 rebuilding year and 2009, Carroll's last season at USC, Carroll's defense never had two atrocious games in a row.
Of course, Carroll is a defensive oriented coach, and Lane Kiffin is not. But I feel Lane does need to show more involvement in his father's schemes. The USC offense and Matt Barkley cannot go through this entire season living on the edge.
This article is
What is the duplicate article?
Why is this article offensive?
Where is this article plagiarized from?
Why is this article poorly edited?

USC Football: Like this team?