WWE Hell in a Cell 2011: The Real History Behind Sin Cara vs. Sin Cara
October 1, 2011
In 2000, a rookie from El Paso, Texas started wrestling regularly on the Lucha Libre circuit across the border in Ciudad Juarez, Mexico.  Juarez was a great city for wrestling in the past, both as bloodiest town in the Funk family's West Texas territory and later as the home of a well-regarded pure lucha libre promotion that Eddy Guerrero and Konnan started in.
More recently, Juarez had been overshadowed by national promotions CMLL and AAA and action in bigger cities like Monterrey and Mexico City, but there was a thriving local circuit.  The rookie became one of the area's top stars as Mistico.
Meanwhile, in the Mexico City based CMLL promotion, the son of a wrestler named Dr. Karonte started wrestlng at about the same time Mistico started in Juarez.  After a short run as Dr. Karonte Jr., he settled in as Astro Boy for the next for years.
Astro Boy was one of the wrestlers whose matches would rarely (if ever) appear on TV, but as a spectacular high flier, he showed up at times in the "Momentos Estelares" (stellar moments) segment.  Eventually, in 2003, he went on a tour with Michinoku Pro Wrestling in Japan as Komachi, replacing rising CMLL star Volador Jr.  It was here that tape and DVD trading fans of international wrestling began to take notice of him.
Around the same time, CMLL did a survey of fans to figure out what direction to take the company in.  The consensus was clear: The fans wanted new, young stars.
Undercard wrestler Genetico was re-gimmicked as Sagrado, a devout Catholic wrestler who was mentored by Father Fray Tormenta, the masked wrestling priest (really, he was the loose inspiration for "Nacho Libre" and that French movie with Jean Reno).  As the storyline went, when Sagrado was trying to figure out if he should become a priest or a wrestler, Tormenta pushed him towards wrestling (Yes).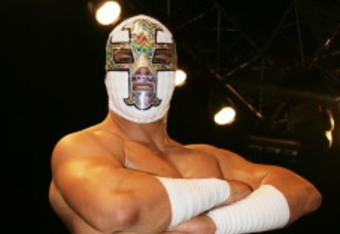 Sagrado was mediocre in the ring and bombed as a new top star.  CMLL looked for someone else to push and went with Astro Boy.
His gimmick would be another protege of Tormenta (Sagrado's gimmick was downplayed from this point on), and his name would be...Mistico.  With a huge push, he soon became a top star and a huge draw.
The original Mistico from the Juarez area was obviously not happy.  He tried to sue CMLL, but for whatever reason (CMLL's superior resources & thus better lawyers?  The weirdness of Mexican trademark law?), he lost.  There have been other, similarly strange decisions over the rights to wrestling gimmicks in Mexico in the past.
Juarez Mistico changed his name to Incognito, though he wrestled with names like "Mystico" and "Mistico de Juarez" when in and around Juarez.  He got some work with AAA, the other major promotion in Mexico, but wasn't really a mainstay.
Eventually, in 2007, WWE got working on signing the CMLL Mistico so they could have a big draw in Mexico when Rey Mysterio's knees finally turned to dust.  He did a pre-show tryout that impressed them but was still under contract with CMLL, so they couldn't make a deal.
Meanwhile, in 2010, Incognito signed with WWE and reported to developmental promotion Florida Championship Wrestling, where he was renamed Hunico.  He formed a tag team with Epico, who was Puerto Rican star Orlando Colon (cousin of Carlito & Primo).
Finally, in January of this year, Mistico signed with WWE and announced at a press conference a month later that he would now be known as Sin Cara ("Faceless").  Vignettes promoting his debut soon began airing on WWE programming and he made his first TV appearance the night after Wrestlemania.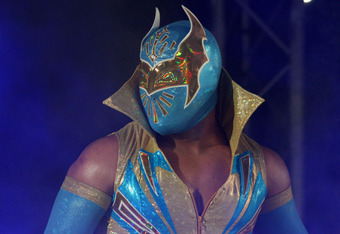 Gallo Images/Getty Images
While he had some trouble adjusting to the WWE style, Sin Cara quickly got over with the fans, especially kids, and his merchandise was flying off the shelves.  He was moved to SmackDown (while Mysterio was moved to Raw) so he would be on the taped show if any botched moves needed to be edited out.
He developed a bad reputation for not taking his promised English lessons among other issues, some of which stemmed from being Triple H's pet project.  In June, he failed a drug test, believed to be for an anabolic steroid of some sort.
He was reportedly given weeks to provide a legitimate prescription and when he didn't, he was suspended for 30 days, effective the day after Money in the Bank.  On that show, he was written out with an injury after Sheamus gave him the Celtic Cross through a ladder bridge.
After a couple weeks, WWE announced that Sin Cara would be returning the following week on SmackDown.  Since Sin Cara was suspended, they called up Hunico to take his place in the gimmick.
Everyone who knew the history was buzzing about what was going on.  Regardless of what WWE's plans were, did they know the history between the two wrestlers?  Was this a temporary substitution to keep the gimmick and thus merchandise sales alive?  Would there be a feud based on the issues between the two?
When Hunico wrestled as Sin Cara for the first time, it didn't seem like the fans in attendance knew he was a different person.  On commentary, there were hints dropped, but they were subtle enough that it wouldn't matter if Hunico took over the role permanently.  When the first Sin Cara's suspension was up, he was brought to TV and not used while Hunico still worked in the gimmick.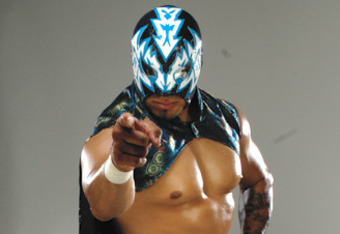 For a little while, it seemed like Hunico was getting the gimmick permanently, but he had a disastrously bad match at a SmackDown taping that had be completely re-shot.  Soon, he was turned heel.
He cut a promo about being "the real Sin Cara," making it clear where they were going: The story of the past few weeks with the original Sin Cara returning and Hunico being the evil impersonator.  Still, the big question was whether or not their history would be mentioned.
That was answered last night on SmackDown, when after a quick win by Good Sin Cara, Evil Sin Cara appeared on the big screen, revealed his new black outfit and cut a bilingual promo about how his identity was stolen as Mistico so he was going to steal Sin Cara's.  Unfortunately, the announcers didn't explain the details on the main English language broadcast, but still, they're doing it, turning this into a reality-based angle about the Mistico name.
I hope that the feud doesn't end tomorrow night at Hell in a Cell so the history can be properly explored on WWE TV.  There's a real life issue there, and as Jerry Jarrett used to say, personal issues draw money.