Alabama Football: Crimson Tide Running Game Will Swamp Florida Gators
October 1, 2011
Kevin C. Cox/Getty Images
If you've ever tried running in a swamp before, you'd know that it is pretty hard, but that's exactly what the Alabama Crimson Tide are about to do as they head down to Florida.
Admittedly, I have never gone for a run in a swamp, so maybe I'm not the expert, but I do know a whole lot about college football.
There is one thing I know for sure: This Alabama team isn't worried about any gators.
I would think that the best way to "swamp run" would be to do it quick. If you linger around, chances are you may get stuck in all the mud, or even worse, get snapped by a gator.
I'm not sure if Alabama head coach Nick Saban is going to use the same analogy as me (even though I'd like to think so), but the premise of what I am thinking remains true.
If Alabama is to win this game, they are going to have to run the ball. They are going to have to run it a lot and run it fast.
Ironically enough, it's the same game plan that the Florida Gators are going to try to implement. They boast two of the fastest running backs in college football in Jeff Demps and backup Chris Rainey.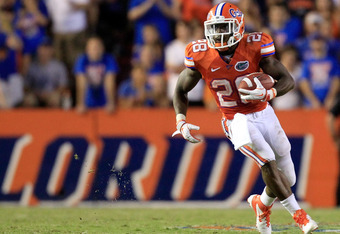 Sam Greenwood/Getty Images
Those two may be a formidable pair, but they don't hold a candle to Alabama's Trent Richardson.
David Jones of USA Today writes on the showcase of speed we will be getting in tonight's game:
No. 2 Alabama sports one of the nation's elite defenses. But even the Crimson Tide seem a little curious how the running games will match up. Alabama, after all, has huge weapons in the backfield, led by Heisman candidate Trent Richardson.

Going into Saturday's games, Richardson ranks No. 2 in the league in rushing (110.2 yards a game) while Rainey is tied for fourth (102.8) and Demps is No. 8 (80.0).

No. 12 Florida's offense is more of a pro-style attack now. But 'Bama coach Nick Saban gets flashbacks when he looks at film.

'Even though it's a little bit different style, they're still featuring the same players doing things that they're very, very good at, which is making plays in space, running the ball on the perimeter, and making it difficult for you to match up sometimes based on their personnel groupings because those guys are running backs, receivers, that type of thing,' Saban said.

How do you handle so much speed?

'You've got to press the ball and force the ball with leverage all the time at every position on the field,' Saban said. 'The backside support guy is just as important sometimes as the frontside guy. Most people that you play, that isn't an issue, but with these guys it's an issue.'
Richardson is stunning the nation and is on his way to a Heisman bid, posting up 441 yards and eight touchdowns so far on 67 carries.
He's also dangerous out of the backfield as well, as his nine catches for 121 yards and one touchdown suggest.
If the Tide want to win this game, they are going to have to lean heavily on Richardson, as the Gators will be doing the same with their feature backs.
In the end, I think it will be 'Bama's strategy that proves more effective, though.
One thing that the Tide have that the Gators do not is arguably the best defense in the nation, and they should be able to combat Florida's running game.
The Gators, on the other hand, will have no chance at stopping Richardson.
I'm not sure if he's ever ran in a swamp before, but I don't think he'll have any trouble with it.