Formula 1: Whatever Happened to the Racing Incident?
October 1, 2011
Mark Thompson/Getty Images
The long-time Formula One fans among us will recall a phrase that, though once a staple of every Grand Prix, has been left by the wayside. 
Two simple words uttered by drivers, fans and commentators alike.  A response to a locked brake, a misjudgement, or the guy in front closing the door a split-second after the move had been made... it was everywhere. 
But those who only started tuning in to F1 in recent years will be totally unaware it ever existed.
The racing incident.
The racing incident is almost as old as motorsport itself - it's unlikely any occurred between the horseless carriages during the 1894 Paris to Rouen event, but I imagine the first one didn't come long after that. 
Though what constitutes a racing incident has changed over the years, in our era of Formula One it could be broadly defined as "just one of those things that happens when two highly skilled drivers are going hundreds of miles an hour and trying to overtake each other in cars that are horribly difficult to overtake in, on circuits seemingly designed for a procession."
I say 'could' rather than 'is' because the racing incident has seemingly slipped away into the ether, usurped by a rather more sinister foe. 
In our extremely sanitised modern F1—in which success is measured as much by profit as by points—making a mistake or taking a risk just isn't allowed. Committing such an act will see you charged with a crime against your fellow drivers—"causing an avoidable accident."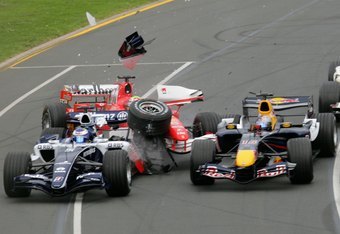 Mark Thompson/Getty Images
Which would perhaps be fair enough, if "more overtaking" wasn't the most frequently chirped phrase when the FIA and FOTA tell us what their visions are for the future of Formula One. And if the drivers were quite happy to sit in 11th and wait for a pit stop to try to pass the sluggish rival who somehow ended up ahead of them.
But it is, and they aren't. 
So we're left with the quite silly situation in which drivers reach the pinnacle of their sport, are expected to provide entertainment, want to race and overtake... but get a penalty if the guy in front brakes a foot earlier than usual, or the inside line has a little less grip than anticipated, or someone moves when they least expect it. 
The recent Singapore Grand Prix provided two notable incidents of a faster car colliding with a slower one while trying to overtake.  The Schumacher and Perez collision left the German in the wall and brought out the safety car.  Depending on who you ask,  Perez braked too early or Schumacher braked too late. 
I think Michael just got his line a few inches wrong as he tried to go down the inside. It was a 100 percent racing incident, and thankfully it was treated as such.
The other was the Hamilton and Massa coming-together, which left Lewis with a broken front wing and Felipe with a puncture. Massa was slow on the apex due to a defensive line, and Hamilton tried to take more speed through the corner for a better run out of it—and didn't correctly anticipate the Brazilian's speed.
The touch was so tiny it would have required replays to notice had no damage occurred. It was certainly no worse than Schumacher-Perez, but Hamilton was given a drive-through, perhaps because Massa got a puncture. But the penalty seemed very harsh—it was a racing incident. 
Just 20, 10, even 5 years ago, a driver prepared to risk a safe second for the chance to win would be hailed as a true racer and applauded—even if he got it wrong. Senna or Mansell, for example. 
As recently as 2009, the 10-8-6-5-4-3-2-1 points system was criticised for providing too little incentive to go for the top step of the podium. 
Now, despite changes to make overtaking easier and more attractive, drivers seem to be punished for wanting to race. 
No one wants recklessness, and overly optimistic punts and downright bad driving should still be punished. But just getting it slightly wrong?  An accidental tap?  Misjudging the off-line grip level?  Such things happen in motorsport, even at the very pinnacle. 
The drivers are human, not machines, and the cars are on a track, not rails. 
It's supposed to be racing. So let them race.