2012 Red Sox: Why 2 Guys You May Not Have Heard of Will Bring the Sox Back
September 30, 2011
Christopher Pasatieri/Getty Images
The 2011 season was nothing short of an epic disaster for baseball fans in Boston, as the Red Sox underachieved more that pretty much any team in baseball history that was not called the Mets.
I think we can all firmly agree that the 2011 Boston Red Sox had just as much, if not more, talent on their roster than any team in baseball. In terms of true talent and human capital on the roster, there was no team that should have prevented the Red Sox from winning the World Series.
But something happened, and the Sox went 7-20 in the month of September, finishing one of the most shocking collapses in professional sports history by being left on the field by the lowly Baltimore Orioles in the bottom of the ninth. 
The 2011 Red Sox were not winners like the teams in 2007 and 2004 (and even 2003) surely were. Outside of Dustin Pedroia, and the injured Kevin Youkilis, the rest of the team all appeared to be playing for something other than a World Series ring. Whether that was their reputation, their contract, their girlfriend or their own ego is not relevant. To be a great baseball player on a great team, the number one thing that needs to be on your mind when you play is winning. Nothing else.
This is why I hope the Sox do not even think about going out and finding a high-dollar player that will play the whole season concerned about what the fans think of how he's living up to his ridiculous contract. That obviously doesn't work. There's a reason why the most valuable players on the team this year (Pedroia, Youkilis, Ellsbury, Ortiz, Aceves, Papelbon, etc.) were either homegrown or acquired dirt cheap. There's a reason why Adrian Gonzalez isn't on that list. He might have shown the worst leadership from a player of his caliber down the stretch of a pennant race that I've ever seen. No wonder he never had team success in San Diego.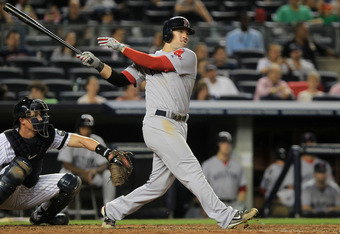 Chris McGrath/Getty Images
With all that being said, there is hope. By the middle of the 2012, there will be a couple of names beginning to enter into full-time roles in the Red Sox lineup. Two guys who I firmly believe will become true Red Sox along the lines of Trot Nixon, Jason Varitek and Dustin Pedroia. Two guys who I have seen play in person at the minor league level and have witnessed the combination of enthusiasm, likability and talent that they inhabit. Those two young men are Will Middlebrooks and Ryan Kalish.
Most Red Sox fans, and baseball fans alike, remember Ryan because of his fairly successful stint with the team at the end of the disastrous 2010 season. While he only hit .252, he brought an incredible energy to the ball club, both with his passion for the game as well as his five-tool physical attributes. He could play all three outfield positions, making acrobatic plays out there throughout his stint in Boston. An injury kept him out of most of this season and will most likely be the reason why he isn't the immediate answer as a replacement for J.D. Drew. But he will be a mainstay in the Sox' outfield for many years to come.
Will Middlebrooks is a much lesser known name because he is a bit younger and does not have any major league experience. He has made progress in every aspect of his game since being a fifth-round pick out of high school in 2007. He has also shown great enthusiasm for the game of baseball. Will dominated AA Portland before receiving a call-up to Pawtucket. He struggled there in limited time, making a September call-up impossible, but if he keeps progressing the way he has been, he will see time at the major league level next season and could be the reason why the Red Sox eventually part ways with David Ortiz, moving Kevin Youkilis to the full time DH role.
It's obvious that homegrown talent like this is what is going to make the Sox a World Series-caliber team again. Theo has been very, very good in evaluating talent, which is the main reason why he has had such success. The Sox need to lay off the big contracts; far too many of them (Lackey, Drew, Matsuzaka, Clement, Renteria) have been disasters, and players who don't live up to their big contracts leads to clubhouse dissension. The Red Sox have much to look forward to in their farm system, looking even deeper to recent draftees like Matt Barnes and Jackie Bradley Jr. They need to have faith in it rather than trade it away for, or overspend on, grizzled veterans.