Colorado Avalanche: Preseason Proving the Avalanche Still Have Work to Do
October 1, 2011
Doug Pensinger/Getty Images
The Colorado Avalanche are in a defining year for their organizations.
After one of the worst seasons in the history of the franchise, the Avalanche went out and made a lot of changes to bolster their goal-tending and the size and ability of their defense.
Training camp left many of us very excited at the prospect of the year as the team looked strong, healthy, fast and much more defensively sound than a year before.
Preseason has been a bit of a trial for the Avalanche as they are now 1-4 with one more preseason game left.
True, preseason games mean absolutely nothing in the long run; and while there have been some very positive moments that show some reason for optimism, the preseason has definitely shown that the Avalanche are not quite over the hump yet.
So many new faces on the team is something that will create some issues for any team as you get used to your new teammates.
New starting goalie for the Avalanche, Semyon Varlamov, has a huge adjustment to make for a couple of reasons.
First, the Avalanche are the only team in the NHL without a full-time goalie coach, something that he desperately needs in order to continue to develop his impressive skills.
Kirk McLean is listed as a "goalie consultant" for the Colorado Avalanche and is not out on the ice working with his guy at practice every single day.
Varly needs a guy like that who can be a calming influence, who can show him tape and work on improving things during practice. J.S. Giguere will be a valuable commodity for Varlamov, but he can't be expected to be his coach.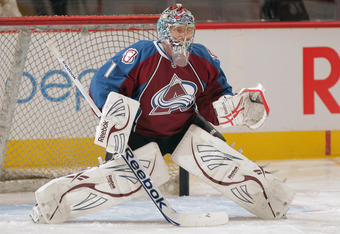 Doug Pensinger/Getty Images
Plus, Varlamov barely speaks any English at all and will need some time to figure out how is going to communicate with is defensemen.
Defensive pairings are so up in the air in Denver as well. The Avalanche had something like 19 defenders at training camp competing for spots; and while many of them have been reassigned already, about the only pairing that I can safely guess is Erik Johnson and Jan Hejda.
These guys are going to need to get some more time with their likely partners in order for them to work on their communication as well.
Probably the biggest thing that the Avalanche are going to have to work on this year is improving their absolutely horrible penalty kill from a season ago.
While a great deal of that does lie on the players, I would say the majority of this relies on the coaching staff.
In a previous article where I discussed why Sacco may be on a serious hot seat in Denver, I mentioned how it didn't seem like Sacco was able to make any adjustments as the year went on.
I don't think there was a single place where this was more evident than on the penalty kill.
Over and over again we saw a team that started chasing the puck, couldn't clear, didn't know where their outlet man was, etc. It got to a point where once the Avalanche PK took the ice, it was almost a foregone conclusion a goal was on its way.
Coaches have got to be able to address things like that, mix players out that are performing poorly and give other guys a shot to do the right things.
A big positive for our new penalty kill is the immense size down low, but the preseason game versus the L.A. Kings where three power play goals were given up shows that a lot still needs to be done.
I still feel very confident about this team and their ability to put together a better season than a year ago.
I think that the Avalanche will be in the hunt when things are boiling down, but there is still quite a long road for this team to go before they are out of the weeds, and I think they know that.