Boston Bruins: Why A Return To Providence Would Not Be Snubbing Jordan Caron
September 30, 2011
Richard Wolowicz/Getty Images
With only two outstanding offensive vacancies on the Boston Bruins depth chart and the newly-acquired Benoit Pouliot having plugged one of those cavities, sophomore Jordan Caron and veteran import Chris Clark are the most logical finalists.
Whatever happens between now and next week's regular season opener ought to spawn short-term and long-term benefits for all parties concerned.
Despite his expressed vow to become an established NHLer without delay, it may be in Caron's best interest to return to AHL Providence and once again split his season between the Spoked-P and the Spoked-B.
If it means seeing more guaranteed, authentic game action on the farm rather than taxiing with the parent club and waiting for an injury-induced vacancy, so much the better.
For his development as a prized first round draft choice, Caron should accept no substitute for playing against other teams on a regular basis.
Conversely, as a 12-year NHL veteran and one who has not been an everyday player since 2006-07, Clark will be easier to keep on standby to supplement an injury or give a fourth-liner the occasional night off. In addition, unlike Caron, he would have to clear waivers in order to join the P-Bruins the same way Zach Hamill and Trent Whitfield just did.
Still, from a sheer ice level standpoint, letting either of these right wingers go will be painstaking considering the comparable cases they have made in preseason game action.
Unless the coaching staff and front office have already decided to keep it simple and send Caron back down, Saturday night's visit to the New York Islanders might just be the tiebreaker.
So far, Caron and Clark have each recorded three games played with one point apiece and similar numbers in the various grunt work categories. In some cases, they have led all of their colleagues, particularly in the hitting department.
Both sat out for last Friday's 6-3 home win over the Islanders, and detailed stats from last Sunday's 7-3 triumph against Montreal were inexplicably unavailable.
One night after the Black and White scrimmage, the two right wingers each took one shot on goal, sent one attempt wide of the net and blocked an opposing shot in the Bruins' first extramural engagement in Ottawa.
In addition, Clark threw two hits and won his only faceoff in an eventual 2-1 overtime setback to the Senators.
Five nights later in Montreal's Bell Centre, both men inked their names on the score sheet and proved critical to a 2-1 victory.
Caron assisted on fellow youngster Tyler Seguin's goal while Clark inserted the game winner, finishing with a plus-1 rating, making slight amends for the minus-2 he logged in Ottawa.
Meanwhile, Caron landed a team-high four shots on goal and attempted a total of six, one of those being blocked and the other going wide.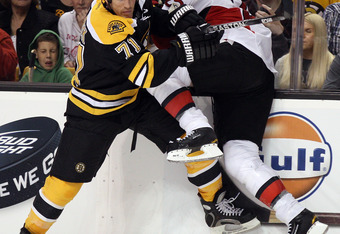 Elsa/Getty Images
But ahead of their scoring, the two players' physicality has been even more noteworthy and more identical in data.
While Clark was the hero on the scoreboard in Monday night's win at Montreal, Caron was the Bruins' leader along the dasher boards, gaining credit for four of the team's 16 hits.
Translation: Caron threw precisely 25 percent of all the Bruins hits in a bout with the hated Canadiens.
In Thursday night's game at the Garden, another 2-1 loss to the Ottawa Senators, Clark led all Boston skaters with four body checks. Caron was not far behind, tallying three hits and tying Gregory Campbell and Nathan Horton for second on the team.
In total, Caron and Clark have hit seven adversaries apiece in three preseason ventures.
For what it's worth, after nearly every skater saw slivers of special teams' ice time to start the exhibition slate, that privilege has grown more exclusive.
On Thursday night at the Garden, Clark saw no action on the power play or penalty kill. Conversely, Caron skated for 40 seconds during one 5-on-4 segment and also played 89 seconds of shorthanded time.
Paradoxical as it may seem, Caron's extra ice time may just be a sign of an impending, nominal demotion. But this should all bode well for him and the franchise.
The most heartening byproduct of the Caron-Clark footrace is that whether he is the spare part on the NHL roster or fostering his skills in Providence, both ought to be the top two go-to backups. They have each earned that status so far this preseason.