2011 Phillies Season Review: Were They Over or Under Projections?
September 30, 2011
Bob Levey/Getty Images
Last of a four-part series
Way back when, in February 2011, when the temperature was about 30-below zero—or so it seemed—I made a series of proposition bets to make the Philadelphia Phillies' season interesting.
At the end of May—when the Phils had completed one-third of their games—we checked in on how the team and certain individuals were performing relative to my projections. We did the same at the two-thirds pole, and now that the regular season has concluded and the real season is upon us, it's time to post and analyze the final tallies.
The numbers below are just part of the story for any baseball campaign, but these very same numbers, indirectly, tell many stories about injuries, playing time and surprises—assuming this columnist is any good at projecting…projecting numbers, not blame.
So as we start to celebrate the nearness of October baseball and what it may bring, let's check back in on those 33 prop bets I proposed almost eight months ago. Where did the time go?
Pitchers and Catchers

1. Combined wins by R2C2 (Roy Halladay, Cliff Lee, Roy Oswalt and Cole Hamels):  71
Three of the Phour Aces lived up to their immense advance billing this season, while Little Roy struggled to find good health and rhythm. For whatever reasons (injuries and poor run support on many occasions), the aces combined for only 59 wins. Interestingly, with Vance Worley's 11 wins, this would have been real close.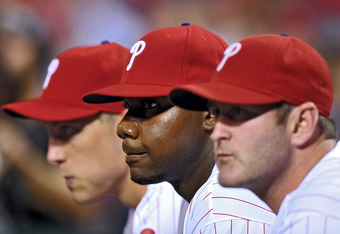 Drew Hallowell/Getty Images
2. Combined innings by R2C2: 850
The final number was 821.1. Oswalt's injury, causing him to miss nine or 10 starts, kept them from combining for over 880 innings.
3. Combined strikeouts for R2C2: 800
Lee and Halladay were among the league leaders all year, and Hamels is no slouch in this department. Neither is a healthy Oswalt.  The Phour phinished (apologies for the overuse) with 745 K's while only walking a combined 154.
4. Combined complete games for R2C2: 20
Doc (eight) and Cliff (six) were 1-2 in the NL in this category, with Cole tied for fourth (with three). Little Roy didn't contribute here, so they fell short with 17, but still an impressive mark these days.
5. Wins by Joe Blanton in a Phillies uniform: Six
This was proposed as more of a nod to trade rumors than to concerns over Big Joe's injuries and ineffectiveness. Joe had one win in his seven starts…but you had to love what Worley and Kyle Kendrick gave the team.
6. Saves for Brad Lidge: 33
There's always next year, although it's fair to ask if Lidge will be the closer then, and for whom? On the bright side, Ryan Madson (32 saves), Antonio Bastardo (eight) and, yes, Jose Contreras (five) have saved a remarkable 45 of their combined 48 chances. Lidge was one-for-one.
7. Batting average for Carlos Ruiz: .285
After a slow start, the beloved Chooch made it to .286 with just one game left but then took an 0-5 to finish just under at .283.  I thought we finally had an over.
8. Homers for Chooch: 11
Well, he made it more than halfway (with six).
The Rest of the Lineup

9. Home runs for Ryan Howard:  44
The Big Piece led the team and will finish among the NL leaders again, with 33.
10. RBI for Howard: 136
Minor injuries kept Ryan from posting a huge September. He finished with 116.
11. Whiffs for Howard:  180
Not a bad number, Ryan finished under here also, at 172.
12. Games played for Chase Utley: 145
Please remember that this number was set before a preseason injury that could have been even worse. Chase manned up 103 times.
13. Homers for Chase: 28
He finished with 11; maybe he has 17 or so ready for the postseason.
14. HBP for Chase: 23
Utley led the league each year from 2007 through 2009. He was plunked 14 times in limited games.
15. Games played for Jimmy Rollins: 145
Jimmy was third on the team with 142. This was looking like an over most of the season.
16. Runs scored for Jimmy: 105
J-Roll finished second on the team (to Shane Victorino's 95) with 87.
17. Stolen bases for Rollins: 32
Jimmy swiped 30…so close.
18. Placido Polanco's batting average: .300
Polly, plagued by injuries, settled for .277.
19. Will Polanco reach 2,000 career hits before or after September 15?
Cursed injuries! Polly finished the regular season with a career total with 1,966
20. Games played for Wilson Valdez: 55
The valuable sub played in 99 contests—we finally have an over!
21. Will Raul Ibanez finish the season in a Phillies uniform?
Yes! (That counts as an over)
22. RBI for Raul: 90
Even after a brutal start, Raul was second to Howard, with 84.
23. Batting average for Shane Victorino:  .285
A poor September dropped Shane down to .280.
24. Homers for Shane: 13
Shane slashed 17 balls right on out of there.
25. At-bats for Domonic Brown: 250
Brown racked up 184 at-bats and 210 plate appearances in his often frustrating season.
26. Homers for D-Brown: 14
Only five for Dom, but how about that Hunter Pence (11 as a Phillie)?  .
27. Games played for Ben Francisco: 115
Francisco made it to an even 100 games; hard to believe, Harry.
28. Ben's batting average: .270
.244…let's move on.
29. Homers for Ross Gload: Eight

What was I thinking? Maybe, the homerless Gload will author a Matty Stairs moment in the NLCS. 
Team Numbers

30. Total Wins in 2011: 100
How about 102—a new franchise record! And to think that they had an eight-game losing streak during garbage time.
31. Games ahead at the All-Star Break: Four

This one is complete, and the Phils fell just under; they were 3.5 games ahead at the All-Star Break.
32. Games the Phils will win the NL East by: Seven

Even with that losing streak, they left the Braves in the dust, finishing with a 13-game cushion.
33. Games the Phils will finish ahead of the New York Mets: 13
In February, I wrote: It was a margin of 18 last year, but can the Mets be that bad again?
Well no, the Mets were a little worse this year, and the Phils were a little better. The Phightins finished 25 games ahead of those Metropolitans.
Summary  
Injuries are hard to project, but I must admit that I was feeling a little too pumped up about certain stats. Blame it on the snowy winter. But even with all that optimism, the Phillies still managed to exceed my over-under of 100 wins. Now, they need 11 more.
If you were keeping track, the overs (or, where no true over-under, the positive outcomes) took just six of the 33. The good news: This column and series is now over as well.
Matt Goldberg, a featured columnist for the Philadelphia Phillies and all-around baseball fanatic, is also a noted humor author and speaker. For more information, please visit www.tipofthegoldberg.com