Miami Dolphins Add Running Back Steve Slaton off Waivers
September 30, 2011
Stephen Dunn/Getty Images
Despite having a speedy change-of-pack back already on the roster in Reggie Bush (I guess that whole "feature back" thing didn't work out too well), the Miami Dolphins added a similar player Wednesday by claiming running back Steve Slaton off waivers from the Houston Texans.
Slaton gives the Dolphins four running backs on the active roster, joining Bush, breakout rookie Daniel Thomas and Lex Hilliard. The team also has undrafted rookies Nic Grigsby and Richard Medlin on the practice squad.
To make room for Slaton on the roster, the Dolphins waived third-year defensive lineman Ryan Baker. The versatile lineman is not eligible for the practice squad, having appeared in nine games in 2009.

Background
Slaton played three seasons at West Virginia, breaking numerous offensive and rushing records as one of the best backs in the nation. His best season came as a sophomore in 2006, when he rushed for 1,744 yards and 17 touchdowns. By the time he declared for the 2008 NFL Draft following his junior season, Slaton had amassed 3,923 rushing yards, 805 receiving yards and 57 offensive touchdowns.
Selected by the Texans in the third round, Slaton separated himself from running backs Ahman Green, Ryan Moats and Chris Taylor as a rookie, starting 15 of 16 contests and totaling 1,282 yards and nine touchdowns on the ground while adding 50 receptions in the passing game.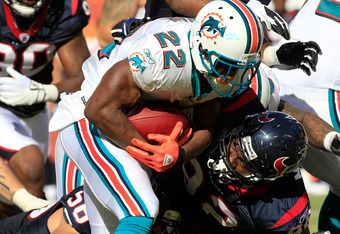 Sam Greenwood/Getty Images
Slaton saw his production dive in 2009, however, as he fumbled seven times in 11 games and had his rushing average decrease to just 3.3 yards per carry. In 2010, he started only one of 12 games played and carried the ball just 19 times as he took a backseat the eventual NFL rushing champion, Arian Foster.
Entering the 2011 season as a forgotten member of the Texans' backfield behind Foster, Ben Tate and Derrick Ward, Slaton rushed seven times for 20 yards and caught one pass in the team's first three contests, including one carry (for no gain) against the team's victory over the Dolphins in Week 2.
In Miami, Slaton will wear No. 23, which was worn by former first-rounder Ronnie Brown for the past six seasons. Kory Sheets wore it during training camp, while Larry Johnson most recently donned the number during the first two weeks of the regular season.

Analysis
When I saw the Texans had waived Slaton on Tuesday, I thought the Dolphins might be a possible match. It's true the team already has a similar back in Reggie Bush, but the team has always been about turning over every rock, and Slaton is still a talented young player.
I don't expect Slaton to have much of a role on offense early on, and it's entirely possible he never really makes an impact before being cut loose by the Dolphins too. But it's also possible the team is able to develop him into a quality complementary back for Daniel Thomas.
While durability and ball security are concerns, there is no doubt that Slaton has the physical tools to be a productive player on offense. He has good hands in the passing game, the speed and agility to break runs outside and even experience in carrying the load at the NFL level.
Handout/Getty Images
So again, while this move might mean nothing and could for all we know be a very short stint, it's also possible that the team really does have plans for Slaton. If that's the case, it could mean the team has either soured on Bush's long-term prospects in the offense, or at the very least, is doubling down by the acquisition of Slaton.
As for Baker, I'm a bit surprised by his release considering he's not practice-squad eligible, and I believed him to be the de facto backup at nose tackle. It's possible the team is utilizing Phillip Merling in that role, and adding outside help is always an option too.
As always, check out the updated projected depth chart reflecting these transactions here.

Discuss this article on the forum here!
---
Chris J. Nelson majored in journalism at Georgia State University and currently works for Turner Sports in Atlanta. He operates his own Miami Dolphins website, The Miami Dolphins Spotlight, and he can be followed on Twitter here.