MLB Playoffs 2011: Why Justin Verlander Isn't the Yankees' Biggest Fear
September 30, 2011
Ed Zurga/Getty Images
The New York Yankees open up a best-of-five division series against the AL Central champion Detroit Tigers, live from Yankee Stadium, The House that Robbie Cano built.
A lot of attention from Yankee Nation has been focused on the unpleasant impending possibility of facing likely AL Cy Young Award winner (and possible league MVP) Justin Verlander twice in the five-game set.
As well there should be. Justin Verlander has been outstanding all season long. He won the American League's pitching triple crown with 24 victories, 2.40 ERA and 250 strikeouts. He also placed first in the league in WHIP (0.920) and innings pitched (251). He's an elite starter if there ever was one, a gamer and a workhorse.
Of course, the Yankees have a guy like that, too. Southpaw Carsten Charles Sabathia just turned in his fifth consecutive season of 230 or more innings and continued his usual excellence, ranking ninth in the league in ERA and second in strikeouts. He's the very definition of an ace—which is part of the reason the Yankees made him the highest paid pitcher ever three years ago. Peripheral statistics actually showed him to be a touch better than Verlander—and while those might not be totally convincing, I can argue that the Verlander vs. Sabathia starts are essentially a wash, given the half-run per-game difference in scoring between the Yankees and Tigers.
If I were a Yankee fan, the matchup that would worry me far more involves the No. 2 starters on each team: Ivan Nova and Doug Fister.
This is not to rip on Ivan Nova at all; he had a fine rookie season, and is probably a slam-dunk to finish in the top three in the voting. But now he's in uncharted territory, called upon to help deliver the Yankees to their third consecutive ALCS as their No. 2 starter—a big step up for the young righty.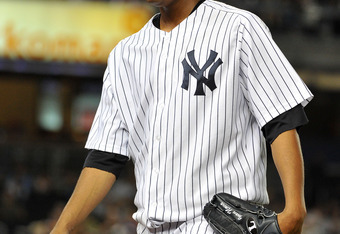 Christopher Pasatieri/Getty Images
Opposing him will be a man that flew under just about everyone's (except Tigers GM David Dombrowski) radar: Doug Fister.
At the time Doug Fister was acquired from Seattle, he was just 3-12, due largely to the abysmal run support he was provided by the worst offense in baseball. He had pitched very well, however, and was about to start pitching better. As a Tiger, Fister went 8-1, with a 1.79 ERA and 0.839 WHIP in 10 starts; overall, he finished fourth in the American League in ERA, sixth in WHIP, fifth in K/BB ratio and first in HR allowed (just 11 in 216.1 innings).
The Yankees have an answer for the Tigers' 24-5 ace Justin Verlander; but they may very well not have the guns to counter the 11-13 Doug Fister.
But then again, the Yankees have a thing for impressing us in October.