USC Football: What Happens When Trojan Leaders Fail?
September 29, 2011
Norm Hall/Getty Images
We have seen it time and time again in professional sports, as well as at the collegiate level.  A quarterback like Peyton Manning falls, and so do the Colts.  Michael Vick goes down with a concussion one week and a broken hand the next, and the Eagles lose to the Falcons and the Giants.
However, many times a team leader doesn't fall but just outright fails, and the team fails along with its leader.  It could be any sport—baseball and basketball as well as football.  The person you are counting on to get the hits or make the plays doesn't, and no one else can pick up the slack.
Carl Crawford and John Lackey were counted on to come up big for the Red Sox this season.  Both came up well short of expectations, and Boston went 7-20 this last month and missed the playoffs—again.
Remember Pau Gasol in his first Lakers-Celtics Finals in 2008?  After the Lakers had come to depend on Gasol during the second half of the regular season, he wound up earning the nickname Ga-Soft in the loss to the Celtics.
It happened again this year with both Kobe Bryant and Gasol failing to come through, and the Lakers got swept by the Mavericks.
Last Saturday it happened to the Trojans.  Matt Barkley, the team captain and leader of the offense, not only failed in the red zone in three of the four quarters against ASU, but he had called ASU's defensive star Vontaze Burfict a dirty player, which certainly got Burfict's attention.
And Burfict did not fail.  He played beyond expectations.  Now that is what a leader is supposed to do.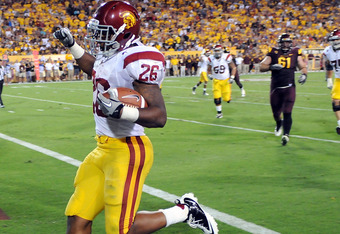 Norm Hall/Getty Images
Barkley's problems were not a result of poor play calling from the sidelines.  The plays were there.  However, the misreads, the overthrows and the interceptions were all on Barkley.  He did this to himself. 
Except for his fumble, which could be attributed to a breakdown in the offensive line, the mistakes were all on Barkley.  It was him doing it to himself, not the result of inexperienced players upfront or receivers downfield.
Marc Tyler has been around long enough to know that you do not fumble when you have come back from a 12-point deficit to take the lead and are about to go up by two scores.  Like Barkley's mistakes, this one was all on Tyler.  It had nothing to do with the freshmen and other so-called inexperienced players on offense.
In fact, those inexperienced offensive linemen opened some holes last Saturday that were big enough to drive the proverbial truck through.  Why it takes Tyler so long to see the holes and make his cuts is beyond me.  Tyler had some nice gains, but they were runs that a quicker back would have taken to the house.
And then there is the case of T.J. McDonald, who is anything but inexperienced.  He is supposedly one of the leaders of the defense and a preseason All-Everything.  His two personal fouls really put the Trojans in a hole.
In McDonald's defense, both calls looked borderline to me, but he should have known USC would not get the benefit of the doubt after Barkley cast aspersions on Burfict's overly exuberant play and Lane Kiffin made the world aware of ASU's seemingly unsportsmanlike play.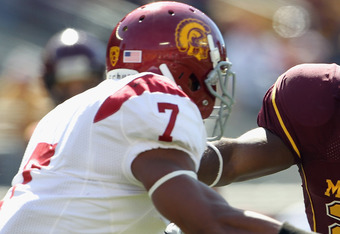 Jamie Squire/Getty Images
What was Kiffin thinking, anyway?  What Barkley said was bad enough.  Why did Kiffin permit Matt Kalil and the rest of the players to speak to the media about getting late hits in practice all week to prepare for ASU?
Kiffin has enough experience to know that kind of tactic is actually a berating of the officials, who are supposed to pay attention to personal fouls.  And they did—penalizing USC rather than ASU.  Way to go, coach!
And that two-point play again?  Sure, two points there would have put the other team down by a field goal, but one point is better than no points.  And why is Kiffin so concerned about a field-goal lead in the middle of the third quarter?
Besides, if Tyler doesn't fumble, USC goes up by nine points with another PAT.  That's a two-score lead.
With junior and three-year starter Barkley, senior Tyler, junior and two-year starter McDonald and a head coach that lets the cat out of the bag and falls in love with the two-point conversion, this loss had nothing to do with inexperience.
The 43-22 historic beating at the hands of the Sun Devils was clearly the result of a failure of leadership.