ALDS Schedule 2011: C.C. Sabathia Must Top Justin Verlander for Yankees to Win
September 29, 2011
Jim McIsaac/Getty Images
The Yankees would appear to be the favorites in the American League. They have the best record in the league and still have one of the top lineups.
But their first game against the Detroit Tigers is a must win. Justin Verlander is not an easy opponent. He's the obvious AL Cy Young Award winner and possible MVP.
The Yankees counter with C.C. Sabathia, who is a proven ace. Beyond Sabathia, they have serious question marks all throughout the pitching staff.
They need Sabathia to beat Verlander in Game 1. If he doesn't, then the Yankees will lose their mental edge and home-field advantage.
While the Yankees are serious contenders, it's hard to feel they will make any serious noise in all of the games down the line.
If the Tigers win Game 1, then Ivan Nova needs to beat Doug Fister in Game 2, and Freddy Garcia needs to beat Max Scherzer in Game 3.
Either one of those things could happen, but I don't like the chances that both will.
The Yankees do have the better offense here, but that doesn't always tell the full story. Actually, in the playoffs, it rarely tells the full story.
Should the Yankees advance, I like how they match up against both the Rays and Rangers. The Rays are running on fumes and the Rangers relied heavily on Cliff Lee through their 2010 playoff run.
Lee is now in Philadelphia, and a good replacement was not brought in.
So, I guess I like the winner of the Yankees vs. Tigers series to represent the American League in the World Series.
Verlander is by far the best pitcher on the Tigers. It's not that they don't drop off after Verlander, but the drop isn't as far as what the Yankees experience after Sabathia.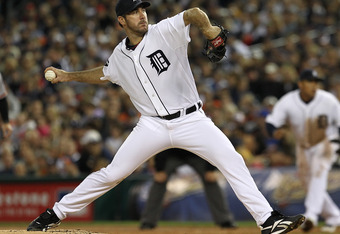 Dave Reginek/Getty Images
It's true that you don't ever want to put too much emphasis on the first game of the first playoff series, but if the Tigers win, they have a strong track to the World Series.
They can survive a Game 1 loss much better than the Yankees can. Remember that when these two teams played in 2006, the Yankees won the first game at Yankee Stadium and the Tigers came back to win the next three.
Obviously, these are different teams, but the situation is similar. The Yankees' best chance revolves around them winning Game 1 against Detroit. If they don't, then another tough October is quite likely in the Bronx.
The Tigers certainly don't want to see their ace lose in Game 1. But their situation is a lot brighter after a Game 1 loss.
| | | | | |
| --- | --- | --- | --- | --- |
| Game 1 | Tigers at Yankees | Justin Verlander vs. C.C. Sabathia | 8:37 p.m. EDT | TBS |
| Game 2 | Tigers at Yankees | Doug Fister vs. Ivan Nova | 8:37 p.m. EDT | TBS |
| Game 3 | Yankees at Tigers | Freddy Garcia vs. Max Scherzer | 8:37 p.m. EDT | TBS |
| Game 4* | Yankees at Tigers | Undecided vs. Rick Porcello | TBD | TBD |
| Game 5* | Tigers at Yankees | Justin Verlander vs. Undecided | TBD | TBD |