High School Basketball's 5 NBA Ready Superstars, Along with Their Mixtapes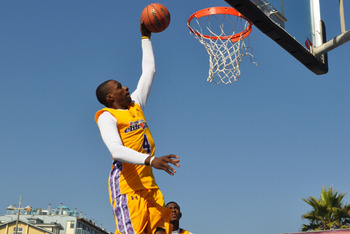 The Nation's #1 Prospect Shabazz Muhammad
Every year, college coaches and their recruiters scour the nation in search of the "next" big prospect who's ready to dominate the basketball world all the way from high school competition to the bright lights of the National Basketball Association.
Prospects like LeBron James don't come around very often, but that doesn't stop coaches from searching cities and towns across the country for a near carbon copy.
In the national classes of 2012, 2013, and 2014, there isn't a LeBron-type prospect, but there are many athletes capable of attaining college glory and NBA superstardom. Here are the top five prospects ready to embark on their journey to the top of the basketball world.
5. Andrew Wiggins

Sophomore Andrew Wiggins

The latest Canadian making waves in the United States prep scene is 6'7" small forward Andrew Wiggins. The slender scoring machine slashes through defenses with ease, while also showcasing his tight knit handle.The sophomore is now ready to take his game from north of the border to Huntington Prep in West Virginia, where he will join a loaded roster.
He is the son of former NBA player Mitchell Wiggins, while his mother's genetics as a two-time silver medalist in the Olympics for Canada have certainly aided in his superstar genetic makeup. In this summer's Nike Global Challenge, Wiggins was the MVP for team Canada in their run to a silver medal finish, losing to a star-studded USA Midwest team.
Look for the highlights to keep coming this season at Huntington Prep, while coaches such as Jim Boeheim, Roy Williams, and John Calipari come calling on the bouncy forward.
4. Kyle Anderson

Senior Kyle Anderson

St. Anthony High School's Kyle Anderson is without a doubt the most multifaceted prospect to come through the high school prep scene in quite some time.
The 6'8" New Jersey native is capable of playing any position on the floor, but what makes him most unique is that his most natural position is point guard. Next year, the UCLA Bruins will be lucky enough to have "Slow Mo" as their skyscraping floor general. He earned the nickname because, though, he isn't the fastest or most athletic player on the court, he gets the job done.
What he lacks in natural athleticism, he makes up for in his off-the-charts basketball I.Q. Look for the likely McDonald's All-American to make an instant Pac-12 splash next season, where he potentially could team with a monster 2012 recruiting class for the Bruins. However, even if that doesn't pan out, look for him to lead Ben Howland's squad back to national prominence.
3. Julius Randle

Junior Julius Randle

The latest upcoming NBA level talent in the state of Texas is Prestonwood Christian Academy's Julius Randle. The 6'9" combo forward is capable of almost anything on the basketball court.
He can face up forwards bigger than him, take small forwards down to the low block, or even isolate himself on the floor and break down his defender with his slick handle. Picture a more athletic Derrick Coleman in his NBA/Syracuse prime.
The sturdily built lefty is focused on becoming a full-time small forward, making NBA scouts salivate at the Lone Star state prospect. Baylor, Duke, Kansas, Missouri, North Carolina, Ohio State, Oklahoma, Texas, and Indiana are just a few of the schools vying for his services.
2. Jabari Parker

Junior Jabari Parker

In the junior class, Chicago's Jabari Parker barely edges out Julius Randle as the top NBA prospect, at least at this point. The 6'8" small forward has been a national name since his freshman season, starring at Simeon Career Academy, the alma mater of Derrick Rose.
Not only has he had the pressure of being the city's highest rated prospect since the Bull's star owned hardwood all over the Windy City, but he has been targeted as the highest rated prospect in his high school class for three years now.
That hasn't stopped the Carmelo Anthony clone from tearing apart any defender in his way, though. Over the past year, his work ethic has shown through, as his quickness has improved, along with his explosiveness.
This hunger to get better has college coaches lining up to land the star. Duke, Michigan State, DePaul, Kansas, North Carolina, BYU, Illinois and Washington are just a few of the schools in the mix to land Parker at this point.
1. Shabazz Muhammad

Senior Shabazz Muhammad

The most "can't-miss" prospect in all of high school basketball is the pride of Las Vegas, Shabazz Muhammad. The 6'6" shooting guard has all the intangibles to become a program-changing prospect at the college level—capable of leading a team to an NCAA National Championship—as well as a evolving into a perennial NBA All-Star.
Since the end of his freshman year, Muhammad has been on top of the high school basketball world, creating a stir in Sin City with his advanced game. He is a top-notch slasher, who looks to dunk absolutely everything he can.
At this point in his recruitment, he has narrowed his list of schools to Duke, Kansas, Kentucky, UCLA, UNLV, Arizona, Texas, USC, and Texas A&M. UCLA looks to be the front runner in his recruitment, and if he commits to the Bruins and teams up with Kyle Anderson, the rest of the country better watch out! Muhammad is the best prospect in America.
Keep Reading