Rugby World Cup 2011: As the Quarterfinals Beckon, Who Will Make the Last 8?
September 29, 2011
Scott Heavey/Getty Images
There's eight games left in the pool phase of this year's rugby World Cup. Rugby fans will soon be facing the doldrums as we enter the quarterfinals and the surfeit of rugby starts evaporating. 
The weekend's games will confirm who the last eight are. There are a number of crunch fixtures, where victory or defeat will determine a team's fate. Those who win will pass through, while those who lose will return home. So who will remain to play at least one more game?
Pool A

The hometown heroes, the All Blacks, are already through. Their last game is against the Canadians at the Wellington Regional Stadium on Sunday. Due respect to the Canucks, but this one should be a formality for the formidable New Zealand side.
It's highly unlikely the All Blacks will play their top team. Expect the reselection of a number of the players from the side that beat France, but stars like Carter and McCaw are unlikely to start.
Local fans await the return of No. 8, Kieran Reid, who's been out of action since he hurt his ankle in the test loss against the Wallabies in Brisbane. Despite an injury ground scare, where he rolled his ankle again, Reid has been given the green light to make his world cup debut.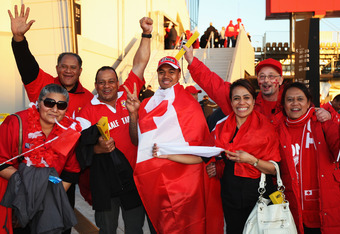 Sandra Mu/Getty Images
France plays Tonga in their last pool game. Besides the home team, the Tongan side Ikale Tahi is the only team that has played every game in front of a sell-out crowd. It's expected the remaining tickets for this clash will all be sold before kick-off.
It will be interesting to see how the French bounce back after their loss to the All Blacks. Coach, Marc Lievremont has again opted to play halfback Morgan Parra at first-five. He obviously sees something here that can benefit Les Bleue in the later stages of the competition.
This will be a grueling affair. The Tongans will want to achieve more from this World Cup than just a solitary win against Japan. The French, who showed uncustomary discipline against the All Blacks, have now been told they're playing it too clean by Dave Ellis, their defensive coach. He's keen to see them restore some of the brutality that the French teams of old were famous for.
Expected finish: (1) New Zealand (2) France
Pool B

The Calcutta Cup has been played between the English and Scottish rugby teams since 1879. Eden Park provides a different setting for this historic match-up. Although the old trophy is not up for grabs, you can expect the tradition of fierce rivalry to make its way down under as these two teams catch-up for one more game of rugger.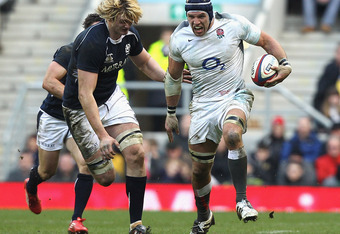 David Rogers/Getty Images
A loss to Argentina means Scotland must beat the English to have any chance of making the next round. Although Scotland has not scored a try in their two last games, you can expect them to assemble every ounce of sinew and skill to outscore the English.
The English themselves have not looked a potent attacking force. Their stay in the tournament will be short-lived if they don't keep their game within the bounds of the rule book. The English have given away far too many penalties in their previous three games.
They were lucky to scratch a one point victory over the Argentineans. Had the Puma's goal kicking been more accurate, the English would definitely have lost their opening game.
With the Argentineans playing the Georgians in their last pool game, the expectations are that the South Americans will make the knock-out phases of another Rugby World Cup.
Expected finish: (1) England (2) Argentina
Pool C

The Irish victory over Australia is one of the many elements that have helped ignite this tournament. It was the upset the tournament needed. Encouragement to all of the underdogs participating in this event, showing if they could muster a fine performance, then they too could beat their more fancied rivals.
So is there room for one more upset in Pool C? Since the start of this tournament, the Italians have strongly contended that this is the year they would make the quarterfinals. For the Azzurri, Sunday's match against the Irish was always going to be their tournament decider. They've seen this as a benchmark that will confirm an improved standing in world rugby.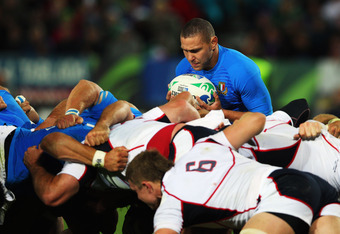 Mark Kolbe/Getty Images
They bring with them the confidence that they came close to beating the Irish in their Six Nation clash earlier this year. They need to ensure they're not fazed with the reality that they have not beaten Ireland since 1997 (in friendly matches organised prior to Italy's progression into the Six Nations).
Much of Italy's hopes will rest on their forward pack especially their front-row. Throughout the tournament, the Italians have shown no real offensive prowess with their back play. Midfield weaknesses have become glaringly obvious, which must have the Irish chomping at the bit, as this is an area of strength in their game. 
The Italians were brave against the Australians. They managed to hold the Wallabies level in a dogged first half performance. Come the second half, once the Wallabies got some ball out to their backs, they carved and scared the Italians. This display offers plenty of clues for the Irish. Once Castrogiovanni and friends start tiring, scoring opportunities should start revealing themselves to O'Driscoll and company.
For the Italians to survive beyond Sunday's match in Dunedin, they need to have something in reserve. Maybe some backline moves?
Expected finish: (1) Ireland (2) Australia
Pool D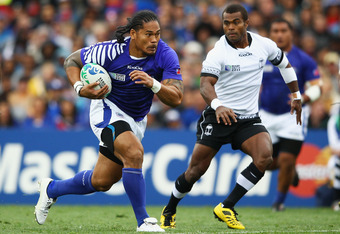 Hannah Johnston/Getty Images
South Africa did just enough to beat the Welsh in their opening game, since then they have put on rousing displays against Fiji and Namibia, securing regulation wins in both those games. Their last pool game is against the mighty Samoans. The Springboks should be able to produce a winning performance, but know this will be one tough and bruising encounter.
The brave Samoans will take no backward steps. Expect no respect to be shown to the current world champions. The Boks will need to come out and prove themselves against this Pacific Island nation, a country that come world cup time always punches above their weight.
Even the Samoans will concede this has not been a great tournament for them. When it comes to World Cups, they have a proud record of knocking over more glamorous sides. This is something they have not achieved this year. They even let the Welsh slip by, with Wales securing their first ever tournament win against Samoa, successful in their third attempt. Close proximity of fixtures didn't help the Samoans.
Last weekend ,Samoa put on an average game against their Pacific neighbors Fiji. A Fiji team that has not shown the scintillating rugby they're famous for. This island nation has been one of the tournament's underperformers.
Fiji plans to restore the "fun" when they meet Wales this weekend and play with a bit of exuberance. It would be great if they demonstrated the pace and handling skills they're famous for in sevens rugby. However, one feels this is unlikely and that Wales will continue to impress by scoring their second win over a Pacific nation. You can expect the Welsh to protect their passage into the quarterfinals.
Expected finish: (1) South Africa (2) Wales
In terms of progressing to the quarterfinals, I've gone with the expected. This round will provide a guide as to how formidable a challenge teams like South Africa, France, Ireland and England can mount as to they look to wrest the glory from the emerging All Black juggernaut. Can any of these teams ruin New Zealand's party?
I would like to see Samoa, Scotland and Italy emerge victorious. Hopefully, they can unleash the passion that will rattle the form book. Another upset would be good news for the tournament. Another talking point. But this is rugby, where you need to be strong in all parts of the park to produce a result. Unfortunately for these underdogs, there exists deficiencies in their games, which their opponents will be able to exploit.
The good thing for this tournament is that these spectacular pool closing games will lead to some magnificent quarterfinals.
Expected quarterfinals
Ireland vs. Wales
England vs. France
South Africa vs. Australia
New Zealand vs. Argentina