Are Russell Wilson and "Graduate Free Agents" Good for College Football?
September 29, 2011
Jonathan Daniel/Getty Images
Russell Wilson was forced out from North Carolina State after last season, yet he is one of many leaders in the Heisman race thanks to a blazing start a few months later at Wisconsin. For those familiar with the one-year waiting period when transferring to a school at a higher or equal division, they may wonder why Wilson is even allowed to play this year.
The answer is relatively simple: Wilson is in a special class of athletes, which is so-called "graduate student transfers." When a student athlete has graduated with an undergraduate degree, the NCAA may grant a waiver to skip the one-year waiting period if the transfer was for purely academic reasons.
For example, if a college football player graduates in his junior year of play from his undergraduate university and wants to go for his graduate degree, he may transfer without sitting out a season if his current school does not offer the particular graduate program desired.
Back before 2006, these waivers were automatic for any student athlete that had graduated, but the rule came under fire when Utah cornerback Ryan Smith transferred with coach Urban Meyer right before the 2006 championship season. Thus, the NCAA now grants waivers supposedly in their discretion based on academic reasons.
While this revised rule would work well if the NCAA actually tried to determine the intent of graduated players, the application of this waiver rule has been woefully inconsistent in similar fact situations. Let's take Russell Wilson's situation as the litmus test: a player who is kicked off or forced out of a team choosing a new school based clearly on athletic reasons (Wilson was not shy about shopping between Auburn, Wisconsin and other schools).
Basketball player Kenneth Cooper played his first two seasons in 2005 and 2006 at Oklahoma State. He then transferred to Louisiana Tech and sat out a season in 2007. After half of the 2008 season, Louisiana Tech kicked Cooper off the team.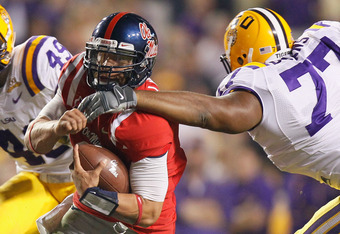 Kevin C. Cox/Getty Images
With a degree in hand, Cooper applied for a waiver to play basketball the next year at UAB. This waiver was granted, even though the only reason for the transfer was being kicked off the team.
More recently, Jeremiah Masoli was kicked off the Oregon football team following his junior season and applied for a waiver as a graduate to go play for Mississippi in 2010. The NCAA denied the waiver because Masoli was "circumventing the spirit of the rule." (Masoli won on appeal, but the initial ruling was no waiver)
Wait, what? How in the world is that situation any different than Cooper or Wilson?
For the picky, Wilson was not kicked off his team for disciplinary reasons, but instead because he wanted to play minor league baseball during the summer. However, it is clear that each of these student athletes was forced out from their old schools and were shopping for a good athletic program fit, not an academic program fit.
Nevertheless, the NCAA is clearly pretending to use the rule for academic reasons while instead making judgment calls based on character and other non-related issues to decide who can skip the year of sitting out when transferring to another school with a degree in hand.
The NCAA did not go far enough in 2006. They should have banned all waivers from the one-year waiting period, especially if the "fix" does not actually reward graduates who actually do transfer for purely or primarily academic reasons.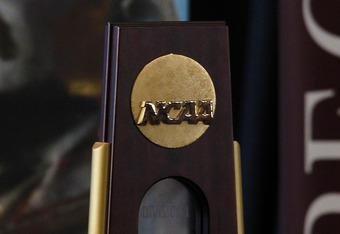 Aaron M. Sprecher/Getty Images
Whether a player is kicked off a team or not, the waiver rule allows high-quality players to abandon their scholarship at an underperforming program and take their talents to the highest bidder. While it is true that teams cannot actually pay players to join their teams, effectively getting to choose to start at a key position on a national championship caliber team (e.g., Wisconsin) instead of a middling team (e.g., NC State) is like getting paid in experience and future pro-earning potential thanks to the added visibility.
There should be no free-agent market in college football. This waiver process does not work as intended and is arbitrarily applied to hurt players like Masoli and help players like Wilson.  There is absolutely no reason a team like Wisconsin should have the benefit of Russell Wilson this season.
Until the system changes, power programs will continue to eat up recruits that they did not pursue originally to put the icing on magical title run seasons. It may be fantastic for Wisconsin, and the Big Ten conference today, but next year, it may not be if the SEC pulls the same trick to put a team over the top in a national championship game against the Big Ten.
The rule needs to change again. And this time, change it correctly.