What the Detroit Red Wings Lack and Who Needs to Be Signed
September 28, 2011
Gregory Shamus/Getty Images
Being ousted by San Jose in the conference semi-finals two years in a row does not sit well with GM Ken Holland. After helping to build four Stanley Cup winners as an executive in just over ten years, you can imagine how high expectations are year in and year out.
Holland spent all summer watching the playoff match-ups, scouring the tape for any sort of breakdown or error in his team's play that could account for the disappointment.
His goaltending held up. The defense was sound. His best players were on top of their game. Even the third and fourth-line guys were contributing. What was missing?
It wasn't until he looked at the rosters of past Cup-winners that it hit him:
Not enough experience and veteran leadership.
The 1998 Cup team had names like Yzerman, Shanahan, Larionov, Kocur, Fetisov and Murphy. 2002's Cup-winning team had Brett Hull, Luc Robataille and Dominic Hasek.
For the sake of comparison, the 2011 Red Wings roster combined for a total of 2,016 playoff games played.
The 2002 Cup Winning team? 2,219 games played.
A difference of 203 games might not sound like a lot. To make up that number, however, a player would have to go to the Stanley Cup Finals every year for over seven years and each series he played in would have to go to seven games.
Who was there for leadership and "Back in my day…" storytelling last year? Nick Lidstrom, Chris Osgood and Kris Draper? That clearly wasn't enough.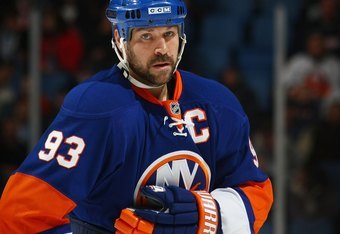 Bruce Bennett/Getty Images
With training camp open and exhibition games already underway, Holland knows he needs to act quickly, but he has put together a list and, as far as rumors go, is in the process of making invites.
Keith Tkachuk currently tops Holland's list. Tkachuk would provide a power forward that Detroit so sorely lacks. Toughening up the younger players with his "back in my day, we had to carry our own bags up 13 flights of stairs to the arena" shtick will prove invaluable. With nearly 20 years in the league, he has more stories than your grandfather.
With the recent retirement of Kris Draper, the Wings are going to need a faceoff man with skills on the penalty kill. Doug Weight immediately came to mind.
Another 19-year vet, Weight never exceeded the 30-goal plateau, but if a faceoff needed to be won or penalty killed off, he's the guy his team looked to. He can also teach some of these young whipper-snappers how to grow a proper playoff beard.
The next target on Holland's list is Bill Guerin. Holland understands that two power forwards just won't cut it in playoff hockey, so adding a third, who also happens to be a playoff beard enthusiast, can only help.
Holland also noticed that, while with Pittsburgh, Guerin kept things loose in the locker room. His inability to understand TXT-speak (OMG! LOL!) and references to things like payphones and pagers will no doubt confuse and amaze the younger pups.
The retirement of assistant captain Brian Rafalski creates a void not only in the defensive end, but in terms of team leadership. Holland has identified Scott Niedermayer as the player he wants to fill that space.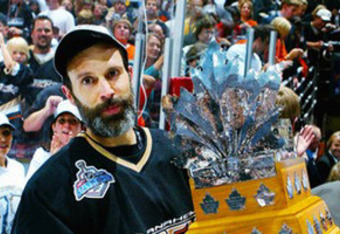 Niedermayer's game is very much like Rafalski's, except that Niedermayer has more of what the Red Wings need: experience. His 202 playoffs games played are just the solution for situations where Nick Lidstrom isn't available. And you can never have too many epic playoff beards in the lineup.
And Ken Holland's coup de grâce? You need look no further than the rafters in Joe Louis Arena.
Holland's secret weapon this year is to bring back Gordie Howe just as the playoffs begin, a la Peter Forsberg in 2008. You can't tell me that Mr. Hockey doesn't have at least a couple more shifts left in him. He'll be an inspiration in the locker room and no doubt receive the benefit of the "Gretzky rules" upon returning.
In adding these players, the Wings will gain 678 games of playoff experience, not to mention 10 Stanley Cup rings. So long as the equipment managers can keep the Geritol flowing throughout the regular season, come April, the Wings will be a force to be reckoned with.
Condolences go to Jan Mursak, Cory Emmerton, Gustav Nyquist, Fabian Brunnstrom, Jakub Kindl and Brendan Smith. You kids have a bright future, but don't expect a call from Ken Holland until your 30th birthday.