Alabama vs. Florida: Why the SEC Showdown Deserves More Hype
September 28, 2011
Kevin C. Cox/Getty Images
On October 1st (Saturday, for you slackers who have lost track of dates), there will be lots of college football action.
Kentucky Wesleyan plays Liberty. Lamar plays Southeast Louisiana.
Oh yeah, and then there's Nebraska-Wisconsin.
But one game seems to be flying largely under the radar this weekend, and it really shouldn't. The No. 7 vs. No. 8 matchup in Madison is intriguing, but let's be honest: The Wisconsin Badgers is going to beat the living crap out of the Cornhuskers.
The better game will be almost 1,200 miles away in Gainesville, Florida.
When the Alabama Crimson Tide roll into Ben Hill Griffin Stadium Saturday, they will face a revitalized Florida Gators team eager to prove to the country that they are back.
I mean, how much better can you get? It's the third-best team in the country against the 12th-best, but in both cases, it seems like the teams are underrated.
Alabama has been next to unstoppable so far, using a cold, calculated offense that forces defenses to adapt, and a dominant defense that is fast and furious. Nick Saban and Co. made Penn State look like a FCS school, and last week made Arkansas reconsider their SEC affiliation.
Florida, meanwhile, is starting to gain back some national respect. After two blowout wins against cupcake teams, the Gators beat the Tennessee Volunteers convincingly, then throttled the Kentucky Wildcats (who, we can all agree, are only in the SEC because of their basketball team).
So now, these two teams meet. Last year, this week was the beginning of the end for the Florida Gators. Alabama absolutely roasted the boys from Old Florida, 31-6, beginning the downward spiral for the Gators.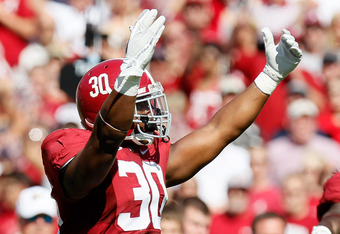 Kevin C. Cox/Getty Images
When comparing the statistics of the two teams, it looks like Alabama has the clear edge. They are atop the SEC rankings in total defense, run defense and pass defense. They allow eight points per game. It is almost to the point where, to beat the Tide, you have to out-defense them.
That's not easy, either. With the Heisman candidate, RB Trent Richardson, leading the charge, the Crimson Tide employ a truly beautiful offense full of belly runs, slip screens and passes in the flat. Their superior offensive line and excellent skill players make them a hard offense to stop. And let's not forget the improved play of QB AJ McCarron.
So Florida should just lay down, right? Wrong.
This will be the loudest game at the Swamp since the 2009 clash with the arch rival Florida State Seminoles. The 91,000 fans that converge on this holy ground of college football have been longing for a true, big-time game for over a year now, and Alabama's visit is the answer.
For Florida, the strategy is a bit difficult. Alabama is bigger, faster, stronger and, honestly, better. But that doesn't make them unbeatable.
Florida has college football's two fastest players in Chris Rainey and Jeff Demps, the Gators' dynamic RB duo (the latter of whom made Kentucky's defense look like 11 clones of Tony Siragusa last week), and the greatest offensive mind in any level of football, Charlie Weis.
You don't think Charlie Weis has seen good defenses before? Hell, he made the Kansas City Chiefs look good on offense. Alabama has its weaknesses, and Weis will surely pick up and try to exploit them. Executing the plan, however, is a different story.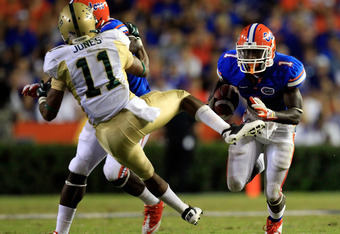 Sam Greenwood/Getty Images
And what about Florida's defense? Containing Alabama's two best players, Trent Richardson and Marquis Maze, will be the key priority for Will Muschamp and defensive coordinator Dan Quinn.. It will be a huge test for the young linebacking corps, and even younger secondary.
But it is a very, very winnable game. Florida has the better turnover margin. Florida has a better kicker. Florida is faster on offense.
What isn't there to love about this game?
It's Nick Saban against one of his former assistants. It's old money against new money. It's Red against Blue. Strong against fast.
Saturday night, the Swamp will be packed and rocking. It will be humid, miserable and 130 decibels of mindless college student screaming. This is what the SEC is all about, and, given the conference's recent success, I can say that this is what college football is all about.
Now, let's get excited for this one. Alabama wants to prove they truly belong at the top; Florida wants to prove that they do, too.
When the Elephants march into the Gators' Swamp, a battle royale will surely ensue.
Will you be watching?