Tottenham Hotspur vs. Arsenal Gunners: Must-Win Fixture for Both London Clubs
September 27, 2011
Clive Mason/Getty Images
The North London derby takes on greater significance than usual this Sunday because it really is a must-win game. Local bragging rights and rivalry are for once reduced to relative unimportance, particularly for Arsenal, as the fixture takes on a season-defining appearance. Put simply, it would be a bad thing for Tottenham Hotspur to lose, but a terrible one for Arsenal should they fail.
Not that Arsenal fans need reminding, but it is now six years since the Gunners won a trophy. Of course, had results against Barcelona and Birmingham been different, two important pieces of silverware would have been added to Arsene Wenger's trophy room haul and things would look very different. However, those finals were lost and it is surely unthinkable for a big club to go seven years without success and still keep faith with their manager.
Robin van Persie's recent comments that he is in no rush to sign a new contract can be taken two ways. Either he is the consummate Arsenal loyalist, putting the team's need to focus on victories above securing his own financial security and future, or he is waiting to see if the Gunners can challenge for major honours before putting pen to paper.
Needless to say, most observers would suggest the latter is the more likely explanation of the two.
This summer, Cesc Fabregas and Samir Nasri both decided their careers were best spent elsewhere, and van Persie will feel the same next year if this season is fruitless for his team. He has seen the good times come to an end, the steady accumulation of trophies cease and top-class teammates leave. Arsenal would have no choice but to sell him next summer if he refuses to sign a contract extension and that leaves further problems ahead. With Arsenal's transfer policy ruling out big-money buys and high wages, who will be attracted to the club? The answer might be players of the calibre of Mikel Arteta and Yossi Benayoun—players who, frankly, are not good enough for the club.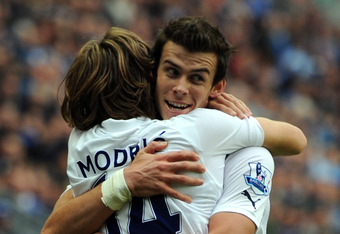 Chris Brunskill/Getty Images
With three defeats already this season, it is vital Arsenal get something from White Hart Lane so they do not fall even further behind the other clubs at the top of the Premier League table.
Tottenham Hotspur are also at a crossroads. For years, Spurs flirted with the prospect of pipping their great rivals to a top-four place, only to remain in Arsenal's shadow. A bad season for Liverpool found Harry Redknapp's men finally arrive at the so-called promised land of the Champions League, and while they undoubtedly enjoyed themselves against Inter Milan and Real Madrid, they ultimately fell far short of the quality required to make a sustained challenge for the trophy everybody wants to win.
Worse still, their domestic form tailed off and Manchester City replaced them in the Champions League spots. If Spurs are to truly become the big club they believe themselves to be, they need to stop flattering to deceive. It is time for them to stand up and be counted, to challenge consistently on all fronts.
Heavy defeats to both Manchester clubs have been overcome this season, with a highly impressive victory over Liverpool the highlight of a good run of form. To continue the challenge for a top four place, that momentum must continue. That is why victory over Arsenal is so important this weekend.
So, to a prediction for this must-win match. Arsenal have stuttered this season, with a home defeat to Liverpool followed by embarrassing reversals away to Manchester United and Blackburn Rovers. Meanwhile, Tottenham Hotspur have picked up their form and confidence. This Sunday's clash might well prove to make difficult watching for Arsenal fans as a victory for the home side looks the most likely conclusion. Where that leaves Arsene Wenger and his team is painfully obvious to all.