UFC 135 Results: Matt Hughes Needs to Walk Away Before He Gets a "Chuck Liddell"
September 26, 2011
John Gichigi/Getty Images
The future of the former UFC welterweight champion and hall-of-fame fighter Matt Hughes was in question prior to his Round 1 knockout defeat at the hands of Josh Koscheck at the Pepsi Center this past Saturday.
These questions as to whether or not Hughes should retire were answered when the former champion succumbed to his second straight knockout loss, only the ninth defeat of his career.
At one point, Hughes was the greatest welterweight walking the planet, winning the coveted championship on two separate occasions.
The combination of age and the talent of the next generation have placed Hughes in a career crossroads.
Athletes in combat sports have a tendency of hanging up the gloves past their prime.
George Foreman attempted a comeback in boxing while in his 40s. And most recently, hall-of-fame fighter and former UFC light heavyweight champion Chuck Liddell insisted on fighting beyond his prime potentially tarnishing his reputation in the process.
With an overall MMA record of 46-9, Hughes has achieved career milestones while competing in the UFC.
Beginning his professional journey in 1998, Hughes's inaugural matchup within the UFC was in 2000.
Winning his first welterweight championship in 2001 with a vicious slam of Carlos Newton while in a triangle choke, Hughes went on to defend his initial title on five separate occasions until 2004 where he lost via rear-naked choke to the young phenom, B.J. Penn.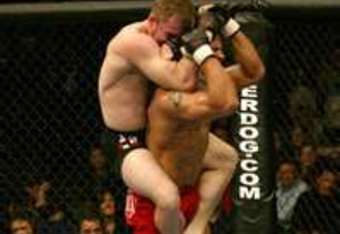 Once again claiming the welterweight belt with an arm-bar victory over then champion Georges St-Pierre later that year, Hughes held onto the championship until 2006.
Never again claiming championship gold, Hughes owns the record for consecutive welterweight title defenses with seven.
A true competitor grounded in his wrestling pedigree with a tremendous work ethic and discipline both inside and outside of the Octagon, Hughes's toughness and talent has awarded the hall-of-famer with 18 wins within the UFC, most of any fighter.
Hughes can be very proud of these tremendous accolades and his entire body of work as a mixed martial artist.
The former champion can hold his head high knowing that he was, at one time, the greatest welterweight competitor within all of mixed martial arts.
Wanting to be remembered for his success inside the Octagon, retirement at this time will ensure his legacy.
Follow the decision of other hall-of-fame athletes including Barry Sanders and Michael Jordan who retired when they were on top. The memories of these two athletes as champions will remain in our hearts and minds for a lifetime.
Matt Hughes, if you are reading this, I humbly and kindly ask you to hang up the 4-ounce gloves and be remembered as the hall-of-fame fighter that you are and not as a shell of your former self.
I welcome your comments.

You can "Like" Todd Seyler on Facebook and follow me on Twitter