Oakland Athletics: Stadium Decision to Impact Offseason Direction?
September 26, 2011
Thearon W. Henderson/Getty Images
While it's been no secret in recent seasons that the A's have directly blamed their stadium situation with their ability to attract top-level free agents, it appears they are not ready to base their offseason approach towards the 2012 season and beyond solely on MLB's decision regarding their desired move to San Jose.
In an article published Sunday in The San Francisco Chronicle, staff writer Susan Slusser made the point, citing a team source, that:
"Were San Jose approved, the club would go into all-out rebuilding mode to put together a potential up-and-coming contender.

If the A's do not get the all-clear for San Jose, they'd be more likely to spend money in the short term to try to increase the gate - and, possibly, to make the club more attractive for potential buyers."
In this case, Slusser was writing about the possibility of re-signing Oakland's own slugger, Josh Willingham. According to her article, Willingham's agent has already approached the A's front office to suggest multiple scenarios in which the soon-to-be free agent would be able to continue his career in Oakland beyond the conclusion of this season.
Such a scenario should be music to A's fans' ears as well to a front office that has struggled in attracting power hitting talent to play in the Oakland (O.co) Coliseum.
Willingham's agent told Slusser that they "gave the A's an idea of where we were, and we were told they have interest in bringing Josh back, but before they did anything, they want to see what happens with the stadium. Josh and I both made it clear he'd like to stay, but at this point, I'm pretty sure he'll test the free-agent market."
So, with the good news that Willingham and his agent are open to an extension in Oakland, comes the bad news that such an extension may come only if it means building up the product to try to entice potential new owners to buy the team.
Abelimages/Getty Images
Perhaps the re-signing of Willingham would also prompt the A's to go all-in and re-sign Hideki Matsui and Coco Crisp and make a run at a top-level third baseman such as Aramis Ramirez or a trade for David Wright. Perhaps a big name right fielder would be brought in instead of giving Michael Taylor a shot at the starting position.
We may finally enjoy a World Series parade in Oakland for the first time since 1989 and offer a relatively quick response to the championship season our cross-Bay rival Giants enjoyed last season. But at what cost long term?
Where will the new ownership group want to move the A's to? Will they keep the A's in Oakland? How about the Bay Area?
There is no way of knowing this without knowing who the new ownership group would be.
You see, for as much as A's fans love to hate the Lew Wolff-John Fisher ownership, they are committed to keeping the A's in the Bay Area. Granted, San Jose, but still the Bay Area. Not Texas. Not Las Vegas. Not Oregon. There is just no way of knowing for sure where new owners may have their eye on getting a new stadium built.
The alternative, permission to move to San Jose, appears that it would mean saying goodbye to Willingham and perhaps several other pieces of the team. But who are we talking about in a total rebuild?
Trevor Cahill, Gio Gonzalez, Brett Anderson, Jemile Weeks, Brandon Allen and Michael Taylor all are still young enough and under team control long enough that they could conceivably still be a part of an A's contender in a new ballpark within the next four-to-five seasons. Grant Green and Michael Choice could see their development extended long enough to push their free agency dates beyond the opening of a new stadium.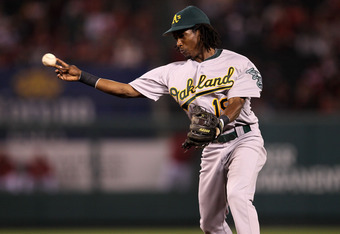 Stephen Dunn/Getty Images
My gut feeling is that we'd see our top trade chips, Cahill and Gonzalez, flipped in Dan Haren style for multiple prospects to build a new core group of young players that will be entering their primes when the San Jose ballpark would open.
So if Slusser and her team source are correct, and honestly there is no reason at all to believe otherwise, what do we as A's fans root for?
A decision to stay in Oakland, which would please many fans in the East Bay, but has unknown long-term consequences for the A's status in Oakland and Northern California?
Or a decision to allow a move to San Jose, which would please a different demographic of the A's fan base while upsetting the pro-Oakland group, but may cost us some of the current players we have put our faith in moving forward and extend our streak of seasons without a playoff appearance for the foreseeable future?
I'm almost tempted to say that rooting for the known outcome, that the A's may rebuild but at least their future remains in the Bay Area, is very tempting.
Sticking with the stance that the goal every season should be putting a World Series contender on the field, a goal that we can not honestly say the A's have strived for over the past few seasons, I suppose we hope that they push their chips to the center of the table and go all-in for Willingham and some complimentary offensive pieces to support the already good pitching staff in 2012.
As we now know though, gambling on the 2012 season likely also means we are gambling on the long-term future of the Oakland A's.
One thing is for sure, it appears it will be an offseason of conflicting emotions with every move the A's make.