Week 4 Fantasy Football Rankings: Aaron Rodgers and the 3 Biggest QB Studs
September 26, 2011
Jonathan Daniel/Getty Images
It has been a fast start for quarterbacks all over the NFL. That is also to say that fantasy teams that are built around a highly-ranked quarterback are off to quick starts.
Defenses seem to have had a tougher time working their way back into game shape coming out of the lockout and it shows on the scoreboard.
The following three quarterbacks will be the head of the class headed into Week 4.

Aaron Rodgers - Green Bay Packers
Rodgers has been as steady as they come so far this season. He hasn't had huge passing yards games like Tom Brady, Cam Newton, Drew Brees or others have had, but he has continued where he left off last season.
As the season rolls on, there is no reason to believe that Rodgers and the rest of the Packers' offense will slow down. Rodgers will only get more comfortable and get a better grasp of what defenses are trying to do to beat him.
In Week 4, the Packers take on the Denver Broncos, a team off to a slow start. Their defense is ahead of their offense at this point of the season, but Rodgers will have no trouble picking them apart.

Drew Brees - New Orleans Saints
I will admit that I would have been a little concerned about the Saints offense coming out of the preseason. Brees didn't have a good preseason, and none of his biggest offensive weapons seemed to be in sync.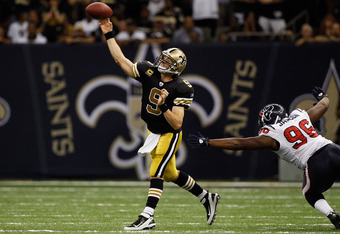 Chris Graythen/Getty Images
It appears that any concerns over their offense were overblown. Brees and his offense are fine. Better than fine in fact.
In Week 4, the Saints take on the Jacksonville Jaguars, one of the worst teams in the AFC. The Jags have trouble scoring points and have just as much trouble slowing down the opposition. They just won't have the defensive players to keep up with Brees and his various offensive weapons.

Philip Rivers - San Diego Chargers
Rivers wasn't as good as expected in Week 3 against the Chiefs. Kansas City had given up 89 points in two weeks, but they only allowed the Chargers 20 in Week 3.
There's no reason to be alarmed, though, if you own Rivers. The Chargers were really beat up in Week 3 and they were completely without star tight end Antonio Gates. As the players around Rivers get healthier, his play will improve.
The Chargers take on the Miami Dolphins in Week 4, a team that is really struggling at this juncture. Expect Rivers and the entire Chargers offense to give a big rebound performance in Week 4.

Joseph Healy's Fantasy Quarterback Rankings for Week 4
1. Aaron Rodgers
2. Drew Brees
3. Philip Rivers
4. Tom Brady
5. Matt Stafford
6. Ryan Fitzpatrick
7. Matt Ryan
9. Josh Freeman
10. Tony Romo
11. Jay Cutler
12. Cam Newton
13. Kevin Kolb
14. Joe Flacco
15. Rex Grossman