2012 NFL Mock Draft: Andrew Luck and the Top 3 QBs in Next Year's Draft
September 25, 2011
Christian Petersen/Getty Images
The football season on both the college and pro levels has just begun, but it's never too early to start thinking about the NFL draft.
The draft is the best way for a team to rebuild quickly and as such, teams value their draft picks very highly.
This is particularly true of teams that are looking for a quarterback. Good quarterbacks are tough to find in free agency or through trades. You almost always have to draft one to get one.
The following are the top three quarterbacks heading into next year's draft.
Andrew Luck- Stanford
Luck would have been the No. 1 pick in the NFL draft this past year had he entered the draft, but he decided to go back for his redshirt junior year at Stanford to work on completing his architecture degree. That's not a bad way to spend a year.
So far this season, he has done very little to change the minds of those that think he is the best prospect in the draft. On the way to leading his Stanford team to a 3-0 start, Luck has thrown for 786 yards and eight touchdowns.
Unless something changes drastically, Luck will be the first player off the board in next year's draft.
Matt Barkley- USC
In the end, Matt Barkley's career at USC has gone pretty much according to plan. Sure, he had planned on winning more games on campus and I doubt he could foresee that Pete Carroll wouldn't be coaching him, but the plan all along was for him to spend three years on campus and then move on to the NFL.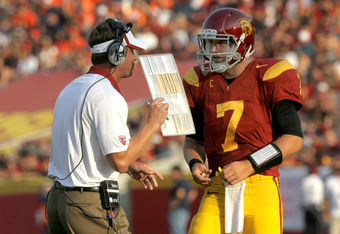 Stephen Dunn/Getty Images
USC's decline is certainly not the fault of Barkley. He has done everything that could have been asked of him. He was thrown into the deep end as a freshman before he was ready, but after that he has flourished. In his career, he is zeroing in on 7,000 passing yards and he has 51 touchdown passes.
The best thing about Barkley is his maturity level on and off the field. He has been a leader from day one and during all of the chaos that has gone on at USC, Barkley has stayed focused on football.
Landry Jones- Oklahoma
Jones is something of a forgotten quarterback in college football. All he has done is pile up yardage and touchdowns since taking over for Sam Bradford, but he is always overshadowed by someone else. Even in this draft class, he will be overshadowed by the likes of Luck and Barkley.
Few quarterbacks have been as prolific as Landry over the last several years. In his OU career, Jones has thrown for 8,938 yards and 69 touchdowns. He spreads the ball around effectively to all of his targets and he faces pressure well.
At 6'4" and 229 pounds, Jones has the size benchmarks you like to see. He is clearly the third best quarterback in this draft class, but the team that selects him will be more than happy with the results.
2012 NFL Mock Draft- First Round
1. Kansas City Chiefs: Andrew Luck- QB, Stanford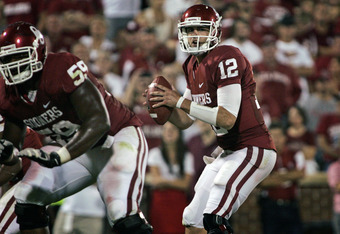 Brett Deering/Getty Images
2. Indianapolis Colts: Matt Kalil- OT, USC
3. Seattle Seahawks: Matt Barkley- QB, USC
4. Cincinnati Bengals: Trent Richardson- RB, Alabama
5. Denver Broncos: Jonathan Martin- OT, Stanford
6. Cleveland Browns: Vontaze Burfict- LB, Arizona State
7. Carolina Panthers: Quinton Coples- DE, North Carolina
8. Miami Dolphins: Landry Jones- QB, Oklahoma
9. Minnesota Vikings: Alshon Jeffery- WR, South Carolina
10. San Francisco 49ers: Dre Kirkpatrick- CB, Alabama
11. Jacksonville Jaguars: Justin Blackmon- WR,Oklahoma State
12. Arizona Cardinals: Riley Reiff- OT, Iowa
13. Washington Redskins: Brandon Thompson- DT, Clemson
14. Tennessee Titans: Manti Te'o- LB Notre Dame
15. St. Louis Rams: Alfonzo Dennard- CB, Nebraska
16. Oakland Raiders: Stephon Gilmore- CB, South Carolina
17. New York Giants: Jared Crick- DT, Nebraska
18. Chicago Bears: Kelechi Osemele- G/T, Iowa State
19. Tampa Bay Buccaneers: Morris Claiborne- CB, LSU
20. Dallas Cowboys: Janoris Jenkins- CB, North Alabama
21. Buffalo Bills: Luke Kuechly- LB, Boston College
22. Houston Texans: Bruce Irvin- DE/OLB, West Virginia
23. Detroit Lions: Zach Brown- LB, North Carolina
24. San Diego Chargers: Cliff Harris- CB, Oregon
25. New York Jets: Brandon Jenkins- DE/OLB, Florida State

26. Cleveland Browns (from ATL): Michael Floyd- WR, Notre Dame
27. Philadelphia Eagles: David DeCastro- G, Stanford
28. Pittsburgh Steelers: Kheeston Randall- DE/DT, Texas
29. Baltimore Ravens: Jeff Fuller- WR, Texas A&Mm
30. New England Patriots (from NO): Cordy Glenn- G, Georgia
31. New England Patriots: Devin Taylor- DE/OLB, South Carolina
32. Green Bay Packers: Donte Paige-Moss- DE/OLB, North Carolina