Juventus Disappoints Against Bologna, Catania. Why Conte They Win?
September 26, 2011
Maurizio Lagana/Getty Images
Juventus started this "re-birth" season off in style, breaking in the new stadium with a 4-1 victory over Parma. This victory was followed by another victory, over manager Antonio Conte's old team, Siena. However, this was the end of the nascent winning streak.
A midweek game against Bologna ended in a draw (partially due to Mirko Vucinic's red card), albeit a draw where Juventus seemed to be just on the verge of scoring a goal for the entire second half. Then, today's game away at Catania also ended in a 1-1 draw.
For the first half of the game today, Juventus were pretty disappointing. New arrival Eljero Elia made his debut, and it was pretty mediocre. That said, the midfield trio of Andrea Pirlo, Claudio Marchisio, and Arturo Vidal was as solid as any in Italy. The defense was notable because of the lack of youngster Leonardo Bonucci. It may be due to his fitness, but Bonucci has not seen as much playing time as he deserves this year. New fans may be led to believe that Andrea Barzagli and Giorgio Chiellini are the starting center back pair, and not Chiellini and Bonucci.
For all I know, that may very well be Conte's plan. To be fair, Barzagli has played well, but is that worth giving up Bonucci-Chiellini partnership, which showed so many glimpses of greatness last season?
Going back to Pirlo, he played (and has been playing) phenomenally. This writer was a bit skeptical about his transfer, but I gladly admit I was wrong. My worries about him (that he was not strong enough defensively) were misplaced. In Conte's system his defensive weaknesses are erased, and his attacking ability and vision are guiding lights for the team.
Not to mention that Andrea Pirlo's partnership with the young Chilean Arturo Vidal is showing much promise. Pirlo can lead the offense and cut deep into the opposing defense's half while Vidal reinforces him offensively and covers him defensively.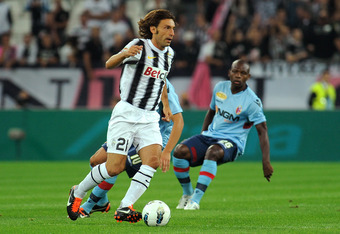 Valerio Pennicino/Getty Images
Though it could be said that, had it not been for his awful accuracy while shooting the ball, Vidal could have won the game for Juventus. He had a great look at the goal from inside the box—basically from the penalty area. However, he miffed the kick, and it wasn't even close.
That's basically what the problem with both teams was during the game. Juventus had a fair amount of chances, but most ended with shots going too high, or too far to the side. Catania, for all of their impressive counter attacking movements, also struggled with finishing.
Even the goal which tied the game for Juventus (courtesy of Milos Krasic) was thanks to goalkeeper error. Krasic got a good shot in, but not good enough for a goal. An error by Catania's keeper led to the ball basically being dropped in.
The finishing from both teams was so bad that I never though the game itself would end.
Even the patron saint of Juventus goal scoring, Alessandro Del Piero, contributed to the botched goal attempts. After a beautiful Milos Krasic move, where he carved up two Catania defenders, Del Piero received the chip and proceeded to head it nowhere near goal. It was not up to par with the usual quality of Del Piero attempts on goal.
Del Piero wasn't the only Juventus striker to struggle, they all did. Mr. Handsome himself, Alessandro Matri, couldn't even put up the goals. If David Trezeguet 2.0 can't, then it's not a good sign for Juventus. Normally, Mirko Vucinic could pony up some attacking firepower, but he was serving a suspension for his red card against Bologna.
I did not forget about Fabio Quagliarella. He finally made his return to Serie A action today, although he didn't bag a goal. He did not necessarily suffer from the poor finishing that everyone else playing did, but he wasn't a firebrand on the pitch either.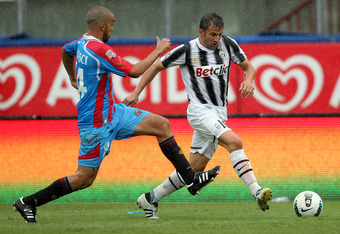 Maurizio Lagana/Getty Images
Now that Quagliarella has returned, I am eagerly awaiting the debut of the Quagliarella-Matri teaming. With both men serving as the top scorer last season (granted for two different halves of the season) there is a good chance that a combination of the two would be lethal.
Perhaps this new duo will debut against Milan next weekend. More likely, they will not as Mirko Vucinic and Alessandro Matri will play. Still a good choice of strikers, and it is probably best that Conte experiment combining Quags and Matri against lesser opposition.
The game against Milan will be the first game against a 'big" Italian team for the new Juventus squad. However they have already passed a few tests. They proved they have the spirit and fight so lacking in some recent incarnations of Juventus, and this is seen in each game. They have continued to fight in all circumstances, though they haven't always reached their goal (winning).
Aside from that test, they have also showed that they won't fall victim to complacency against the smaller teams. This was a trademark of the recent Juventus teams. They would fight off Inter one week, and lose to Chievo Verona the next. This team doesn't take any opposition lightly, and even if they don't get the victory (as they failed to today), they are still creating chances until the last minutes. Sadly, today the chances were executed poorly, so it was all for naught.
Juventus lie in first place currently. While Udinese have the same amount of points, Juventus are on top of them due to goal differential. A win against Milan will firmly cement this Juventus team into the upper echelon of the Serie A this season. Indeed, they may already be there. There have been long stretches of play where this team has looked like a Scudetto winning team. If they can fix the silly mistakes (like the stupid red cards) and bring it against the big boys, then they may finally be bringing home that thirtieth Scudetto which has long eluded Juventus.
Of course, one must never be too presumptuous.