Texas A&M and SEC Expansion:Power Ranking the Conference Coaches with the Aggies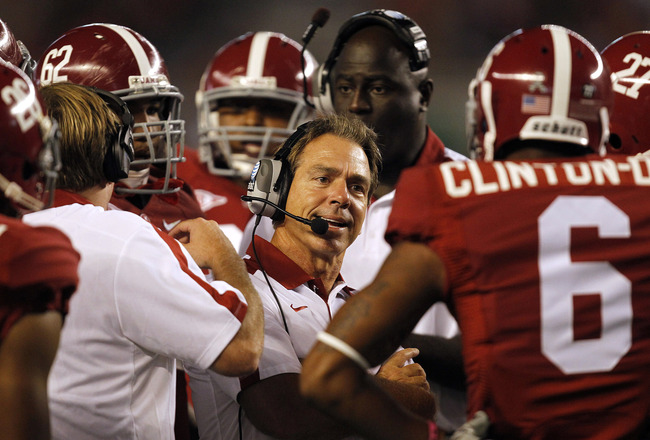 Butch Dill/Getty Images
The SEC is widely known as the best conference in all of college football. They have won the past five BCS Championships and will most likely win their sixth with the success that Alabama and LSU are having so far.
That being said, with the addition of Texas A&M, who's the best coach in the conference and who's the worst? Then who fits in between?
There's going to be an argument at the top, and the bottom should be evident, but either way, these are some of the best coaches in the country, and whoever is at the top can say they are the best coach in the country.
13. Joker Phillips: Kentucky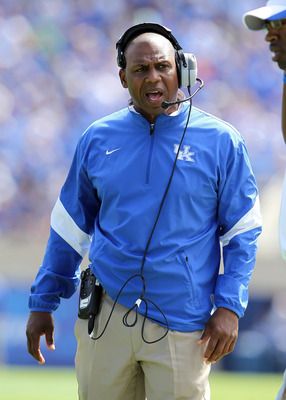 Andy Lyons/Getty Images
Joker Phillips is last on this list, but that won't last long. He's a bright young coach and will do a good job at Kentucky. Many will think that Houston Nutt should be at the bottom, but right now, Kentucky isn't doing so good and they have a lot of work ahead of them.
Phillips will get this team turned around. They may not be competing for SEC Championships, but at least they will be going to bowl games.
12. Houston Nutt: Ole Miss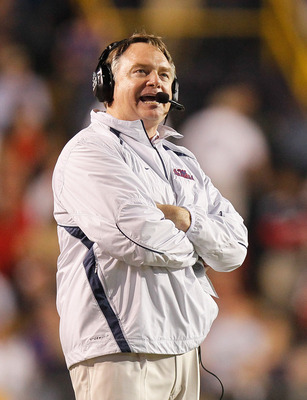 Kevin C. Cox/Getty Images
Houston Nutt is a very sporadic head coach. He had success at Arkansas before taking the Ole Miss job. Then he had success early on at Ole Miss, and now the team is very bad. What gives, Mr. Nutt?
Nutt might not be around at this time next year to be on this list.
11. James Franklin: Vanderbilt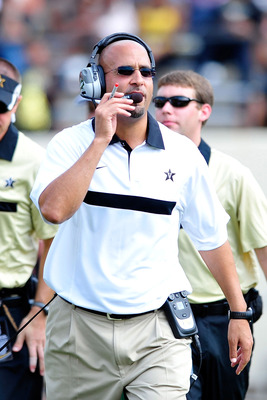 Grant Halverson/Getty Images
This is James Franklin's first year as the head coach at Vanderbilt, and already, they seem like a completely different team. He's 3-1 after a loss to South Carolina, and he's a bright young mind, exactly what Vanderbilt needs.
The only problem Franklin is facing is that it's going to take a miracle for Vanderbilt to ever be a contender for an SEC Championship. He may be getting a better job by that time.
10. Dereck Dooley: Tennessee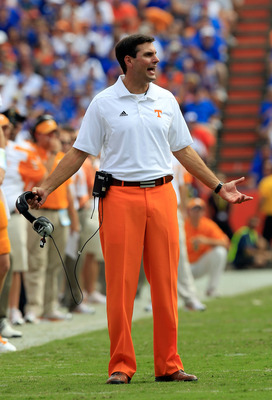 Sam Greenwood/Getty Images
Derek Dooley is still yet to prove he's going to be a great head coach for Tennessee, but for what he was given, he hasn't been bad yet.
Tennessee still has a ways to go in order to be considered one of the elite teams in the SEC, and Dooley may not be around when that time comes, but for now, he's their head coach and has the team at least heading in the right direction.
9. Dan Mullen: Mississippi State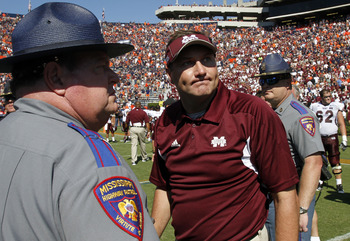 Butch Dill/Getty Images
Do you remember what Mississippi State was like before Dan Mullen? Yeah, nobody else does either. All Mullen has done is change the culture. He brought his offense over and has won some critical games and showed progression in every single year.
Mullen has Mississippi State going nowhere but up, and he's going to be a great coach there for years to come.
8. Will Muschamp: Florida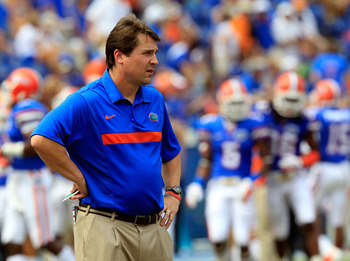 Sam Greenwood/Getty Images
The only reason Will Muschamp isn't higher up on this list is because he's only been a head coach for four games. He's one of the best young coaches in the country and he's in probably the best situation he could possibly ask for.
He inherited a team full of amazing recruits and team that has speed to spare. Muschamp will without a doubt win a National Championship while at Florida, or possibly a number of National Championships.
7. Bobby Petrino: Arkansas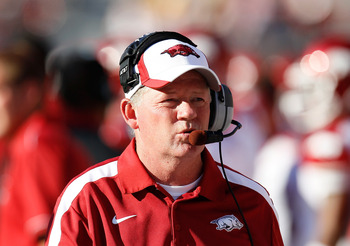 Kevin C. Cox/Getty Images
Bobby Petrino had a lot of success at Louisville, then he kind of failed as the Atlanta Falcons head coach. Now he's the head coach at Arkansas and has experienced success.
He's still yet to go to an SEC Championship, so he has work to do, but he could move up this list if he continues to get better each year.
Petrino has great offenses and average defenses. If he ever wants to have a championship team, he'll need to start caring about both sides of the ball.
6. Mike Sherman: Texas A&M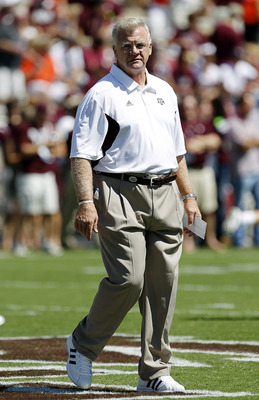 Bob Levey/Getty Images
Mike Sherman has an extensive NFL background and he has Texas A&M heading in the right direction, which is why he's ranked so high on this list.
Coaches in the SEC might disagree, but Sherman needed to start showing improvement with the Aggies and he's done just that.
A&M is a top 25 team, and they have a very talented team that is going to win a lot of games under Sherman.
5. Mark Richt: Georgia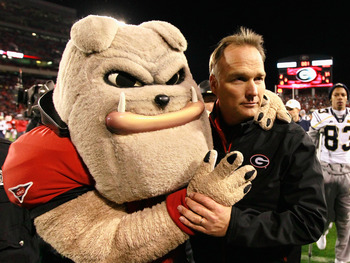 Kevin C. Cox/Getty Images
Up until last season, Mark Richt was one of the best coaches in the country. His Georgia teams have always been good, but he's always been that coach who wasn't able to win the big game, and he's never made it to a National Championship.
Richt is still a very good coach, and this ranking may be because of his resume. He was offensive coordinator for two National Championship teams in the 90's while at Florida State.
Richt is on the heat seat, however, and needs to finish strong in order to continue his tenure at Georgia.
4. Steve Spurrier: South Carolina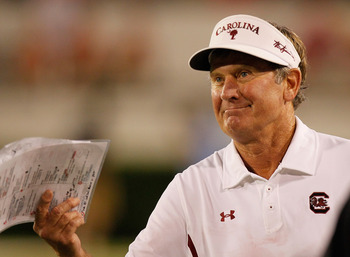 Kevin C. Cox/Getty Images
What puts Steve Spurrier at fourth on the list? The fact that he has a National Championship to his credit. South Carolina is also undefeated, and due to Spurrier's recruiting, they have a potential Heisman winner at running back and one of the best wide receivers in the country.
Spurrier still wants one more ring, and he may not be able to get it with this team, but things are finally starting to come together in South Carolina.
3. Gene Chizik: Auburn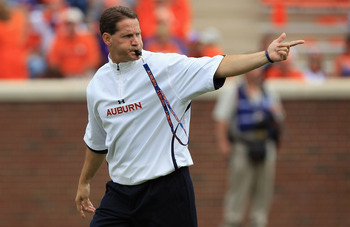 Streeter Lecka/Getty Images
The reigning National Championship coach Gene Chizik comes in at third on this list. Chizik won in his second year at Auburn and has done nothing but win since he showed up.
Chizik wasn't seen as being a good coach at Iowa State, but he returned to Auburn and proved why he's a good coach. He can recruit and he's a great defensive mind.
Auburn lost to Clemson last week and dropped out of the rankings, but don't be surprised to see his Tigers bounce back.
2. Les Miles: LSU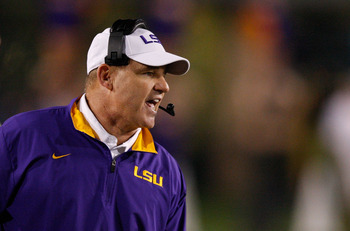 Jared Wickerham/Getty Images
LSU just took over the top ranking in the country, passing Oklahoma by, and Les Miles deserves a lot of the credit. When he took over for Nick Saban at LSU, it didn't take long for him to make an immediate impact.
Miles has one BCS Championship and will be looking to add one more this season. He's an excellent recruiter and always has his team towards the top of the polls.
If Miles can win the BCS Championship this year, he may be considered the best coach in the best conference.
1. Nick Saban: Alabama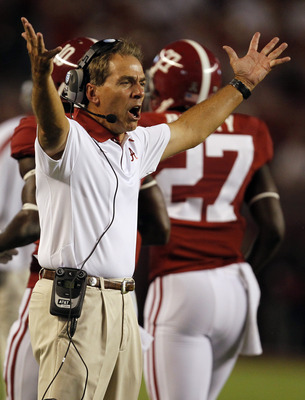 Butch Dill/Getty Images
It took Nick Saban just three years to deliver a National Championship to Alabama. Now in his fifth season, he's looking for another one.
Alabama is currently ranked third, and his roster is loaded with talent. Saban can add another National Championship to his resume this year if Alabama can get past his old team, LSU.
Saban has two BCS Championships to his credit, which puts him at the top of this list.
Keep Reading