College Football Rankings Week 5: Alabama Crimson Tide Better Than LSU?
September 25, 2011
Kevin C. Cox/Getty Images
There are moments in every football game where a team shines like national champions.
On Saturday, those moments blared across the theater screen of Bryant-Denny Stadium in Tuscaloosa, Alabama, like the premier of an Oscar winning film replete with stars and glitz.
At times, the Crimson Tide played the Arkansas Razorbacks like they were the Mean Green (North Texas) predecessors of the week before.  Alabama exploded with big plays and had a quarterback with a perfect showing, passing six for six. Running back Trent Richardson forged forward like a missile.  In perfect form, this Heisman poster boy chalked his third consecutive 100-yard game.  Lest we not forget to mention an 83-yard punt return by Marquis Maze to put Bama ahead 24-7 with still a quarter to play.  
No doubt, Bama's first SEC showdown on Saturday was filled with moments of magic where this Saban-coached team literally detonated its No. 14 ranked opponent, Arkansas.  Coming into Tuscaloosa, the Hogs were averaging 47 points per game in its first three wins.  Yesterday, the Alabama defense held them to just 17 net yards in this game, which ended in a 38-14 win for Bama. 
So Alabama's carved their mark into the rankings, but still sits at No. 3. in Week 5's Associated Press rankings.  They've played and beaten two nationally ranked teams—Penn State and Arkansas—passing the road test at the den of the Nittany Lions and carved out one of the most decisive victories in the SEC to date.  
Shouldn't this carry enough clout to send the Tide to the top of the polls?
No, so say the voters.  This week, LSU took that top spot from the Oklahoma Sooners who were bumped to No. 2, while Bama remained at the No. 3 position.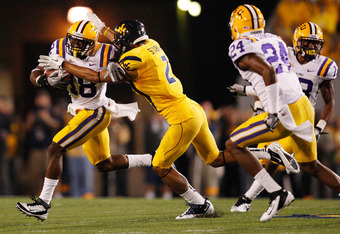 Jared Wickerham/Getty Images
Yes, this LSU team sent the No. 16 ranked, West Virginia Mountaineers packing back into the hills with a 47-21 win, but could West Virginia on the road stack up to Bama's defeat of an Arkansas team with a veteran and skilled coach and SEC West implications? 
Only time, and a meeting of Bama and LSU in November, tells this tale.  And right now, this is one week out of a lot of football left to play.
For now, LSU gets to ride high on the top spot of national rankings.  With last night's brilliance in three Jarrett Lee touchdown passes and two turnovers converted into scores, this Bengal Tiger team proved it could play in hostile territory and win by double-digits in spite of a late night fog that tried to smother their victory.  And oh yeah, don't forget.  They've also—like Bama—defeated an SEC team (19-6) among the cowbells of Mississippi State.
At the very least, should Bama jump the Sooners, claiming at least the No. 2 spot in the polls this week? After all, while the Sooners' scoreboard showed 38-28, it lacked one thing: Oklahoma failed to score in two quarters.  Going into the locker room 14-14 at halftime, they trailed in the third quarter at home for the first time since 2007. Scoring 14 points in the fourth quarter, they came back like a national title contender and beat a tough Missouri team that came into Norman 2-2.  With this win, the Sooners' lay claim to their 38th straight victory at home, certainly an argument for their ranking above Bama.
At the end of the day, perhaps Bama's No. 3 position in this week's AP poll might suit this team. A win in the dark swamp of the Florida Gators, might be just what they need to flip the polls next week in their favor.