UFC 135: Quinton Jackson & Matt Hughes' Losses Prove That MMA Hates Nostalgia
September 25, 2011
"... and it is all over!!!" 
Those five words never fail to explode from the mouth of the Ultimate Fighting Championship's longtime play-by-play man, Mike Goldberg, signaling the early finish of any contest within the chain-link walls of the legendary Octagon. 
Unfortunately for those of us who have been fans of the UFC since its inception in the early 1990s, those five words have also signaled the end of many a career in the Octagon as well. From Royce Gracie to Randy "The Natural" Couture, virtually every single Hall of Fame-worthy career has come to a close with those very same words from Goldberg.
As a fan of many sports since childhood, I've always had a soft spot for those athletes who were able to withstand the test of time and go on to maintain a significant level of performance well past the age when most of their peers have fallen from grace. In Major League Baseball, it was pitcher John Smoltz. In the National Football League, it was superman quarterback, Brett Favre. In basketball, it was the king himself, Michael Jordan. In professional wrestling, it was "The Immortal" Hulk Hogan.
Of course, you can see where this is heading.
All of the aforementioned sports icons have one thing in common, they all stuck around for just a little bit too long. Smoltz stayed in MLB for two seasons too many. After spending his entire career with the Atlanta Braves, Smoltz would play for both the Boston Red Sox and the St. Louis Cardinals in two unremarkable efforts before deciding to retire. Brett Favre decided he needed to win the Super Bowl one more time before retiring, and after arguably the greatest season of his storied career in 2009, went on to have arguably the worst season of his career in 2010 before finally leaving the sport for good. Michael Jordan retired, came back, won even more championships, retired again, came back again and gave a lackluster effort for a lackluster team in the Washington Wizards prior to deciding Hanes endorsements were an easier (read: less embarrassing) way to earn money.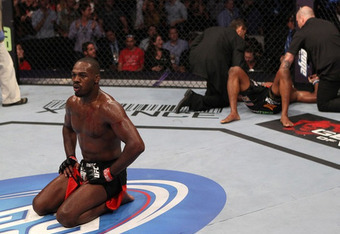 Professional wrestling's greatest icon, Hulk Hogan, is a different story from the rest. In the predetermined world of sports entertainment, you see, age really doesn't matter. Whereas legitimate sports prove that you cannot excel in your area of expertise any longer than Mother Nature has intended, professional wrestlers can continue to win championships for as long as whomever is writing the script will let them. Hogan stuck around way past his prime, defeating wrestlers who were far younger and more athletically inclined than himself, and wouldn't retire until he literally could no longer climb into the ring.
I don't know what's worse, being forced into retirement by way of being proven you can't hang, or being allowed to stick around past your prime and being promoted as if you still can.
Mixed martial arts, however, is a different animal altogether. Unlike the other sports mentioned in this piece, MMA doesn't feature a team based effort that can hide the flaws of one member so long as he can still put forth a decent showing. It certainly doesn't feature a script writer who decides who wins and loses, regardless of age and ability. No, a career in MMA rests completely on the shoulders of a singular athlete, and heartbreaking as the results may be if you're a fan of the sport's veteran contingent, it certainly shows.
As I have learned the hard way, MMA holds no place for the nostalgic fan. Careers are seemingly made and broken with each event, with no time given, nor thoughts made for the fans who want to see their favorite fighters have just "one more run." In wrestling, maybe, but it just does not happen in the world of MMA.
Last night featured two perfect examples of this: Matt Hughes and Quinton "Rampage" Jackson.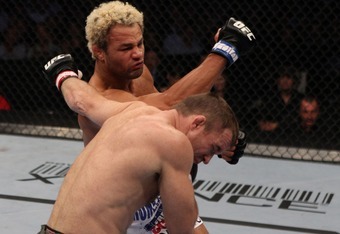 Jackson and Hughes are two of the most decorated fighters in the history of MMA. They are also two of the most popular, or two of the most hated, depending upon who you ask. If this were any other sport, the head honchos in charge would most certainly favor keeping their respective careers afloat for as long as possible, while continuing to make them look as good as possible.
For polarizing figures in any sport to continue being successful spells only one thing: M-O-N-E-Y. Head honchos are famous for enjoying those five letters more than most people enjoy nightly bedroom activities with their significant others. It would only make sense for them to keep going with the proven commodities, even if their careers are finally starting to decline.
This isn't any sport, though. This is MMA.
Matt Hughes was knocked out cold by the younger, more athletic Josh Koscheck with literally one second remaining in the first round. Quinton Jackson lasted quite a bit longer, but the result was pretty much the same. He was outclassed in every sense of the word by a younger, more athletic opponent in light heavyweight champion Jon "Bones" Jones before being rather easily submitted in the fourth round.
Both Hughes and Jackson are legendary figures in the sport, both are wildly popular and both can still put on decent performances. Without teammates or scriptwriters to aid them in hiding the athletic decline that comes naturally with age, however, none of that matters. Both were handily defeated by their younger opponents, and both are now one step further away from ever again regaining their once untouchable status in their respective weight classes, while being one step closer to retirement.
In the fast-paced world of MMA, as history has proven, that's just how it goes.
So, fans, whomever your most beloved fighter may currently be, you'd better enjoy his career while it's still relevant. Soak up every pay-per-view contest you can, watch every pre-show interview you can and love every single second he spends inside the cage, because moving at the Usain Bolt-speeds of MMA, he's always one fight away from becoming exactly like my favorite fighters: stuck in the career purgatory of being too young to retire, yet too old to be on top.
Once that happens, there's nothing anyone can do about it. There will be no storybook ending, no Rocky Balboa style comeback in the final minutes, nada, zilch. Oh sure, you can get your hopes up for something amazing to happen, like me, but it never will. Instead, you'll be forced to sit back and watch as your favorite fighter repeatedly falls victim to the newer generation. To top it all off, once you've finally started to come around to that newer generation, the same fate will inevitably befall them in what has become an exponentially shorter time frame for success in MMA.
It's a vicious cycle. The fighting world's very own circle of life, if you will.
Again, this isn't football, basketball, baseball or even professional wrestling. This is MMA...and MMA has no time for nostalgia.