Baltimore Orioles Free Agency: Why Team Should Be Aggressive This Offseason
September 26, 2011
Jonathan Daniel/Getty Images
Three games left.
Then the playoffs.
Then every Baltimore Orioles fan's favorite time of year: Free agent shopping time.
And when that time comes around, O's decision makers have the same plan of attack year after year.
Let's make half-hearted plays at big-name guys, then grab whoever's left when the new year rolls around.
Considering how well that's worked during the last 14 seasons, whomever is in charge of the Orioles' player decisions (since it's expected that current President of Baseball Operations Andy MacPhail won't re-up his contract with the team) should try a different strategy.
Unfortunately, there won't be very many premier options outside of first basemen Albert Pujols and Prince Fielder.
(The O's are in desperate need of a permanent solution at first base, so maybe...)
It would also be a good idea to let the young positions players (i.e., Nolan Reimold, Chris Davis) have consistent playing time in order to determine whether they're quality major league ballplayers or not.
So the Orioles should probably limit who they go after this offseason, but actually be aggressive about grabbing some top-flight talent.
And that's not to say that the club needs to spend money just to spend it. No, let's make sure it's spent intelligently.
You see, as stated above, over the last decade plus the O's upper management has loved low-balling guys and then wondering why said players wouldn't sign with a losing club who won't pay up.
In trying a different tactic, aggressively pursuing the player(s) they really want, they'd have a better shot at landing them.
Pretty simple concept, right? Well you wouldn't believe it if you had paid attention to only the O's management the last 14 years.
Let's face it, no big-name player would like to come play baseball in Charm City any time soon. As if the losing streak and under-paying contracts weren't enough, the Orioles seem to have a serious problem with player development, as well as their owner "kind of" not caring about the team.
However, making an aggressive play at a quality free agent can help show other quality players, as well as the fan base, that the organization actually does care about winning.
Like I said, they shouldn't just blindly throw money. But the team also needs to zero in on a target or two and make their move. None of this, "I can't decide which unreliable player I want to sign" and failing to make a move on either one of them for weeks, similar to the Derrek Lee-Adam LaRoche situation last December.
Not to mention how a few solid, or a superstar and a veteran piece, could help this team improve.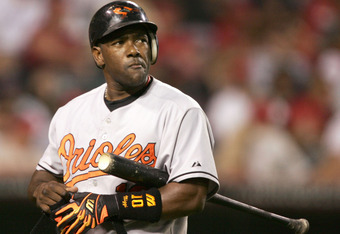 Harry How/Getty Images
Think about slotting Fielder into the cleanup spot in the O's already powerful lineup, and adding a Jeremy Guthrie-like arm to the rotation to help take some pressure off the growing crop of young starting pitching.
Speaking of starting pitching, I'd love to see a bit more depth at the Triple-A level next season. Just sayin'.
If the Orioles want to bring in who they want to bring in, they have to be aggressive about it. Decide on your targets, and nail them. Plain and simple. Don't give other teams time to make decisions and offers, and don't let them easily outspend you either.
That should be the goal of the 2011-12 offseason free agent shopping for the Baltimore Orioles this go-around.