Boston Red Sox: Why the Red Sox Are Fading and Who Should Be Blamed
September 25, 2011
Nick Laham/Getty Images
The 2011 version of the Boston Red Sox reminds of Dr. Jekyll and Mr. Hyde.  They can't possibly be as bad as they were in April and September and not as good between May and August.  There is one reason and one reason only that this team is failing right now.  That reason is pitching.  We didn't have enough to cover what happened this year—plain & simple. 
I'm reading that Terry Francona is in trouble because the Red Sox haven't exercised his option for next year.  IF Francona is fired over THIS, then I will lose some respect to the higher-ups in the Red Sox front office.  Francona can only play with the hand he is dealt by those above him. 
If you step back and look at the pitching staff before the season began, it was supposed to be Jon Lester, Josh Beckett, Clay Buccholz, John Lackey and Dice-K.  Tim Wakefield was going to be a long reliever/sixth starter and even Alfredo Aceves could be used in this capacity too. 
The only question marks were: was Beckett going to come back and be the pitcher he had been in the past or was 2010 the beginning of a slow or rapid decline and was John Lackey going to improve or not?  One out of two wasn't bad as Beckett came back to form, and Lackey seems to be in a RAPID decline as things stand right now. 
Unfortunately, the season played out a LOT worse.  By the All-Star break, we had lost Dice-K for the season due to Tommy John surgery, Buccholz was hurt (a lot worse than anyone thought at the time), Rich Hill out for the season due to Tommy John surgery and Bobby Jenks was also on the DL.  So now, the Red Sox still had Lester, Beckett, Lackey, Wakefield and some various names for the fifth slot including Aceves and Andrew Miller for the most part. 
The offense at this point was carrying the team.  Don't get me wrong, the way Lester and Beckett were pitching, even if you got one win from the rest of the staff every three starts, we're still winning three out of every five games.  Get two wins out of them, and we're on our way to the World Series.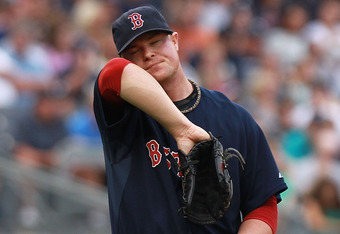 Nick Laham/Getty Images
By the time the trading deadline came around, it appeared that the Red Sox were still in good shape.  What they had was working, but in reality, we we're only an injury away from being in real trouble.  The depth we had, was now being used in earnest.  The few pitchers that were dealt by other teams at the trade deadline, were asking for an arm and a leg in return.  Our upper-levels in our minor league system didn't have anything to get a top name mainly because of what we gave up to get Adrian Gonzalez before the season started. 
Our top upper level pitcher was Felix Doubront going into the season, but he also had injury problems and only logged seventy-seven-and-a-third innings in the minors.  Junichi Tazawa was coming off Tommy John surgery himself and is still rounding into form. Michael Bowden, who had been a starter, was made into a reliever at Triple-A this year.  
Kyle Weiland, a third-round draft pick in 2008, had some modest success at every level and started the year in Triple-A.  His record was only 8-10, but he had a respectable 3.58 ERA.  Those were our four best pitching prospects, and of them, probably Michael Bowden was the most prepared for the big leagues. 
Now, calling these four guys up in September as a luxury and letting them log some big-league innings to give the regulars a rest before the postseason begins is one thing.  Having to call them up out of desperation and throwing them in the middle of a pennant race is something else altogether.  The latter is what happened. 
When Josh Beckett went down with a sprained ankle in his start against Toronto on September 5th, I believe that was the straw that broke the camel's back.  He only missed one turn in the rotation.  It's the fact that his first start back was to get "X" number of pitches in to get him back to being able to handle 100-plus pitches a start.  Then, in his next start, too many of his pitches went to the fat part of the plate, and the Orioles (Mark Reynolds) hammered two of them out. 
If losing Beckett wasn't bad enough, then Bedard goes down from a lat strain caused by a knee problem.  So, here we are with five games left in the season and we're down to an ineffective Lester and recovering Beckett as the only products left from what looked to be a promising starting five at the start of the season.  In no particular order, here's the ugly truth of our pitching numbers in the month of September in no particular order:
Name               W-L     IP       H    R    ER    BB    SO    ERA
Lester               1-3      25.2    31   17   17     12     27     5.96
Aceves              0-1     17.2    14     4     4     10     16     2.04
Bard                  0-4      8.0      8    12   11      6     10    12.38
Doubront            0-0     6.2       8      5    5      6       4      6.76
Wheeler             0-0     4.1       7      5    5      0       2     10.39
A. Miller             0-2     9.0      16    13  13      8      10    13.00
Bowden              0-0   10.0       7      7    7      7      13      6.30
Albers                0-0     8.1       9      7    7      4       12     7.56
Wakefield           1-1    20.0     18    16  11      6       17     4.95
Bedard               1-0     8.2      10     7    4      6         6     4.16
Morales              0-0     7.0       7      4    4      2        5      5.14
Lackey               0-2    17.2     31    21  21      9      10     10.70
Papelbon            0-0      5.2      4      1    1      2        9       1.59
Beckett              1-1    17.0     17      9    8      3      21       4.24
Weiland              0-2    13.2    15     13  12      7        7      7.91
Atchison             1-0    10.2      8       2   2      3         7     1.69
Tazawa               0-0     1.1       2       1  1       1         2     6.77
T. Miller               0-0     2.0      0        0  0        0        1    0.00
There's no way that any team could recover from what has happened to this team and be able to play at a high level.  That's why this isn't Terry Francona's fault. 
I don't know if Theo Epstein tried to make moves, and others shot down them down or what.  None of us fans will ever know what exactly went on behind the scenes, but this lame duck has to be laid at the entire Boston Red Sox front office plain and simple.  THEY are the ones that thought signing John Lackey was a good idea.  THEY are the ones that signed Carl Crawford as a free agent this offseason. 
I will admit, I am and continue to be a fan of Carl Crawford and his style of play.  Even I was a little skeptical of how he was going to fit into this lineup.  I believe they had visions of him leading off and putting Ellsbury in the ninth spot in the lineup.  I don't think in their wildest dreams that the organization envisioned Crawford struggling at the outset of the season and then have Ellsbury play at the level he did. 
Once April was over and Carl started to play better, Ellsbury was doing too well to take him out of the leadoff spot.  There was nowhere else to play Carl but in the six or seven spot.  You don't spend $142 million on a guy to hit in the seventh spot of the lineup. 
The offense as a whole for this month has averaged 5.8 runs per game.  Have there been times where the offense has come up short in critical moments, yes.  During the course of a 162-game season, this balances itself out over the times they do come up big.  Every win is precious whether it's the first game, last game or any of them in between.   
Ken Rosenthal states in an article he penned that "The Red Sox at this moment are a collective failure—and that includes the players, some of whom evidently believed that you make the playoffs by just showing up." 
I don't know if this is something he has seen firsthand or if this is just an opinion on his part— some on the team lack "heart."  If there truly are players who thought this, they not only don't need to be wearing a Red Sox uniform...they don't deserve to wear a baseball uniform PERIOD!   
I'm not certain if there was any turmoil over who to trade for, not to trade for, luxury tax issues or anything else over the course of the season.  I do know this, this organization is too good for this travesty of a September to happen.  Or at least I thought so.