Alabama Crimson Tide Football Unleashes Fury on the Arkansas Razorbacks
September 26, 2011
Kevin C. Cox/Getty Images
This was the SEC, and the Alabama crowd was ready to rumble as the team entered the stadium. 
The energy level was way up from weeks earlier and it affected the team as they started to jump around before running onto the field. 
For the first-year players, this was probably the moment they knew that playtime was over.
This was big time football.
Alabama rode an outstanding defensive performance and Trent Richardson for a hard fought but dominant 38-14 victory over the Arkansas Razorbacks.
Richardson, who had been just flat out rusty in the first few weeks of the season exploded last week against North Texas, and with the offensive line back in production mode for Arkansas, he ripped through the Razorbacks for 7.4 yards a carry. 
In addition to his rushing, he demolished the Razorbacks with his receiving.
I don't know if the press will still consider Trent Richardson for the Heisman, but with 235 yards of total offense including rushing, receiving, and returns, defensive coaches in the SEC will take notice of his performance.
Richardson's understudy Eddie Lacy was injured slightly in the game but still managed 61 yards on 13 carries.
The offensive line had its best day of blocking thus far this season. The performance was marred however by an ugly three failed attempts at the one yard line.  There is no question Alabama's line will be trying hard to figure out how this happened.
McCarron starting his first SEC game was efficient.  He was not a dominant force but what he didn't do was lose his cool or throw any interceptions.  His timely deliveries to Trent Richardson as an outlet receiver proved to be knockout blows to Arkansas.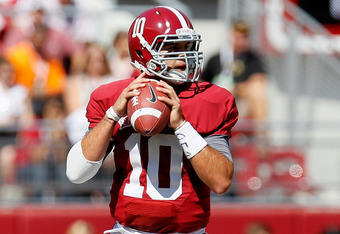 Kevin C. Cox/Getty Images
McCarron's best throw of the day was his perfectly arching 37 yard bomb to Michael Williams on the fake punt.
It was simply perfect. 
Special teams were solid all day in coverage.  Marques Maze pulled off one of the more memorable kick returns I've seen.  It was a return for the ages that may be replayed on stadium monitors in the future.
Defensively Alabama gave up 209 yards passing.  At times, it appeared as if Alabama's secondary was struggling with the experienced Arkansas receivers.  They were catching passes but only once did they get open deep on what looked to be a busted coverage out of the backfield.
On most of Arkansas quarterback Tyler Wilson's best throws he was struggling to pick himself up off the turf afterwards.  The Alabama defense managed no sacks on Wilson but hit him often and viciously. Wilson showed toughness getting through this game.
After throwing his second touchdown of the day he remained on the field on hands and knees, trying to get his bearings after red shirt freshman Adrian Hubbard flattened him yet again.  He finally got up and after seeing the touchdown, gave a weakened fist pump,  but the repeated blows had taken their toll.  Arkansas would not threaten offensively again. 
Dre Kirkpatrick had a particularly brutal day jacking up Arkansas receivers time after time.  
Alabama did continue an unfortunate tradition of having a player seriously injured against Arkansas.  In 2009 Dant'a Hightower's 2009 season ended against Arkansas. Only recently has he returned to full strength.
Alabama linebacker CJ Mosley dislocated an elbow in the game and did not return.  As of now the extent of the injury is unknown.   Mosley was a critical component of Alabama's pass defense package.  No one player can take his place.  His replacement will be by committee.  Alabama will have to work that out in practice this week.
It was a team victory in the truest since of the word.  All three phases of the game worked very well.
Now Alabama will have to try and duplicate that level of intensity in only a week down in the swamp.