One-Dimensional Wolverines: Michigan Must Find a Passing Game Soon
September 25, 2011
The Maize and Blue are 4-0, and yes all the Michigan faithful are saying how this eerily reminds them of the last three seasons under Rich Rodriguez. This year has a much different feel to it, not only because there is a new coach in town, but because there is a man leading this team that believes in his football program and understands the intensity and passion of Michigan's rivalries and traditions.
Obviously, Michigan's defense is a significant improvement from what it was under Greg Robinson the last three seasons. The Wolverines have only given up 20 points in three of their games this season, and surprisingly only relinquished seven points to a potent San Diego State offense led by Ryan Lindley and Ronnie Hillman.
How about this Michigan offense? As expected, Michigan is heavily resorting on the legs of Denard Robinson and the zone read. It's very apparent that this Michigan offense is not a pro-style offense, there is too much speed to be running an offense that is designed for 6'3" quarterbacks and 195-pound running backs.
Robinson has been electrifying this year, leading the Big Ten in rushing, which is not a surprise. There is one thing, however, that Denard Robinson is far from leading the Big Ten in, and that's passing.
Michigan is 4-0, but their non-conference schedule has been favorable for the most part; playing two MAC teams and a Mountain West team. Other than Notre Dame, Michigan has yet to be really challenged this season. I am by no means saying Michigan is going to fall into the cracks like the last three seasons, but it is certainly a possibility if they continue with this one dimensional offense.
I know my team as much as the next insane Michigan fan, if not more, and I know what the past has served us when all we do is rely on the legs of Denard Robinson to win us games, granted during those times our defense was absolutely atrocious.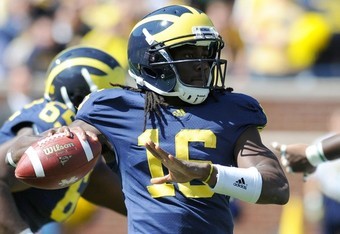 First of all, Robinson has entirely too much weight on his shoulders. No athlete should completely make or break a team, and Robinson does for Michigan. If Robinson were to have a season ending injury, Michigan would look like an entirely different football team.
Secondly, this offense needs a lot of balance. When I say this, I'm not only talking about other players stepping up, I'm talking about the incredible need for a passing game in this offense.
Robinson is completing 46 percent of his passes, and has thrown as many interceptions as touchdowns this season; that's not going to come close to cutting it in the thick of the Big Ten schedule.
If you watch any of Michigan's press/post game conferences, you always hear how Al Borges is constantly working with Robinson on his foot work, and how glamorous the passing game is in practice, well that needs to be transferred to the field on Saturday.
If it's not already obvious, Michigan's schedule is going to get a lot tougher, and Big Ten defenses aren't nearly as easy to run against as Eastern and Western Michigan. With that said, a passing game must be established.
It isn't the inaccuracy of Robinson that is the problem, it is his foot work and body release that is causing him to constantly overshoot receivers deep down the field. Robinson looks good throwing to his check-downs, but long throws have plagued him the entire season.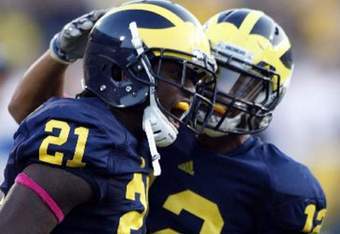 The bottom line: If Robinson fails to cure his happy feet in the pocket, and learn to set his feet right on his throws, then this Michigan offense could be in trouble. It's something I hate to say, because I am a die-hard Michigan fan, but I have seen before what this Wolverine offense is like when it is completely dependent upon Robinson's legs.
Michigan has way too many playmakers at the receiver position to be so one dimensional offensively. Roy Roundtree had 72 receptions last season; this season he's on pace for 15. Junior Hemingway is a big down field threat with amazing hands, the ball needs to get to him more. Jeremy Gallon is about as a elusive receiver as you can get in the open field.
This offense, with a variety of weapons, would be that much more explosive if the passing dimension existed.
Michigan faces Minnesota in the Big House next Saturday for the Little Brown Jug, and the opening of Big Ten play. Minnesota is an inferior Big Ten opponent, but I would still like to see progressions in the Wolverines' passing game, but still expect to see a heavy dose of Robinson's legs on Saturday.
Michigan must transition to a more balanced offense where there is less pressure on Denard Robinson, and where the talented receiving corps is utilized more often. If Michigan fails to do this, expect the Maize and Blue to struggle to produce offense against tough Big Ten defenses.