Sparkle Sparkle...Bang! Manchester United Midfield Need More Creativity
September 25, 2011
David Ramos/Getty Images
Despite the 1-1 draw against Stoke, Manchester United sit at the summit of the Premiership, courtesy of the larger goal difference between themselves and their noisy neighbours, Manchester City. However, the past week has convinced me, and I imagine many others, that we are lacking that creative, dominating, world-class midfielder. 
OK, you may be surprised at this statement considering the start to the season Man Utd have had, which has been their best in years, considering they usually start the season slowly. Despite this, the games and Chelsea, Stoke, and to an extent, Benfica has shown our lack in this department. 
Traditionally Sir Alex Ferguson has always favoured a 4-4-2 or a 4-5-1 with Rooney dropping into a attacking midfield role which he is very adept at. This system has served Man Utd well in the past, as it relies on the pace of the wingers and full-backs to provide the width and ammunition to the strikers.
This tactic works well against teams with a lack of pace and/or have issues retaining the ball. Unfortunately, the game with time moves on,and the days of 4-4-2 realistically speaking are gone—especially if they have designs on beating the very best. Namely Barcelona. 
Every generation, you get a team(s) who come along and revolutionise the tactical side of the game. Barcelona and Spain have started it, Germany are at it, so slowly but surely it's making its way across the Channel. The 4-2-3-1 is the new 4-4-2.
As I am sure many of you will point out, Manchester United have already used it this season and to good effect. In the Arsenal game, the midfield were supported by Anderson and Cleverly.
The both of them effectively acting in an initial quarterback position, spreading the ball to the front three of Young, Nani and Rooney, with Chicarito and briefly Welbeck stretching the Arsenal back line. All interchanging when needed. It worked well, they won 8-2.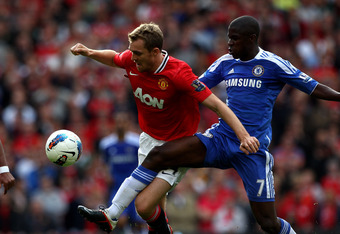 Clive Brunskill/Getty Images
Bubbles regrettably burst, often when things are going well. So courtesy of a Kevin Davies special, and unlike Arsenal, United have been coming up against teams, presenting resistance, resembling something more then then a wet paper bag. This is where the problem lies.  
Against Chelsea, the centre of midfield was overran by the blues, with Mata providing the ammunition and Meireles providing the steel, their front four were able to move freely with compromising themselves defensively.
Meaning we were put under a lot of pressure as our deeper lying centre mids couldn't keep hold of the ball, resulting in Manchester United being lucky to win. (thank you Fernando)
Juan Mata is key to the formation working, as is David Silva and Xavi, and Iniesta, Xabi Alonso are for their respective clubs. They start from deep, are very good at keeping the ball under pressure, and distribute the ball incisively. Knowing they are backed up by the likes of a more defensively aware Yaya Toure, Meireles, Sergio Busquets and the like.
Manchester United have the perfect defensive component in Darren Fletcher, fierce in the tackle, but can distribute sensibly. He does his job. On the more creative side of things, Anderson, having started well, has dropped a little form wise, and his partnership with Fletcher works like chalk and cheese.
Against Chelsea, he misplaced numerous passes and against Stoke was largely anonymous. Carrick is not incisive enough as he should be. Cleverly is injured, and despite his huge potential, it would be unfair to rely on him. Paul Pogba is of a similar ilk and a strong competitor but lacks experience, and Ravel Morrison...well let's keep him out of jail first.
The three names just mentioned could do with a leader—a centre midfield who can really "own" a game. They have had the luxury of Paul Scholes, but he is sadly gone.
Personally, I think Manchester United made a mistake in not signing someone like Wesley Sneijder or Mario Gotze. Both are players who can pass a ball, are excellent in possession and can keep a team ticking over as well as be a substantial attacking threat in their own light.
The former would be a perfect player for the likes of Cleverly and Pogba to learn from, backed up by the tenacity of Fletcher, Manchester United may well come closer to Barcelona in time...
Let me know what you think.