Floyd Mayweather Jr. Reminds Us, Once Again, That We Are Human
September 24, 2011
Ethan Miller/Getty Images
We all know that last weekend's events will be discussed for a very long time.
With his controversial KO last weekend, Floyd Mayweather has once again set the boxing world on fire.
I'm sure if you're reading this I don't have to go into great detail, but, just to recap, in the fourth round of last weekend's championship bout Victor Ortiz threw a "vicious" headbutt into the grill of Floyd Mayweather.
Whether the illegal move resulted from frustration or excitement is unknown, but once referee Joe Cortez jumped in to pause the action, Ortiz appeared to have immediately returned to reality as he leaned in to offer his penance with a kiss on Mayweather's cheek. This repentance, however, failed in appeasing the anger of the veteran Mayweather.
As both fighters were told to resume fighting, Ortiz once again leaned in to ask for forgiveness for his outburst. As he did so, Mayweather took advantage of his lack of guard and threw a vicious left hook followed by a punishing right straight to send Ortiz to the floor. KTFO.
Ortiz could not rebound from this onslaught, causing Cortez to award Mayweather victory by KO.
En mi opinion, there is no absolutely no discussion to be had in regards to the legitimacy of Mayweather's victory. I guess that one could argue that Mayweather was dominating the fight anyway, which, I must admit, is factual. Aside from a couple times in which Ortiz pinned Mayweather against the ropes, the young boxer was completely unable to land clean shots on Mayweather and had a hard time avoiding Mayweather's signature counters.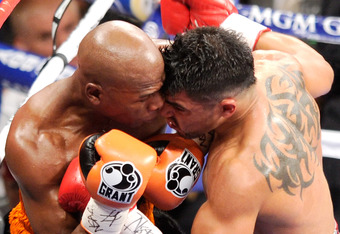 Ethan Miller/Getty Images
But, to me, this is like saying, "Who cares if Danny Almonte was 14 years old? He would have dominated Little League at 12 anyway."
Watch the film. Yes, it was legal, but we all know it wasn't right. Bernard Hopkins applauding Mayweather's cheap shot makes me feel even more outraged by it.
I've seen a lot of boxing fights and countless sporting events. I can remember only a few of them specifically.
But one thing I'll never forget are the times in which sports fail to be sports.
For me, as for most sports fans, sports are a vision of something better than life. In sport, normal men are given the opportunity to become superheroes, to become immortal. No matter when Michael Jordan kicks the bucket, his glory, manifested in sport, will live on forever.
Sports give us a vision of greatness unseen in our normal lives. By watching an unthinking achievement or an unprecedented upset, we have visions of things better than our normal lives.
When we watch a fifteen seed upset a No. 2 seed in the NCAA tournament, we find the inspiration to take on the big insurance firm in court. When we see Michael Jordan fly above his competition, we are inspired to equal his work ethic in practice. Knowing that if Superman must put in hours of work to achieve his greatness, perhaps with one or two more hours of study, we can too.
But, as seen this weekend, there are times when sports reveal the truth about human nature.
It's true. We are a species with the ability to exceed our limitations.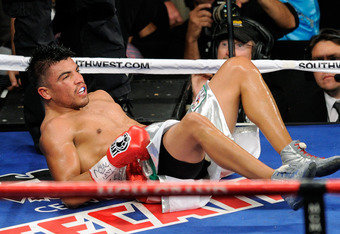 Ethan Miller/Getty Images
But, we are also a species victimized by our own human nature.
Floyd Mayweather's actions are a comment on who we are as people.
We've heard it a million times.... How do we know that humans have the capability to produce evil?
To answer this, we look at children. Do we ever have to teach children to lie, cheat and steal?
NO. Our nature is built to do so.
Just as we are amazed by the bounds of human potential, exhibited in great sporting achievement, we are reminded of our inadequacy and our true humanity by things like scandals, cheats and cheap shots.
I will never forget Kelly Pavlik knocking out Jermain Taylor. I will never forget Northern Iowa upsetting Kansas. I will never forget the Red Sox coming back from 3-0 to beat the Yankees.
But I will also never forget Danny Almonte hosing down kids half his age in the Little League World Series. Mike Tyson tearing off Evander Holyfield's ear with his teeth. Mark McGwire breaking records juiced up on steroids.
As much as we hate him, we are all amazed by Floyd Mayweather. He's an unmatched talent in boxing, and in the sporting world as whole. He is truly a magician. I love Manny Pacquiao, but even I must admit Floyd Mayweather is a much better boxer than PAC-MAN.
Last weekend, Floyd Mayweather had a chance to shine once again. If he continues to dominate Ortiz, a young, strong fighter at the top of his game, we sit mouths open, gaping at the magic on the screen, marveling at his majesty.
But Mayweather missed his opportunity to exceed his human potential. The gods of glory offered him a chance at immortality last Saturday, and he, as many almost-heroes have done in history, fell to the temptation for the easy, UNREMARKABLE way to victory.
Floyd Mayweather made me sick to my stomach last weekend because he reminded me that I'm human.
I naturally want to cheat, steal and lie to get by in the easiest fashion that I can. I am not a superhuman. This is me…. I do not fly when I find it easier to walk.
The only thing that gives me satisfaction is the hope that somewhere, out there, is a true Hercules in the sport of boxing. A fighter who, when given the opportunity, decides to fight his way out of this earth to transcend our expectations, to marvel us with his superhumanness—not because he possesses some other-worldly talent—but because during those times we "normal" human beings would quit, give-up, resign to our lives of unremarkableness, he takes on all challengers, begging for another chance to show his greatness.
Is he out there?
Floyd Mayweather, as wonderful as his talent is, is not that man.
But maybe, by his incredible skill, Floyd will become the throne on which our hero assumes the crown.
In my opinion, he IS out there, and he's fighting Juan Manuel Marquez in a few weeks.
Let's hope he takes care of business. Because just as the Greeks in the ancient times, we boxing fans are desperate need of our Achilles.