NCAA Conference Realignment: Why College Basketball Is Getting a Raw Deal
September 24, 2011
Nick Laham/Getty Images
Whether you believe that conference realignment in college basketball will be a good thing or not is irrelevant. College football is driving the bus and basketball is its passenger.
I hate it.
As a fan of basketball, the college variety gives me the best opportunity to see the team game at its finest. The NBA is great, but most of the time, we are forced to watch 82 games of one-on-one basketball, little defense and games that really don't matter until the fourth quarter.
College basketball is getting a facelift and not many people are talking about it. Pittsburgh and Syracuse leaving the Big East Conference is a huge deal in basketball. The Orange are the founding fathers of the Big East; they are the definition of the conference.
As a whole, basketball is the one getting the raw deal because of money for football. Who cares though? It doesn't seem like many do.
How about a team like Pittsburgh who will need to recruit a different style of players to compete in an up-and-down pace of ACC basketball? This team is known for not recruiting McDonald's All-Americans. They have recruited two in the past three years (Dante Taylor and Khem Birch) but that isn't their forte. Will they be able to continue their recruiting strategy?
Will their pipeline that is centered on playing at Madison Square Garden be in jeopardy? Will Jamie Dixon, a lover of the Big East Conference, eventually walk because of the decision?
All are questions that many teams will face if and when they change conferences.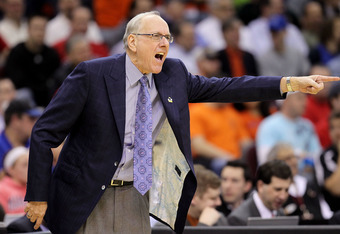 Andy Lyons/Getty Images
Are we talking about that though? No, we are talking about the football side of things, of course. Football drives this country. We all love the game, but there are college basketball nuts that are disturbed by what is going on.
Change happens all the time in sports. You wouldn't believe some of the divisions certain teams were in 30 years ago. We may forget about this realignment in 10 years, but I think this will be remembered for a long time.
Parents or grandparents who love sports may speak to you about how much better something was in the past. Maybe they speak about divisions or rivalries that we never saw before. Now it is our turn, it is our generation that will be able to speak about how physical and great the Big East Conference was in basketball.
As disturbing as it feels now, hopefully this will all result in an easy transition for college basketball.