NBA: Yao Ming's Retirement Affects More Than the Houston Rockets
September 23, 2011
Jeff Gross/Getty Images
Seven-and-a-half feet. 310 pounds. Anything with those dimensions can take up a lot of space.
And anything With those dimensions can also make a very large hole.
Yet with the recent announcement of Yao Ming's retirement from the basketball, a void has been left that is actually more enormous than his physical dimensions could ordinarily create.
It's hard to believe that a mere nine years ago, this semi-mythological giant from Shanghai, China, would make the trans-Pacific trek to America to play in the world's greatest and most dominant professional basketball league.
Following much hype and fanfare, Yao was the first overall pick of the 2002 NBA draft by the Houston Rockets. This additionally made Yao the first international player chosen No. 1 who hadn't played college basketball in the United States.
At the time, many felt that Houston was taking a huge risk—one larger than Yao's own gigantic height—based more on mysterious intrigue rather than factual basketball assessment. To select a foreign player was quite a gamble.
But to select a slow-footed Goliath center from the seemingly unknown basketball country of China?  That seemed like a 1.2 billion-to-one bet.
Prior to the introduction of brand Yao, the NBA marketplace had not quite reached the Eastern Hemisphere in the way that it had in Europe. At the end of the last millennium, though basketball's global appeal continued to spread, Asia was not part of its target audience, not part of any marketing strategies, not on the NBA's radar.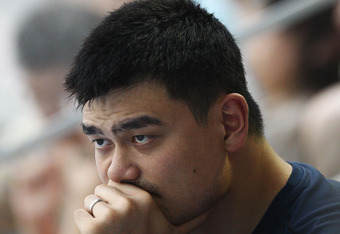 Feng Li/Getty Images
But basketball's popularity in China was escalating to new heights, due in part to the Chinese sports government's ambition to achieve international success in team sports.
China had been growing top athletes in many individual sports in lowly-recognized world competitions (e.g. table tennis, diving and gymnastics), but there was a longing to belong with the powerhouse countries in the major team competitions.
China had the supply to make good on that dream; basketball was one sport that they truly wanted to excel in worldwide.
With a talent pool that floats 1.2 billion people, China surprisingly populates the most number of men over seven feet tall in the world. And it is those resources that helped spawn their budding national basketball program.
Among the tall bamboo trees grew a giant larger than all the other giants: Yao Ming. His stature and skill level were at heights never seen before in China. But would that combination translate well overseas?
As proven throughout his first season in the NBA, Yao was well worth the risk. During the 2002-03 season, Yao was elected as the starting center for the Western Conference for the NBA All-Star Game; at season's end, he placed second in the Rookie of the Year voting.
And still, that was only the beginning.
By now everyone is well aware that the 2002 experiment was quite a success. Over his career, Yao was selected to eight All-Star Games and five All-NBA teams, and his Houston Rockets made the playoffs on four different occasions. For all his on-court achievements, it is his impact off the court that is immeasurable, putting him in an all-world status beyond his playing days.
There are not enough accolades to assign Yao for his influence to millions of people and children around the world. His confluence on international relations and basketball is emblazoned forever in the hearts and minds of the countless fans whose lives he touched through his passion both on the court and through his charitable work.
Heading into next season—whenever that may be—it's not only the Houston Rockets that need to replace the big man in the middle. The NBA as a business entity faces the challenge of finding itself a new global icon—an ambassador with the appeal and righteousness as large as Yao himself.
But how does the NBA approach the Asian market now that Yao is retired?
It is quite a large gap to fill on the court and in the international basketball community. While the NBA's popularity increases, the league is left with a wave of aging international superstars.
Searching for the next Dirk Nowitzki, Tony Parker or Manu Ginobili is difficult for sure. But finding the next Yao Ming is impossible.
Yao's goodwill extends further than his giant wingspan. He will continue to provide for those in need through his foundation and will remain in touch with basketball as an owner of the Shanghai Sharks.
His work as contributor to the game of basketball garnered speculation that he'd be inducted into the Naismith Hall of Fame as early as next year. However, Yao humbly requested that his name be removed from consideration.
Yao does not focus on the accolades, nor does he ponder the what-ifs. Back on September 2, in his first interview since retirement, Yao was candid about the reasons for his decision to hang up his sneakers.
Obviously his long-term health was the driving force, especially since he became a father in 2010. But more than anything, the humility and duty to his country could no longer be fulfilled. Were he to constantly recover and reinjure himself, he'd essentially re-fail.
That is difficult to live with when over a billion people rest upon your laurels.
In the end, Yao's departure leaves an irreplaceable 7'6" vacancy for the Rockets and the NBA. But in time, people will realize there is a far larger hole that Yao leaves behind in the game of basketball as a whole.