Detroit Lions 2011 Defensive Statistical Predictions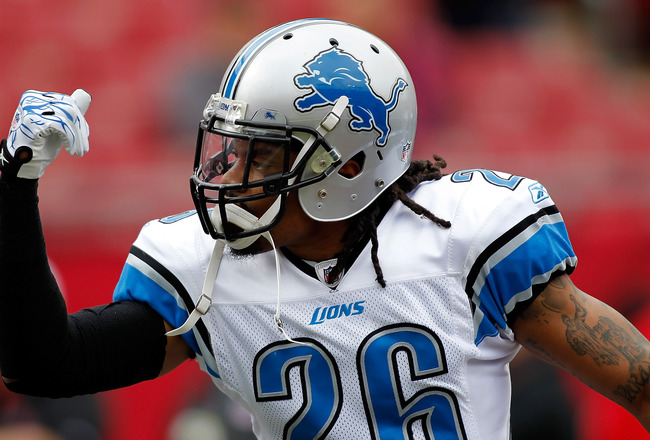 J. Meric/Getty Images
A few days ago, I made some predictions for the 2011 Detroit Lions on the offensive side of the ball. Whether they end up being accurate or not will not be known until late December—when the Lions clinch a playoff berth. As great as their offense has been, it is their defense that has been the true surprise this season.
We all knew that Ndamakong Suh would continue his reign of terror and that Louis Delmas would continue to bloom into a budding star, but after their recent near-shut out of the Kansas City Chiefs (I know they aren't a good football team), the NFL has taken notice of this unit and the personnel changes they made in the offseason that seem to be helping them this season.
Here a few statistical predictions for the Detroit Lions 2011 defensive unit.
Ndamukong Suh
Rick Stewart/Getty Images
He is the best defensive linemen in the NFL.
There I said it. Try and deny it all you please, but the simple fact is Suh is a beast. The Lions made the correct pick in the 2010 NFL Draft and got a stud that most teams only dream about getting. Suh is truly a once in a lifetime talent at a position that is quite thin talent wise.
2011 Predicted Stats
56 Total tackles, 42 solo
8.5 sacks
Three forced fumbles, two fumbles recovered
Two Defensive TD's (why not?)
I actually am predicting a drop in Suh's numbers this season. I am not implying that his value will drop by any means, but I see him drawing more double and even triple teams and that will lead to a slight drop in production. His value, if anything, will increase because by drawing extra blocking attention, he will free up another lineman or a linebacker to plunge through the line unscathed.
Kyle Vanden Bosch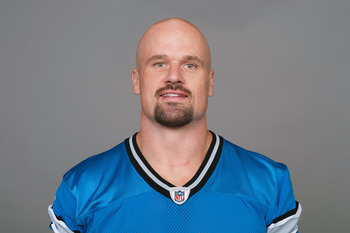 Handout/Getty Images
Kyle Vanden Bosch put up some very impressive numbers in only 11 games last season. I am predicting that if he stays healthy this season that he will put up one of the best seasons of his career. He has never had such a high caliber of talent surrounding him on defense and he is already seeing less attention by offenses as a result of Ndamakong Suh's effectiveness in the trenches. I would look for Vanden Bosch to have a monster year.
2011 Statistical Predictions
60 total tackles, 39 solo
11 sacks
Five forced fumbles, two fumbles recovered
Stephen Tulloch
Handout/Getty Images
Welcome to Detroit, Stephen Tulloch. You are just the linebacker we have been waiting on for quite sometime. Thanks to Jim Schwartz's Tennessee connection, the Lions were able to lure away another stud defensive player from the Appalachian area. Stephen Tulloch is young, fast and playing in a position that he is accustomed to. I am very excited about the leadership and intensity he brings to the defensive unit this season. While I don't see him putting up career highs, I do believe that he will be a very solid contributor on the defense.
2011 Statistical Predictions

108 total tackles, 76 solo
Three sacks
One forced fumble, One interception
Justin Durant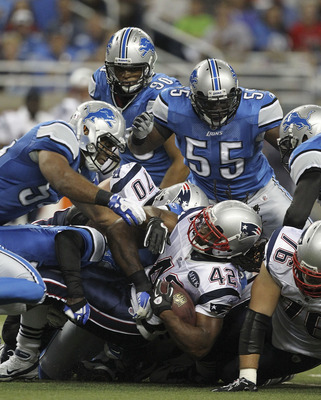 Leon Halip/Getty Images
I'll be entirely honest. Before this season, I was not familiar with the name Justin Durant. This diamond in the rough acquisition has been the biggest surprise on the Lions defense this young season. Although he has never played a full season, his numbers in Jacksonville speak for themselves. He is leading the team in tackles after two weeks and is a much better fit for the scheme than Bobby Carpenter was. I look forward to watching him grow and progress into becoming one of the better linebackers in the league.
2011 Statistical Predictions
135 total tackles, 102 solo
Two sacks
Two forced fumbles
Louis Delmas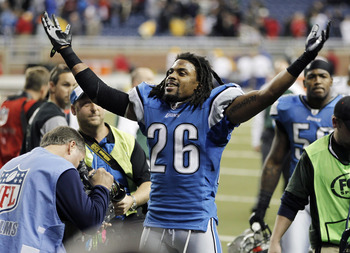 Gregory Shamus/Getty Images
If Ndamukong Suh was a great 2010 draft pick, then Louis Delmas was nothing short of that. Delmas is a freak of nature. He has speed, good coverage ability and is a sure tackler. I am proud to be attending the same school he once called home—"The Western Michigan University." I wish that he would discontinue leading with his head when he tackles and wrap players up more, but I cannot deny the power behind his frame and punishing hits he delivers. The team's weakness is their secondary, but if Delmas can play with a Pro Bowl type swagger, it will help the unit as a whole.
2011 Statistical Predictions
78 tackles, 57 solo
1.5 sacks
Two forced fumbles, three interceptions
Keep Reading

Detroit Lions: Like this team?