The Formula One Times, 26th November: Medals Will Be Used In 2009
November 26, 2008
Welcome to the Formula One Times, 26th November edition.
With news a little thin on the ground, the F1 Times will not be published daily, as you may have noticed. Instead it will be published on busy news days such as today.


Bernie says Medals will be used in 2009!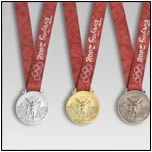 Bernie Eccelstone has confirmed that his new medals system which awards Gold for a win, Silver for second and Bronze for third will be used next season. Bernie said "it's going to happen."
This has been chosen as the new system due to an unsatisfactory results in 2008. Is this because Lewis won instead of Massa? Well Bernie says its because drivers are scared to overtake for two extra points, but if its a medal at stake they have more to gain.
Lets hear your views on this new system, do you like it? or loathe it?

Red Bull now in full control of Toro Rosso
Red Bull owner Dietrich Mateschitz has bought back the 50% of Toro Rosso which was owned by Gerhard Berger. This now means Mateschitz owns two teams outright. 
The deal will be seen before the competition authorities before the final sign off, but is expected to go through.
Rumours last year were that Berger wanted to sell his share, and get out off F1, after Vettel's first win, a few people thought he'd change his mind. However, it looks as though he hadn't.
Toyota reveal TF109 launch date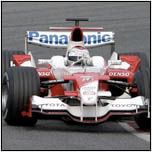 Toyota are to hold a small revealing show in Portugal on January 15th to show-off the new Toyota TF109.
Committed to cutting costs, the regular glitzy show, which costs millions to stage will be replaced with a more mundane show.
Testing will begin for the TF109 on January 20th for three consecutive days.
Jordan: "Medals system is nonsense"
Eddie Jordan has blasted Bernie Ecclestone's new medals system which sees only the top three drivers awarded anything at a race weekend. 
Eddie believes that the system will push lower teams out of F1 because they strive to score a few points in a race. "two points against no points is a huge difference," said Jordan.
Teams like Force India set goals to achieve a few points in a season, and this is a visually measurable marker, however the new system means they won't get anything for even a fourth place finish.