Fantasy Football Week 3 Quarterbacks: Who to Add, Drop and Ignore
September 22, 2011
Jed Jacobsohn/Getty Images
This week's series of add/drop articles has been touching on the seemingly massive amount of NFL injuries, especially so early in the season.
Quarterback seems to be most problematic at the moment as well, between injuries and poor performances.  I'm having issues myself with my QBs across the board.
Hopefully this can help someone who might have similar issues at the position.  This week's quarterback column is going to focus on this from the angle of being a manager needing to make choices over injury concerns at this key position, so please consider the notes below from that point of view.
Pick-Ups (go ahead and get 'em)
Blaine Gabbert (Jacksonville Jaguars)—Gabby has been named the starter in Jacksonville.  If you want to grab someone to replace an injured QB he's worth a shot.  Temper your expectations, but at least you know he'll start and with a guy like Maurice Jones-Drew as his running back, defenses will think twice about bull rushing the new kid.
As of this writing, he's still sitting out there in 96 percent of Yahoo! leagues.
Cam Newton (Carolina Panthers)—Yep, he's still out there in 11 percent of Yahoo! leagues, and if that includes yours, change that.  He's got a great matchup this week and has been throwing it a ton.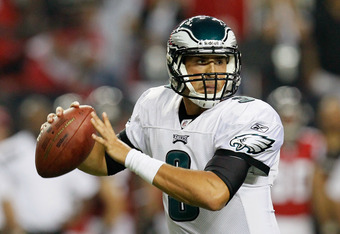 Kevin C. Cox/Getty Images
I still don't think Newton is going to give you massive points every week like he has been, but this week he's a must-start if you have QB concerns.
Mike Kafka (Philadelphia Eagles)—The "who the heck is that?" Player of the Week last week, Kafka will get the start if Michael Vick isn't cleared to play.  He looked solid in his limited time in the game last week, completing 7-of-9 passes for 43 yards.  It might be worth a shot to at least pick him up as a "just in case" if you have a spot on your roster.
Jon Kitna (Dallas Cowboys)—Tony Romo's heroics last Sunday may have changed some opinions about him, but as of this writing it's unclear if his injuries will cause him problems this Monday night.
Given the nature of Romo's injuries (ribs, lung) and the fact that the Cowboys play on Monday night, it's worth stashing Kitna on the bench in case of a last-minute Monday news bit stating Romo won't play.
Ryan Fitzpatrick (Buffalo Bills)—Fitz is hot right now and still flying under the radar, as he did during a similar hot streak late last season.  You can still get him right now in 23 percent of Yahoo! leagues.
A good matchup for Fitz this week against the New England Patriots.  Odds are he'll have to throw it a ton, and the Patriots are a team that gives up a lot in the air so far.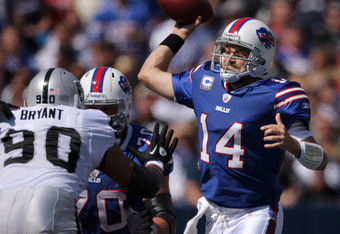 Tom Szczerbowski/Getty Images
Ignores (patience you must have)
Josh Freeman (Tampa Bay Buccaneers)—Freeman hasn't exactly been looking sharp thus far, certainly not as well as expected.  Be patient, he'll get there.  
Tim Tebow (Denver Broncos)—Okay, so he went out there as a wideout last week.  Big deal. Still not worth picking up yet.
Drops (dump the bums)
Luke McCown (Jacksonville Jaguars)—He's lost his job to a rookie after throwing a few thousand interceptions last week.  No reason to think he'll be back unless Gabbert gets hurt, and even then you probably still won't want him.
Kerry Collins (Indianapolis Colts)—Some people are still trying to play him, thinking that having a good team around him will somehow work out.  It hasn't, and now his shoulder is hurting.  If you are hurting so bad to keep him around at this point, I'm not sure these columns are going to be of any use to you.